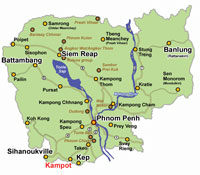 Kampot City sits along the east side of the Kampong Bay River near the base of the Elephant Mountains and is of quite a different character than the beach town of Sihanoukville. Kampot City is an old provincial capital of quiet lanes and colonial period architecture, a bit worn but radiating a quaint, welcoming, small town ambiance. A partially destroyed bridge, bombed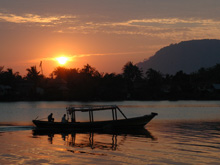 in the war, sits city center over the river, it's unique haphazard repair almost an iconic symbol of the town. Kampot is a place to get a taste of provincial Cambodia, both urban and rural. Use the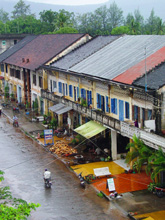 city as a base to explore and tour the surrounding countryside and as a stepping stone to the nearby beaches and islands of Kep, the Bokor Hill Station and the rest of southeastern Cambodia. Come the end of the day back in Kampot City, a little riverside cafe or pub is the place to be - relaxing curbside over a glass of wine, watching the sun slowly set behind the Elephant Mountains..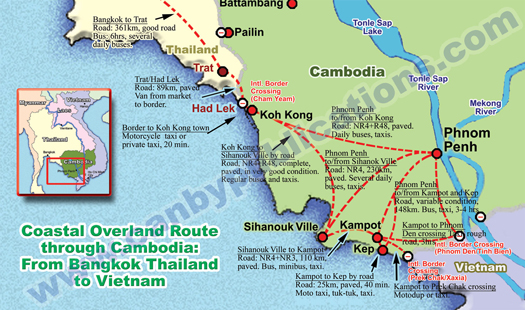 Kampot may be approached by road directly from Sihanoukville, Phnom Penh, Kep and from Vietnam via the Prek Chak and the Phnom Den international border crossings. There is no air service to/from Kampot.
PHNOM PENH to/from KAMPOT
The most direct route to Kampot from Phnom Penh follows National Route #3 (NR3.) The full length of NR3 is in very good condition - fully paved and quite wide in most places. The trip between Kampot and Phnom Penh can be made in less than 3 hours.

An alternative route following National Route #2 (NR2) passes several pre-Angkorian ruins in Takeo province including Phnom Chisor and Prasat Neang Khmau. From Phnom Penh take NR2 south to Road #22 in Takeo. The intersection is very well marked. Take Road #22 west to NR3 and then turn south to Kampot.

Taxis ~20,000R/person for a shared taxi. ~$35-$40 for a private taxi. 3 hours. In Phnom Penh, Kampot-bound taxis depart Phsar Dumkor. In Kampot taxis depart the taxi stand.

Bus There are several bus companies offering regular a/c buses between Phnom Penh and Kampot including Phnom Penh Sorya. In Phnom Penh the Phnom Penh Sorya buses depart from the station on Charles de Gaulle next to the Central Market. In Kampot, the buses arrive/depart from the bus stand (see map). Tickets can be purchased there or through your hotel/guesthouse (~15,000-18,000R).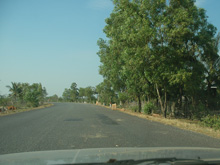 SIHANOUKVILLE to/from KAMPOT
From Sihanoukville, travel north on National Route #4 to Veal Renh (43km). Turn east on Route #3 to Kampot. Route #4 is in excellent condition. Route #3 is in fair condition with stretches of broken pavement and under construction. 1½ -2 hours, 110km total.

Bus Service Several bus companies offer regularly scheduled full size buses between Sihanoukville and Kampot. Get the schedule and tickets from your guesthouse or a local tour office.

Taxis In Sihanoukville, taxis can be found at the downtown bus station. In Kampot, taxis wait at the bus stop/taxi stand. Sihanoukville to/from Kampot is $9-$10/person for shared taxi and $25-$30 for a private taxi.

VIETNAM to/from KAMPOT
Regular Vietnam visas are not available at the border. The gratis 'economic zone' visas formerly available at the Prek Chak border crossing are no longer available. Visas are available through tour operators in Sihanoukville, Kampot and Kep and at the Vietnamese consulate in Sihanoukville.

To/from Ho Chi Minh City: Three possible overland routes to Phnom Penh: 1) the Moc Bai/Bavet crossing via Phnom Penh (bus or taxi); 2) the Prek Chak crossing via Ha Tien (bus); 3) the Phnom Den crossing (taxi.) Get tickets from your guesthouse or a local tour office.

To/from Phu Quoc Island and deep south Vietnam The nearby crossing Prek Chak/Xaxia is the nearest, most easily accessed border crossing with Vietnam. The crossing is near the Vietnamese town of Ha Tien, the primary jump off point to Phu Quoc Island.

Regularly scheduled multi-daily vans and mini-buses travel from Kampot, through the border crossing and all the way to Ha Tien, most in time for the ferry to Phu Quoc. Price: $8-$11. Arrange a ticket through your guesthouse or one of the listed tour operators in Kampot. If you want to do-it-yourself, a motodup from Kampot to to the Prek Chak crossing costs about $8; tuk-tuks run about $15-$20 and a taxi is $20-$25. Some motorcycle taxis from Kampot are also able to cross the border with you and take you as far as Ha Tien for an additional $2-$3.
For more on international border crossings see the Overland page.
The town is small and motodups are common. Foreigner price for motodup: 1500-2000R across town. Motorcycle rental: 100-125cc ($4-$6/day) and 250cc ($15-$20/day). There are a couple of motorcycle shops just off the traffic circle in the center of town (see map) and almost all hotels and guesthouses and even some restaurants and bars can help you arrange motorcycle rental and other transportation.
Most guesthouses and hotels are located in or near town center area within easy walking distance of the riverfront. There is a cluster of 5 or 6 inexpensive places on 'Guesthouse Street,' near the Farmer Statue. Closer to the riverfront, several stylish little hotels occupy classic old colonial era buildings, offering a uniquely Kampot experience. For a more rural, natural setting, a few guesthouses, both budget and mid-range, dot the riverside stretching north from town, some several kilometers up river.
Blissful Guesthouse
Range: $2 - $8

Popular, inexpensive, friendly, clean, western managed guesthouse/restaurant located on 'guesthouse street'. Dormitory available, most rooms with attached bath. Free wifi. Lush quiet garden with restaurant and bar. Great breakfasts and a large varied menu. Quiz night every Tuesday. Some books, postcards, souvenirs and traveler's sundries. Lots of travel and local information available. Receiving lots of good reviews.

Tel: +(855)(0)12-848390

Range: $40 - $65

Lovely old French Colonial-era building in a perfect sunset location on the riverfront road. All rooms are smoke free with air-conditioner, Cable TV, safe and en-suite bathroom. Some with a river view. Free wifi. Picturesque breakfast balcony and a popular restaurant and bar on the ground floor.

Visa/MC
Tel: +(855)(0)33-932314

+(855)(0)17-712062
bokorlodge@gmail.com
www.bokorlodge.com

The Columns Kampot
Range: $45 - $59

Fully restored French colonial era buildings a block off the river in the old French quarter of town. Hardwood furnishings, Cambodian silk cushions and decor, and all modern amenities including air-conditioning, flat-screen TV with cable and DVD player, mini-bar, lockbox, in-room wifi and i-docking pad. In-room wifi.
Tel: +(855)(0)92-128300
info@the-columns.com
www.the-columns.com

Ganesha Riverside Eco Resort
Range: $8 - $54

Boasting a 94% overall positive ratings on Hostelworld. More than 10,000m2 of tropical garden for only 7 units gives a real feel of Cambodia's natural beauty, with space and intimacy. Bar and restaurant offering a wide selection of delicious cocktails and foods.

Tel: +(855)(0)92-724612

+(855)(0)92-285621

Range: $10 - $30

Riverside restaurant, pretty rooms in a beautiful garden with mango and coconut trees, lots of flowers. and a nice view of the river, mountains and the rice fields. 2 minutes outside town. Internet facilities. TV. A/c rooms. Hot water. Free bicycle rental. Tour service. French, English and Khmer spoken. Free WiFi.
Tel: +(855)(0)16-357178

+(855)(0)33-932170
hang.guesthouse@gmail.com

Range: $6 - $20

Villa-style guesthouse in a garden setting. Fan and a/c rooms with CTV and en suite bathrooms with hot water. Reasonably priced restaurant serving Khmer and western food and seafood. Exercise equipment and space to play basketball. Tours and transportation. Motorcycles, cars, bicycles for rent. Free wifi and Internet.

Visa/MC
Tel: +(855)(0)33-210078

+(855)(0)33-6660037

Range: $4 - $15

Unique wooden 'long villa.' Fan and a/c rooms with attached bathroom. Dormitory beds available. Restaurant with seafood dishes, Cambodian and western food, and pizza. Reasonably priced. Pool table. Information. Lots of tour services and guides. Near the market on the north side of town.

Tel: +(855)(0)33-6902314

+(855)(0)12-561956

+(855)(0)12-731400

Mea Culpa Guesthouse
Range: $20 - $25

Guesthouse and restaurant in a nice garden setting, located in a quiet part of the old French quarter of town. Clean, new nicely decorated fan and a/c rooms with cable TV, DVD player and en suite bathroom with hot water. Balcony. Complimentary tea and coffee. Free wifi. Patio restaurant and bar serving Khmer and international fare including pizzas from a wood-fired oven. Both the guesthouse and the restaurant are receiving excellent reviews from customers.

Tel: +(855)(0)12-504769
meaculpakampot@gmail.com

Range: $15 - $65 ($25 - $65 Breakfast included)

Unique all wooden guesthouse on the riverfront road at the corner of the Old Bridge. Clean, new rooms fan and a/c rooms with Cable TV, large en suite bathroom with hot water. Free Internet. Cambodian-Italian restaurant on the ground floor offering a nice riverfront view. Kampot Riverfront at the Old Bridge.

Visa/MC
Tel: +(855)(0)33-6904495

+(855)(0)12-820779

+(855)(0)12-516199
info@moliden-kampot.com
www.moliden-kampot.com

Range $10 - $25

Newly refurbished guesthouse in a Retro-design French-Khmer building on the riverfront road 500 meters downriver from the main riverfront district. Nice quiet area with a view of the river and mountains. Both fan and air-conditioned rooms available with CTV and DVD player, free wifi, en suite bathroom with hot water. Guesthouse services include laundry service, tour desk, free pick-up from the bus station and room service from the guesthouse restaurant. Kitchen open from 7AM, serving Khmer and western food and all day breakfast on the balcony.

Riverside front Road 500meters from Governors Residence, Kampot, Cambodia.

Tel: (+855)(0)77-526-443

Nataya Round House Coral Bay Resort
Range: $100 - $300 (Breakfast Included)

Beautiful, unique resort set amongst manicured gardens on a secluded beach on the South China Sea 15km west of Kampot off of Route #3. Fully outfitted, very well appointed 'round-house' style boutique bungalows just a few meters from ocean. Superior and deluxe bungalows and pavilion suites. Infinity pool and Jacuzzis at ocean's edge and a long sandy palm-lined beach. Fine dining and drinking venues. Absolutely unique and one of the finest accommodations on the coast. Free wifi.

Tel: +(855)(0)33-6902011

+(855)(0)16-226471

+(855)(0)12-902823
reservations@natayaresort.com
www.natayaresort.com

Range: $15 - $70 (breakfast included $30+)

Stylish, finished, air-conditioned individual rooms in wooden bungalows at the riverside. Tastefully decorated, well appointed rooms with all amenities. A/c, Cable TV, en suite with hot water. Most with balconies and a beautiful sunset view over the river. Riverside restaurant and bar. 10% discount on stay of 1 week or more. Free WiFi.

Located just north of the new bridge.

Visa
Tel: +(855)(0)33-641188 (English)

+(855)(0)12-819081 (Khmer)

Range: $6 - $20

Fan and a/c rooms and bungalows. Cable TV and hot water. Khmer decor. Intl/Khmer restaurant. Lots of seafood. Full bar. Motorcycles, bicycles, boat for rent. Books available. Quiet area. Secure parking. Contact for Wild Orchid Tours offering trips to Bokor, Kep, jungle treks, and lots more. Internet, free wifi.

Tel: +(855)(0)92-226996

+(855)(0)33-210131

Pepper Guesthouse
Range: $6 - $35

Nicely refurbished villa-style guesthouse on a quiet street amongst a cluster of guesthouses. Fan and a/c rooms with cable TV and en suite bathroom with hot water. Free wifi. Bicycles for rent. Restaurant and bar with BBQ. Happy hour. All tourist services. Health care services.

30 meters from ACLEDA Bank.
Tel: +(855)(0)17-822626
pepperguesthouse@ymail.com

Range: $35 - $45

Charming little western-managed guesthouse on the river road in town. Very well-appointed, stylishly finished air-conditioned rooms with all amenities including cable TV, DVD, mini-bar, in-room wifi, spring mattresses and high-pressure showers. Free wifi internet access in room. Excellent rooftop restaurant and bar with a brilliant view overlooking the river.
Tel: +(855)(0)12-235102
info@rikitikitavi-kampot.com

Range: $15 - $20

Uniquely located hotel, set on the riverfront on the west side of the river. Clean a/c rooms with CTV, fridge and free in-room wifi. Nice little riverside balcony restaurant and bar with a interesting view of Kampot over the river. Serving Khmer and international dishes.
Tel: +(855)(0)33-6333567
theriverlodgekampot@gmail.com

Range: $30 - $100

Laidback garden resort on the riverfront surrounded by paddy fields with spectacular mountain views. Receiving very good reviews. Rooms and family bungalows. Small beach, swimming pool, bar. Serving Western, Khmer, Mexican food. Free Wifi, Sat TV, movie database, PlayStation3. Sunset cruises, kite surfing, wake boarding, water skiing, mountain biking, kayaking, basketball, pool table, ping pong.
Tel: +(855)(0)89-290714

+(855)(0)17-291782
vedici@hotmail.com
www.villavedici.com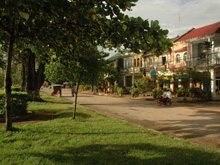 Kampot Restaurants
Kampot has a number of little restaurants, cafés and cafes, and like most southern towns, the emphasis is on fresh seafood. Some of the best dining in town is to be found along and near the picturesque riverfront where several restaurants and bars are clustered, most also serving western and international fare.

For a more local experience, soup, sandwich and fruit shake stands set up on the Old Bridge road in the evenings, catering primarily to the locals.

Kampot is not much of a party town but there are a few bars around, most on and near the riverfront north of the Old Bridge. There's also a little cluster of bars next to the new market (north side) just off the riverfront. Most of the town shuts down fairly early, with almost all places closed by midnight, though a few of the foreigner bars such as Bar Red, Mui Tiet and Wunder-Bar sometimes stay open quite late. The lone Cambodian-style disco in Kampot is located on the west side of the river a kilometer north of the old bridge. (This disco was used as a filming location for the movie 'City of Ghosts.')

There are now casinos at both southern international border crossings, Cham Yeam at the Thai border and Prek Chak at the Vietnamese border crossing, which is the most easily accessed out of Kampot or Kep. The casinos sit just on the Cambodian side of the border, but keep your passport handy.

Blissful Guesthouse
Popular garden restaurant located on 'guesthouse street', all food prepared by a professional western chef. Large varied menu of Western, Khmer and Asian dishes. Great breakfasts and a Sunday roast every week. Full bar open into the evening. Happy hour 4:00PM - 8:00PM. Free wifi. Lots of travel and local information available. Receiving consistently good reviews.
Open early till late.
Tel: 012-848390
www.blissfulguesthouse.com
Comfortable, welcoming new riverfront bar and cafe with a great sunset view, good prices and good food. Comfortable cushioned seating, full bar and a good choice of western favorites on the menu - burgers, ribs, spaghetti, steaks and a few Asian and seafood choices as well. (Check the board for today's specials.) All fresh ingredients. Curbside, indoor and bar seating. Darts! Kitchen open till 10PM, Bar open late.
Tel: 077-646355
Hakari Restaurant: Lovely old French colonial-era building in a perfect sunset location on the riverfront road. International menu featuring superb BBQ lamb, seafood and more. NZ ice cream. Illy as well as Vietnamese and local coffees. coffee. Full bar, wine list and cocktails. Indoor and wonderful curbside seating overlooking the river. Western managed. Wifi internet. Live music Sundays at 5:00PM.
Open 7:00AM-Late.
Tel: 033-932314
017-712062
www.bokorlodge.com
Café Espresso Kampot
Specialist coffee roasted in house. Amazing selection of espressos, perfectly brewed. Tapas bar from noon. Australian style breakfast cafe, baked goods, house smoked bacon, home made condiments & good vegetarian options. Stylish atmosphere and great service. Set on quiet colonial side street from epic arts cafe. open 7:00am till late - free wifi. Located on the street toward the Market from Epic Arts Cafe.
Family-run Cambodian restaurant in the center of town, offering authentic home cooked Cambodian dishes at extraordinarily reasonable prices. Some of the best value for money in town. Luk-lak, Cambodian Amok, soups and more. Also running Cambodian cooking classes for foreigners. Boat and motorcycle rental available.
Opposite the Old Market.
Tel: 012-321043
012-210820
Epic Art Cafe
Established in 2006, Epic Cafe provides work opportunities for deaf and disabled people and is a model of an inclusive work space. Comfortable corner restaurant near the Old Market. Serving western breakfasts, sandwiches, soups, home-made cakes, teas, juices and more.
Friendly little riverfront pizza place serving pizza, pastas, burgers and a variety of good Khmer dishes. Full bar. Cold beer, spirits, cocktails. Open 7:00AM - 11:00PM. Free delivery. Call a pizza to your hotel or guesthouse.
Tel: 092-459525
080-997888
www.happydreamilypizza.com
Riverfront pizza place with a huge menu, full bar and great sunset view. Western breakfast, sandwiches, salads, burgers, a selection of pasta dishes and near 50 varieties of pizzas. Fresh fruit shakes. Beer, wines, cocktails. Very reasonable prices.
7:00AM - Midnight.
Tel: 012-410538
012-302506
Heng Leap Restaurant
Homey curbside restaurant on guesthouse street. Serving a good selection of absolutely authentic Khmer dishes as well as a few western selections. Prepared in an open kitchen. Draft beer and drinks. All very reasonably priced. Travel and tour services.
Tel: 012-719872
Pleasantly quiet patio garden restaurant and bar set off the main road in a tranquil corner of town. Serving nicely done international fare including excellent pizzas from a wood-fired oven. Good salads and sandwiches as well. Excellent service. Friendly place. Receiving consistently great reviews from customers. Free wifi. Recommended.
Tel: 012-504769
www.meaculpakampot.com

Rikitikitavi Riverfront Restaurant
Charming rooftop balcony restaurant and bar with a spectacular view overlooking the river and mountains. A great place to enjoy sunset. A very popular place. Offering a wide selection of western and exclusive Khmer dishes prepared by a professional chef. Generous portions. Great desserts. (I can hignly recommend the Apple Strudel. Delicious!) Cozy balcony bar offering cocktails, cold beer, a selection of wines and a collection of fine spirits including a nice little selection of top-shelf whiskeys. Two for one happy hour 5:00PM - 7:00PM.
Open 7:00AM - 10:00PM everyday.
Tel: 012-235102
www.rikitikitavi-kampot.com

Uniquely located hotel, set on the riverfront on the west side of the river. Nice little riverside balcony restaurant and bar with a interesting view of Kampot over the river. Serving Khmer and international dishes.
Tel: 033-6333567
Friendly, very popular, western managed, bar and restaurant. great western and Asian food at very reasonable prices. good value, good cooking. Daily seafood and Tex-Mex specials, draught beer in a pint glass and, as reported by the Phnom Penh Post, serving the best BBQ ribs in the land. Premier League footy, ice cream and sweets. Located on the riverfront, next to the old market. Offering the 1.5kg dino rib!!! Recommended.
11.00AM-11.00PM
Tel: 012-679607
092-758536
New sports bar/restaurant from the good people at the long-running Rusty Keyhole, located at the Year 2000 Monument intersection. Big screen TVs, the best satellite channels, all live sports. Premier League footy . Food includes tapas, snacks, pizzas and Rusty Keyhole's famous ribs. Full bar, draft, local and imported beers, Cocktails. Open till midnight.
The main market is located at the north end of town - a traditional style market carrying the usual local products: vegetables, fruits, meats, bulk rice, motorcycle parts, tools, moneychangers, etc. The formerly abandoned 'Old Market' on the boulevard off the riverfront road has recently been refurbished and is slowly being repopulated. Watch for new shops.

More useful to visitors, there are a couple of convenience stores located on central traffic circle offering a pretty good selection of imported goods, canned foods, snacks, beer, spirits, wines, water and sundries.

Many of the guesthouses and hotels offer small selections of souvenirs, usually focused on local products such as Kampot pepper, Cambodian coffee, locally made bags, handicrafts, clothes and cards. And there are now a few proper souvenir and clothing shops in town as well as a book store.
A Cambodian social enterprise combining skills training and employment opportunities. Shop offering a good selection of handmade women's clothing and accessories, most in comfortable cotton - dresses, skirts, blouses, bags, purses and more.
Located next to the Old Market.
Tel: +(855)(0)12-960225
Kampot Souvenirs and Handicraft
Offers a wide range of local handicrafts including the Transparent Handicraft range of products made by disabled and disadvantaged in the Kampot Area. This product range is transparently priced so the customer knows who made the product and how much they were paid.
Large selection of the famous Kampot-grown pepper, some of the finest black pepper in the world. Kampot-grown black, red and white pepper, available in different packaging's. Also selling Cambodian grown coffee.
Open 8:00AM - 8:00PM.
Tel: 012-306410
keplerbook_kampotpepper@yahoo.com
Books and Information
Kepler's Kampot Books carries a good selection of used and new novels and Cambodia related titles for buy/sell/trade. Souvenirs for sale. Kampot pepper, statues, t-shirts, postcards, more. Print and scan services. Internet available.
Located next to the old market in the middle of town.
Open 8:00AM - 8:00PM.
Tel: 097-7774493
www.keplerbook.com

Most of the guesthouses and tour operators can provide local travel information. Local newsletter, The Kampot Survival Guide, provides an entertaining read and a unique take on touring Kampot. For the history of Kampot, pick up a copy of Robert Philpotts' The Coast of Cambodia (Blackwater Books, 2000).

Kampot Banks, ATMs and Money
ACLEDA and Canadia Bank both accept Visa and have 24-hour ATMs. Canadia Bank also accepts MC. ACLEDA ATMs access Visa and Gold Dots. Canadia Bank ATMs access Visa, M/C, Cirrus and Maestro. For instant cash transfer, Canadia Bank offers MoneyGram and Acleda Bank has Western Union. All banks offer currency exchange. Moneychangers are located around the market.

Essentials
Internet: There are several internet places around town and some of the hotels and restaurants offer free wifi. Dani Internet cafe just off the riverfront has inexpensive internet, wifi and international calls. Hotels and restaurants with wifi available include Rikitikitavi, Le Soleil d'Or, Rusty Keyhole, Indochine Bar, Natural Bungalows, Mea Culpa, Bokor Mountain Lodge and others.

Medical: The main hospital is on the riverfront road 100 meters north of the Old Bridge. Facilities and services are very rudimentary. Local residents also recommend the Bokor Clinic near the hospital.

Police: Tel: 012-594224
012-824067
097-7824067.
Kampot and Kep are so close to each other that they share many of the same sights and attractions. Kep Beach, Rabbit Island, Bokor Hill Station, and countryside tours are perhaps the most popular day tours out of Kampot and Kep with tour operators offering very competitively priced tours. The Kampot/Kep area also offers several other attractions including pre-Angkorian ruins and caves, jungle trekking, bicycling tours, river cruises, island trips, fishing trips, isolated beaches, pepper plantations, bamboo train rides and some beautiful rural countryside.

Kampot/Kep Tour Operators
Whether you plan to do-it-yourself or book a tour, transportation and/or tours can be found through one of the many local tour operators or through your guesthouse. Shop around for the best price and for exact type of tour you would like to take.
Kampot Tours & Travel
Bar, restaurant and all travel and tour services. Bokor, countryside, boating, cycling, ox-carts, Kep, Rabbit Island, transport to Vietnam and Thailand.
Located in Kampot one block off the river road
Tel: +(855)(0)97-9828756
+(855)(0)92-125556
+(855)(0)88-8125556
http://hatienmekongtravel.com/gt001/default.aspx
Sok Lim Tours
Kampot packages, sunset cruises, Rabbit Island, Bokor, jungle trekking, countryside tours, Takeo.
Kampot, opposite Magic Sponge Guesthouse.
Tel: +(855)(0)12-719872
www.soklimtours.com

Tic Tuk Tours
Kampot/Kep area tours - Bokor, caves, pepper farms, countryside. Half and full day tours. Custom tours.
Moon River Lodge on the river road, south of town center, opposite Aquatic Center, Kampot
Tel: +(855)(0)13-299939
Wild Orchid Adventure Tours
Day tours and overnighters to Bokor. Countryside tours, cycling tours, motorbike tours, kayak tours. Kampot pepper plantation tours.
Orchid Guesthouse, 'Guesthouse Road,' Kampot.
Tel: +(855)(0)92-226996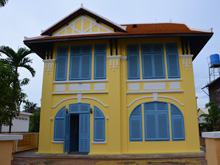 Architecture of Kampot
Though suffering a bit the ravages of time, the architecture of Kampot is pleasantly provincial, a mix of red tile-roofed shophouses and old French colonial government buildings. Kampot has been an active settlement for centuries but the location and layout of the modern town was established during the French colonial period in the late 19th/early 20th centuries. Many of the buildings along and near the river were constructed during this period. The south end of town harbors several European-style buildings including the governor's mansion and the old prison. Most of the other colonial era buildings employ the classic 2-storey 'Chinese shophouse' design, many displaying European design elements. Unlike many other Cambodian cities, the shophouses are often individuated in design and facade, lending to Kampot town's quaint air.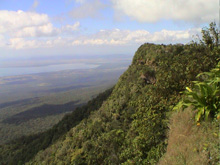 Bokor Hill Station
Usually run out of Kampot, tours to the old Bokor hill station has long been popular. The Bokor Hill Station on Phnom Bokor (Bokor Mountain) is a mountaintop collection of crumbling buildings (hotel, casino, church, royal residence, etc.), originally constructed by French authorities in the early 1920s as a complement to the already popular Kep resort area. In its time, Bokor was an elegant getaway for French officials and foreign visitors to old Indochina - a classic colonial 'hill station' located in the mountains to allow foreigner visitors accustomed to more temperate climes to escape the tropical heat. Years of neglect left ghostly ruins - vestiges of a different age, often shrouded in fog and clouds, though the new development project rising amongst the old ruins has detracted some from the eerie atmosphere. One thing that the years have not changed is the absolutely spectacular view of the coast and the cool (sometimes cold) mountain air. Bokor is jungled and excursions beyond Bokor, including trekking, can be arranged by local tour operators.

Bokor Mountain top in the area of the old hill station is currently undergoing a development project, including refurbishing the casino and hotel and the addition of a new hotel complex. A new hotel and casino are now open and the road up the mountain has been completed and is in good condition. The drive to the top take 30-45 minutes. Full day Bokor tours can be arranged through your guesthouse or a local tour operator. Tours run about $10/person inclusive for an all-day tour including a sunset boat cruise on the Kampong Bay River. The Park Office and turn-off to the Hill Station are 37km west of Kampot on National Route 3.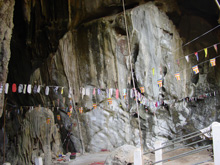 Caves near Kampot
Limestone mountains ('phnom') dot the landscape between Kampot and Kep. Many contain limestone caves, some adorned with exotic rock formations, and almost all containing Buddhist shines. Make sure to bring a torch and wear shoes suitable for climbing on rocks.
The caves of Phnom Chhnork - Cave #1 Pre-Angkorian ruin set in a limestone cave amongst stalagmites and stalactites that are slowly growing back into the ruin. Small, 4th-5th century AD brick structure associated with the ancient state of Funan. A bit of carving is still visible. Look for the limestone formations near the entrance of the cave in the shapes of elephants. Cave #2 The entrance is about 300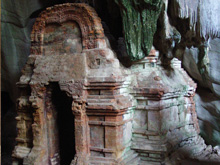 meters from Cave #1 in the same limestone outcropping. Very little in the way of formations, but quite deep, requiring climbing over piles of rock and through small openings. Small shrine.
The cave at Phnom Sla Ta'aun Plain by comparison to other caves, but still an interesting climb. Look for the huge rock balanced in a hole in the ceiling. Small shrine.
The cave at Phnom Sasear, also known as the 'White Elephant Cave.' Located next to an colorful pagoda. The stairs up the side of the outcropping provide a beautiful view of the countryside, especially during the wet season. The cave contains a shrine at the base of a limestone formation alleged to resemble a white elephant.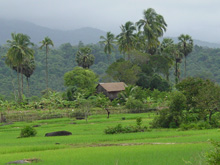 Countryside/Area Tours
Kampot and Kep provinces harbor some beautiful rural countryside just outside the town areas - bucolic scenery, rice paddies and water buffalos with white egrets riding their backs, countryside pagodas and little villages filled with traditional stilted houses. There is some very nice rural scenery along the road between Kampot and Kep. Keep your camera at the ready. Tour operators offer full and half day area tours the can easily be customized to your requirements, often including visits to the caves, a pepper plantation, Kep, Rabbit Island, Kampong Trach and a sunset cruise on the Kampong Bay River.
Kampong Trach is the district that borders Vietnam. The road trip from Kampot to the main town passes though some picturesque rural areas. There is a new side road to Kampong Trach town that skirts the base of Phnom Voar, (where the victims of the 1994 Khmer Rouge kidnappings were held.) These mountain areas of Kampong Trach were one of the last Khmer Rouge holdouts. Kampong Trach town is small and relatively uninteresting. The area's main attraction is a series of limestone caves and tubes that have been carved into a nearby mountain. The roof of a large cave in the center of a mountain has collapsed, making a small, enclosed jungle. Pagodas and shrines have been built amongst the caves, providing for some excellent photo possibilities. Bring a flashlight and wear good walking shoes.

From Kampot, take the Kep road, bear left at the White Horse Monument and follow to Kampong Trach. After a few kilometers the road changes to badly broken pavement. The side road mentioned above requires a left turn onto a graded dirt road about 7 km past the White Horse Monument. It is not a straightforward route and it may be better if you go with a guide. Set aside the better part of a day for the trip to the caves and back.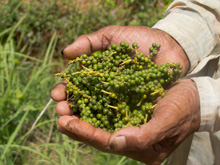 Kampot Pepper and Pepper Plantations
Kampot pepper, grown in Kampot province, has been renowned for more than a century as some of the highest quality pepper in the world - its distinct flavor and pugnacity, intense but light taste with fresh lingering aromas has long been a prized as an essential spice in the finest French kitchens. It is also featured in local Kampot/Kep cuisine such as Pepper Crab (local crab fried in black or green pepper corn) and beef steak in fresh pepper corn sauce. At the beginning of the 20th century the Kampot plantations were in full operation and Cambodia was exporting more than 8000 tones of pepper annually. In 1960, there were 1 million pepper poles in Kampot. But the wars from the 1970s through the 1990s put an end to regular production for almost 30 years. Production was renewed in the late 1990s but faced new challenges. Pepper plantations now dot Kampot province. Most general Kampot area tours pass through the pepper plantations near Phnom Voar. The plantations of Angkor Chey near Phnom Voar offer a particularly good look at the process or growing and preparing the pepper. And it's a good place to buy the Kampot pepper straight from the source.
A single, kilometer-long crescent of sand near the tip of the Kep peninsula, bounded by rocks at either end and the oceanfront road along the back. Coarse sand, shallow, warm water. Very average swimming beach. But still lounge, have an oceanside seafood meal and enjoy the cool sea breeze. Dining platforms and seafood vendors line the road behind the beach as well as the oceanfront further down the road near the Big Crab statue. The beach can be quite busy on weekends, but often deserted during the week. The road through Kep traces the coastline to the beach and then circles back on itself. Sometimes cars and vans must pay admission to drive the oceanfront road along the beach area (2500R - 5000R). Motorcycles and pedestrians are free. Be aware that the oceanfront road along the beach area is a one way street and the police do occasionally enforce the law.
Massage
"The Spa of Knai Bang Chatt enchants you" Upscale spa offering select Asian and western massage styles. Skilled massage therapists. Relax, unwind, recharge and rejuvenate. After a treatment enjoy the pool and garden for the whole day.
Tel: 078-888556
The Veranda Spa combines the essence of nature and purity in its masterful signature massages, body scrubs, wrap and facials for everlasting tropical indulgence.
Open daily from 10:00am - 10:00pm
Tel: 036-6438555
Rabbit Island is a small tropical island located about 20-40 minutes south of Kep by local boat. The island is blessedly undeveloped and lacks most services except for some rustic bungalows and a couple of rudimentary beach shack restaurants. Secluded white sand beaches dot the edges of the island, backed by a hilly coconut palm interior. Most services are near the west side beach. The surrounding waters are relatively clear and warm, offering some snorkeling opportunities around the rocks. Coral is scarce but colorful fish abound. You can stay on the island or make a day trip of it - go in the morning, lounge on the beach and return to Kep in the afternoon. Rooms/bungalows on the island run $10 or less. Arrange a boat trip to the island through your guesthouse in Kampot or Kep or just go to the Koh Tunsay Boat Dock in Kep town next to the Long Villa Restaurant (see Kep map on page 113.) Boats are almost always available. A round-trip trip to the island and back runs $20 for the whole boat, so bring some friends to split the cost. The round-trip price is the same whether you stay a few hours or a few days. Tour operators and guesthouses in Kep offer day packages starting at about $7/person inclusive.
River boat trips out of Kampot on the picturesque Kampong Bay River are becoming more popular. The tour companies and many of the guesthouses (Little Garden Bar) are offer several different sorts of boat trips including short sunset trips upriver to the Tekchhou Rapids; longer cultural/wildlife/eco trips upriver, often combined with trekking in the National Park; downriver trips to the ocean to explore the beaches and sand spits near the river's mouth; do a bit of ocean swimming; photograph the fishing boats at work or go ocean fishing. A couple of the tour operators including those listed can supply fishing gear. Boat trips are relatively reasonably priced and the tour operators are generally amenable to customizing the trip to your requirements.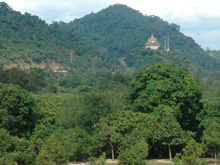 Trekking around Kep
Offering a fairly easy hiking experience, a trail/service road snakes through national forest land around Kep Mountain - the small mountain near the tip of the peninsula between Road 33a and the Kep town area. The gently sloping trail winds past a couple of old pagodas, though light jungles where you may spy monkeys or other wildlife, and provides many picturesque overlooks along the way. Kampot and the Elephant Mountains can be seen in the distance from the northwest viewpoint, and the trail on the other side of the mountain provides some striking views across the valley to a pagoda on the next mountain and the beaches in the distance. The trail is actually a small, dirt service road that rings the mountain in an 8km loop, part of the road in pretty good condition, some narrow and overgrown. Suitable to hike of for a mountain bike or dirt bike. The trail is most easily and conveniently accessed from the road next to Le Bout du Monde and Veranda Guesthouse. The hiking is fairly easy, but wear stout shoes and take water and mosquito repellent.