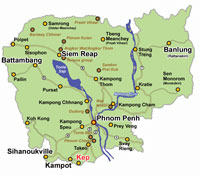 From the turn of the century through the 1960s Kep was Cambodia's premier beach town, drawing holiday-makers to its breezy shores and nearby Bokor Hill Station. Back in the day, luxurious villas of the privileged class dotted the seaside, but now remain as ruined vestiges of an earlier era, slowly being cleared away for new developments. These days Kep is known more for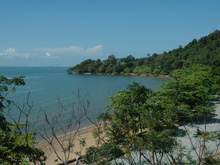 its oceanfront crab shacks and relaxed tropical atmosphere. A few short, picturesque slivers of sand dot the shore including Kep Beach where many of the guesthouses and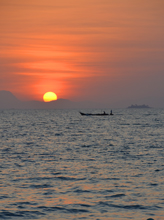 restaurants are clustered. Though probably on the cusp of significant tourism development, Kep still has a rustic feel to it - jungled mountains, quiet beaches, crab shacks and a gradually growing number of hotels and restaurants. Kep is a place to relax and dine by the seaside and use as a base to visit Rabbit Island (Koh Tunsay,) to explore the national park, to see the nearby caves and rural countryside.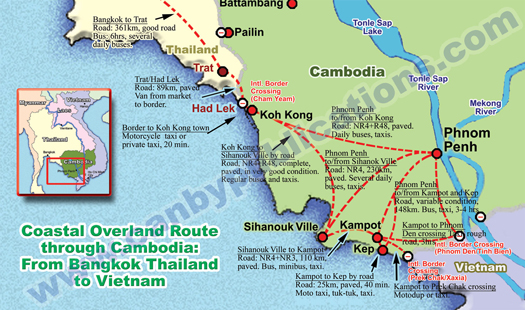 KAMPOT to/from KEP
The road from Kampot to Kep is paved and picturesque, though currently in rough condition -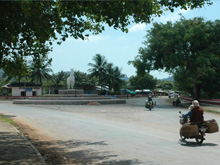 with stretches of broken pavement and parts under construction. It's a 25km, 45+ minute trip though scenic Cambodian countryside - small villages and rice paddies. Motorcyclists, be aware of some uneven pavement and invisible humps in the tarmac. Many ethnic Cham people live in the area and along this stretch of road. You may notice Cham women wearing the hajab and Arabic script on some signs.

From Kampot, follow the Road 33 east to the White Horse Monument intersection. Bear right. At the next main turnoff (a small roundabout with a Vishnu statue,) turn right onto the oceanfront road to go to the Crab Market or continue straight past to Kep Beach.

Motodups from Kampot start at about $3-$4 one way and $8-$10 round trip. Tuk-tuks run about $10-$17 for a round trip depending how long you spend in Kep and number of passengers.

PHNOM PENH to/from KEP
There are two primary routes to Kep from Phnom Penh: 1) Follow National Route #3 (NR3) to Kampot and then take Road 33 to Kep (see Kampot section). NR3 is in excellent condition. Road 33 is in fair condition; 2) Follow NR3 to the fork at Road 31. (There is a petrol station in the center of the fork.) Bear left. Take Road 31 south to Kampong Trach city. (Road 31 passes through some beautiful countryside.) Turn right at Kampong Trach and proceed to the Kep loop turnoff. Look for large overhead signs marking the turnoff. This route bypasses Kampot.

Taxis Private taxi: Private taxis run about $35-$40.

Bus Only Phnom Penh Sorya offers regularly scheduled dailys buses to/from Kep, the same bus looping though both Kampot and Kep - Kep first on the way from Phnom Penh and Kep second on the way to Phnom Penh. In Kampot the bus station sits midtown. In Kep the buses arrive/depart at the Kep Beach intersection. Alternatively, first bus to Kampot then catch onward transport (tuk-tuk or moto) to Kep. .

Phnom Penh Sorya Transport Bus
PP to Kep (direct) : 7:00, 8:00, 9:30, 12:00, 14:30 (18,000R/pax)
Kep to PP : 6:45, 7:00, 7:45, 12:30, 13:30 (15,000R/pax)
Full-size a/c buses
Phnom Penh Station: Next to the Central Market.

Getting AROUND Kep
Moto-remorques ('tuk-tuks') await passengers at the bus station, Crab Market, beachfront and other tourist locations. Most hotels can arrange a motorcycle rental. There are also a couple of rental places around the beach intersection. Some rent bicycles as well.
_________________________________________________
A couple of dozen hotels and guesthouses are scattered across the Kep peninsula. Several sit amongst the jungle vegetation on side of the mountain overlooking the ocean. Others dot the ocean's edge, including a small cluster of places at the Kep Beach intersection and a couple of new hotels near the Rabbit Island boat dock. Kep, in general, is aiming at mid/upper-range tourists and though there are plenty of budget priced rooms available, accommodations in Kep are bit more expensive than other coastal towns.
Akkurat Natural Resort
Range: $25 - $50 (breakfast included)

Individual stone bungalows in a lush garden setting at the edge of the Kep National Park. Beautiful mountain background, Air conditioned bungalows with cable TV, attached bathroom with hot water and free wifi, Restaurant with full bar, Traveler's services.
Visa/MC
Tel: +(855)(0)97-4488843

+(855)(0)97-7836084
Akkurat.Kep@gmail.com

The Beach House

Range: $40

Nestled against the hillside on Kep Beach. Tastefully decorated rooms with a/c, cable TV, hot water, fridge, en suite bathroom, balcony with picturesque ocean views. Swimming pool and Jacuzzi. Restaurant serving Asian and Western food. Free wifi.

Located on Kep Beach, Kep Province, Cambodia.

Tel: +(855)(0)12-712750

Beach Town Guesthouse

Range: $10 - $20

Oceanfront guesthouse overlooking Kep Beach. Clean, affordable fan and a/c rooms with en suite bathroom. Terrace with a beach view. The beach and seafood restaurants 20 meters from the front door.

Located at the Kep Beach intersection, Kep Province, Cambodia.
Tel: +(855)(0)97-7521666

Botanica Bungalows

Range $15 - $23

Bungalows fan-cold water or A/C-hot shower with private balcony and en suite in a nice garden setting. Comfortable thick mattresses - free wifi in all bungalows - free bicycles - motorbikes for rent. Restaurant serving Khmer and western food. Full bar with TV - sports, news, movies..

Road 33A, Kep Province, Cambodia.

Tel: +(855)(0)97-8998614

+(855)(0)97-8019071

Range: $25 - $55 (Breakfast Included)

Ocean front bungalows with private balconies and all modern amenities. A/C, Cable TV, stocked mini-bar and free wifi. Wonderful ocean view. Free pick up from bus station. Tour and travel services. Restaurant serving French, Vietnamese and Asian cuisine and of course, fresh seafood.

Tel:+(855)(0)12-301017

+(855)(0)97-6298797

+(855)(0)36-6336339

Range: $10 - $20

Beachfront guesthouse offering clean, affordable fan and a/c rooms with CTV and en suite with hot water. Internet. The beach and seafood restaurants are 20 meters from the front door. Nice balcony restaurant with an oceanfront view, serving nicely prepared French and Asian dishes, with the emphasis on seafood. Excellent Pho (Vietnamese noodle soup) available all day, but best at breakfast. Recommended.

Located at the Kep Beach intersection, Kep City, Kep Province, Cambodia.
Tel: +(855)(0)12-301017

+(855)(0)12-756499

+(855)(0)36-6336339
brisedekep@yahoo.com

Kep Arunrass Guesthouse
Range: $15 - $25

Eight-room hotel with pleasant rooms set on a quiet sidestreet near the base of the mountain, a short ride from the Crab Market and beach. Fan and a/c rooms with cable TV, good wifi, en suite bathroom with hot water, private balcony with sea or mountain view. Free bicycle.
Tel: +(855)(0)17-239567

+(855)(0)97-5882088
keparunrass@gmail.com
www.kep-arunrass.com

Range: $28 - $70 (Breakfast included)

Swimming pool. Fan and sea breeze-cooled thatched bungalows with big terrace. Ten nicely decorated, spacious wooden or concrete bungalows surrounded by a garden and fruit trees. Rooms equipped with comfortable 1.6m mattresses, bathroom with hot water, mini bar. Free wifi throughout the lodge. Free bicycle. Restaurant serving outstanding Khmer and Western food. Comfortable bar with pool table. Meeting room for up to 30 people. Western-managed, very friendly staff. Also offering deluxe double and deluxe twin bungalows.

Visa/MC

Just off Road #33A, a few of hundred meters north of the oceanfront road intersection. Kep City, Cambodia.

Tel: +(855)(0)92-435330

+(855)(0)17-879526

+(855)(0)17-879153

Khim Vouch Aiy and Restaurant Range: $8 - $20

Rustic wood and thatch bungalows in a picturesque garden setting at jungle's edge, just a few meters from the sand and water. Attached bathroom and private balcony. Nice little restaurant with drinks and good seafood. Massage available on breezy, cushioned massage platforms at the beachside.

On Rabbit Island (Koh Tunsay), Kep City, Kep Province, Cambodia.
Tel: +(855)(0)97-7333131

+(855)(0)78-612168

Range: $97+ - $425+

Recently renovated and expanded, this exclusive seaside resort offers 18 spacious rooms in five 1960's colonial-style villas. Nestled within private landscaped gardens, the property includes a full spa, infinity pool, media center, and beachside signature restaurant serving regional seafood dishes featuring fresh local produce and spices. All rooms have a/c, safety boxes, en-suite bathrooms with hot/cold water, and free WiFi. KBC supports the Hand in Hand Community Development Program and is conveniently located next door to the Sailing Club.
Rooms: +(855)(0)78-888557

reservations@knaibangchatt.com

Spa: +(855)(0)78-888556

Range: $40 - $130

Individual and separate bungalows /residences/suite in traditional Khmer architecture, built on stilts and made of wood and stones. Located in landscaped gardens at the top of a breezy hill with a lovely, sweeping view of the Gulf of Thailand. Professional and friendly staff French and Khmer cuisine with fresh ingredients. Hot water, mini-bar, fan and safe in room (Khmer villa and residences/suite). Eco-friendly swimming pool for children and adults. Jewelry and crafts boutique.

Located on the hillside. From Road #33A, turn east (toward the hill) at the oceanfront road intersection, Kep City, Kep Province, Cambodia.

Tel: +(855)(0)12-801968
contact.leboutdumonde@gmail.com
www.leboutdumondekep.com

Range: $20 - $35

Spacious, wooden and stone, fan and a/c bungalows. LCD-CTV, en suite toilet with hot water, free wifi. lounge and bar, Italian pizza and pasta. In a lush garden setting at the base of the mountain, only about 300 meters from the Crab Market.

From Road #33A, turn east (toward the hill) at the oceanfront road intersection, Phum Thmey, Sangkat Prey Thom, Kep Province, Cambodia.

Tel: +(855)(0)90-880513

+(855)(0)90-880413

lecocodemer.bungalows@yahoo.com.sg
www.mohamadyh.wix.com/lecocodemerbungalows

Range: $60 - $160 (Breakfast include)

Stylish, very well appointed boutique bungalows in a peaceful, lush tropical garden setting. A/C, large flat screen TV, DVD, spacious en-suite bathrooms. All bungalows with veranda, some with private rooftop patio. Swimming pool. Restaurant serving fresh regional cuisine.

Located just off Road #33A, a couple of hundred meters north of the oceanfront road intersection, Kep City, Kep Province, Cambodia.

Visa/MC

Tel: +(855)(0)17-491010

Masada Resort
Range: $15 - $50

Large private bungalows at the base of the mountain in a lush jungle garden setting. A quiet, peaceful area. Bungalows with a/c, fridge, free wifi, en suite bath with tub. Swimming pool with poolside lounge and bar. Restaurant serving Khmer and western dishes.

Visa/MC

Off Road #33A, a few of hundred meters north of the oceanfront road intersection, Kep City, Kep Province, Cambodia.
Tel: 088-8471984

036-6530999

017-471984
www.masadaresort.com

Range: $50 - $80

Large, stylishly furnished and decorated individual bungalows. Fully air-conditioned with all modern amenities and a private veranda in a lush garden, set around a large swimming pool. Located in a nice quiet area. Free wifi. Bicycle rental. Restaurant and bar.

Visa/MC
Off Route Nº 33A, Kep City, Kep Province, Cambodia.

Tel: +(855)(0)11-500303

+(855)(0)88-8458577
info@naturesgardenresort.com
www.naturesgardenresort.com

Palm House
Range: $30 - $50

Unique all wooden, traditional Cambodian style building with stylish, nicely decorated rooms in palm and hardwood. Rooms with a/c, cable TV, fridge, free wifi and en suite with hot water. Swimming pool, restaurant and cool treehouse seating.
Visa/MC
Tel: +(855)(0)12-607138

+(855)(0)89-999166

+(855)(0)96-9687878
reservation@palmhousekep.com
www.palmhousekep.com

Ponleu Chhner Tra Cheak Chit Guesthouse

Range: $10 - $20

Guesthouse overlooking Kep Beach offering clean fan and a/c rooms with CTV and en suite bathroom with hot water. Seafood restaurant serving Khmer and western dishes. Motorcycle and bicycle rental. Island tours $7. Located at Kep Beach intersection. Free wifi.

Located at the Kep Beach intersection.

Tel: +(855)(0)12-548273

+(855)(0)36-6322226

Range: From $50

Wooden bungalows and rooms at the foot of Kep National Park. 5 minutes walk to the Crab Market. Each bungalow and room has a private balcony, A/C, cable TV, fan, fridge, coffee/tea maker, safety box, aromatherapy oil burner and en suite bathroom with hot/cold water. Poolside restaurant and bar offers Khmer, Asian, contemporary European food with Asian touch and good collection of wines and cocktails. Beautiful sunset view on the rooftop restaurant. Free parking and wifi zone.

Visa/MC/UC

Tel: +(855)(0)77-927030

+(855)(0)36-6343222
raingseyinfo@raingsey-bungalow-kep.com

Rock Royal Hotel & Resort

Range: $40 - $150

International standard hotel at reasonable prices. Rooms with all modern amenities, high quality beddings and decor. Family rooms available. International restaurant and bar. Swimming pool and full service spa coming soon. View overlooking ocean and islands.

Tel: +(855)(0)36-210168

+(855)(0)36-210177

Range: $40 - $55

Oceanside hotel stylishly finished in beachstone. A/c rooms and suites with cable TV, stocked mini-bar, free wifi, en suite bath and some with private ocean view balconies. Restaurant serving western, Khmer and seafood dishes. Swimming pool near the ocean's edge.

Visa/MC/GoldDot

Tel: +(855)(0)12-357729

+(855)(0)36-6393909
saravoan_hotel@yahoo.com
www.saravoanhotel-kep.com

Range: $30 - $100 (breakfast included)

Nicely decorated, stylishly finished private bungalows with large veranda, in a lush flowery garden setting and with a fantastic sunset view of the ocean and islands. A/c bungalows with fan, good beddings, free wifi and en suite bathroom with cold/hot water. Family bungalows available and kid's play area. Restaurant. Package rates. Tour arrangements, laundry, luggage storage.

Tel: +(855)(0)12-204155

+(855)(0)97-6958582
seaviewbungalows@gmail.com
www.seaviewbungalows.com

Range: $20 - $50

Nicely refurbished villa-style accommodation at the base of the mountain, surrounded by lush vegetation. Just a few hundred meters from the beach area. Large, nicely appointed rooms a/c rooms with all amenities. Swimming pool with a shallow end for the kids. Restaurant.

Visa/MC/AMEX/TC

Tel: +(855)(0)36-6666673

+(855)(0)17-536888

+(855)(0)97-5050299

Range: $4 - $45

Unique stilted bamboo bungalows on the hillside overlooking the ocean, standing from 1 to 3 meters off the ground. Clean, basic, private bungalows with fan room, mosquito net and en suite bathroom. Fresh fruit welcome for all. Bar/restaurant serving Khmer and international food, with the emphasis on seafood. Motorcycle and bicycle rental.

Located just off Road #33A, a couple of hundred meters north of the oceanfront road intersection.
Tel: +(855)(0)12-515191

+(855)(0)97-6961709

Vanna Hill Resort
Range: $30 - $80

On the side of the hill, 200 meters above sea level, backed by picturesque mountains. 20 attractive rooms with cable TV en-suite bathroom hot & cold shower and a/c. Restaurant, swimming pool with Jacuzzi and poolside bar offers a beautiful hillside view of the ocean, the islands and mountains in the distance. Restaurant/bar. Free WiFi.

Visa/MC

From Road 33A turn east (toward the hill) at the Vishnu Statue intersection.
Tel: +(855)(0)12-755038

+(855)(0)36-6755038
info@vannahillresort.com
www.vannahillresort.com

Range: $60 - $150 (including breakfast)
A high-end nature retreat on the slope of Kep National Park, Stone and raised wooden walkways that interconnects most of the 40 accommodations. Spacious, fully outfitted private pool villas, luxury rooms and rustic bungalows available. En suite bathrooms, hot and cold shower and free Wifi in every room. Restaurant, bar, pool-side bar, bakery, café lounge, swimming pools, mini-mart, souvenir shop and kids' club.

Visa/MC

From Road #33A, turn east (toward the hill) at the oceanfront road intersection.

Tel: +(855)(0)12-888618

+(855)(0)36-6388588
verandaresort@gmail.com
www.veranda-resort.com

The Vine Retreat
Range: $25 - $45

Unique, ecologically conscientious guesthouse and organic farm in a jungle mountain area at Phnom Voar. A relaxed, natural, picturesque setting. Comfortably decorated rooms in a wooden guesthouse. Restaurant and bar. Salt water pool. Trekking. Yoga and meditation retreats.
Visa/MC
Tel: +(855)(0)36-6333383
www.thevineretreat.com
_________________________________________________
Kep is known for its fresh seafood, especially the crab, which is absolutely excellent - literally straight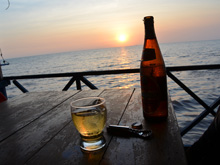 from the ocean to your plate. No visit to Kep is complete without at least one fresh seafood lunch or dinner at the oceanfront. The Kampot Pepper Crab is a local culinary classic - fresh from ocean crab fried or steamed with generous bunches of fresh green and black Kampot pepper corns, some of the finest, most famous pepper in the world.

Traditional dining venues include restaurants at the Crab Market and pockets of dining gazebos strung along the seaside. The Crab Market is made up of a dozen rustic oceanfront crabshacks, most with a very local, friendly atmosphere offering a wonderfully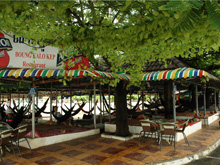 unsophisticated dining experience at the water's edge. As the Crab Market has become more popular over the last few years some restaurants have become a bit too accustomed to tourists, reducing portions and raising prices. Generally speaking, the touristy places are slicker and easier but the scruffier places more authentic and down-home.

At Kep Beach, picnic platforms line the road and another group of platforms line the oceanside park near the Provincial Hall. Just find an empty platform, sit down and the seafood vendors will come to you. Most of the vendors have English language menus. Place your order and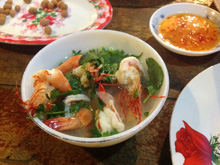 they'll have your seafood cooked and served within 10 minutes.

Almost all of the hotels and guesthouses in Kep have restaurants and bars, some quite good. Most serve a wider variety of dishes than the local vendors including western and international dishes. Several guesthouse restaurants are located along Road 33a within a few hundred meters of the oceanfront road traffic circle.

After dark most of Kep closes down, though a few places including Breezes on the beach, Toucan Bar and La Baraka in the Crab Market, and Kep Rock Cafe near the Vishnu statue are open into the late evening. Some of the seafood shacks at the Crab Market stay open as late as 10:00PM or 11:00PM.

The Beach House

Poolside restaurant and bar at the Beach House hotel at the end of Kep Beach. Menu of western and Khmer dishes. Western breakfasts. Full bar - beer, wine, cocktails. Bar, terrace and poolside seating.

Located on Kep Beach, Kep Province, Cambodia.

Tel: 012-712750

Breezes

Stylish lounge and restaurant by the sea. The beautiful garden, lounge beds, pavilions and view of Rabbit Island make it a perfect place to spend a few hours during the day, perhaps read and use the wifi. Delicious little menu with small bites, fresh oysters, daily seafood specials as well as mats and western options. Nicely lit in the evening making for a romantic atmosphere. Excellent reviews from expats and tourists. Free tuk-tuk from your hotel for dinner with minimum $12.50-$25 dinner (one-way/round trip, respectively.)

Look for the Breezes sandwich shop next to the Rabbit Island pier, Kep Province, Cambodia.

Tel: 097-6759072

016-251454

Very pleasant oceanfront balcony restaurant at Kep Beach. Offering nicely done, reasonably priced French and Asian fare with the emphasis on seafood. Good breakfasts including a very nice Pho (Vietnamese noodle soup) properly served with all of the appropriate fresh herbs, sprouts and condiments.

Open 6:00AM - midnight.

Located at the Kep Beach intersection, Kep Province, Cambodia.

Tel: 097-6298797

Captain Chim's 2
From the people that run the popular Captain Chim's Family Restaurant in Kampot, the new Captain Chim's 2 in Kep at the Rabbit Island Pier offers the same good selection of Cambodian dishes at reasonable prices. Good seafood choices as well as the classics - amok, luk-lak and more.
Tel: 092-668489

012-321043

012-210820

The Democrat Restaurant
Oceanside restaurant and bar at the Kep Crab Market. In decor and presentation, a step up from the average Crab Market place, serving Cambodian food with the emphasis firmly on fresh seafood. Some of the best Cambodian Fish Amok in the market. Full bar, cocktails and a selection of wines. Wifi.

Located in the Kep Crab Market, Kep Province, Cambodia.
Open 9:00AM-10:00PM

Comfortable restaurant with great views over the gulf of Thailand with a variety of Röstis (Swiss style potatoes), tasty sausages and serving some of the best pizzas in town. Homemade ice cream. Salads. Happy hour from 5:30PM till 7:00PM with great cocktails and cheap beers (13 different kinds). Consistantly great reviews from Customers.

Visa/MC

Just off Road #33A, a few of hundred meters north of the oceanfront road intersection. Kep City, Cambodia.
Tel: 092-435330

Fine dining next to the sea. Recently opened to the public, this upscale seaside restaurant serves regional seafood dishes featuring fresh local produce and spices. Choose from daily set menus and a la carte fare, complimented by extensive bar and wine list. Reservations are required and include access to the resort's pool, spa, and gardens for the whole day.

Open daily from 7:00AM - 10:00PM.

Tel: 078-333685 (Reservation)

078-888556

Hillside restaurant with a lovely view over the gulf of Thailand, serving Khmer and French inspired cuisine for lunch and dinner using organic products. Homemade ice-creams and Breton pancakes at anytime of the day.
Located on the hillside. From Road #33A, turn east (toward the hill) at the oceanfront road intersection.

Tel: 012-801968
contact.leboutdumonde@gmail.com

Ideal for watching sunset. A former fisherman's house built with a pier and a dock. Offering a variety of cocktails and a great menu for lunch and dinner. A very popular Sunday brunch. Pool table, ping-pong, volleyball. While you are there, hire a Hobie Cat, do some windsurfing or kayaking on the ocean. Check the website for special event. Free wifi.

Open Tue - Sun, 10:00AM - 11:00PM.

Tel: 078-333685

The Strand
A true culinary experience in a wonderful setting . "The Strand", a Kep fine dining experience where Chef Janine (South African 5-star ex-Chef) and her Cambodian team invites you to taste a fusion of international and local cuisine. "The daily fresh ingredients evoke a sense of adventure and lift the senses whilst sampling authentic Cambodian flavors."

Open daily from 7:00AM - 10PM.

Tel: 078-333686

Veranda Natural Resort
The Secret Bar and Restaurant: A unique open-air restaurant surrounded with mountains and with a sweeping view of the Kep seaside and sunset. Offering a wide range of fresh seafood, Asian and western cuisine. Also daily breakfast buffet, a la carte dining, and happy hour. Generous portions, good wine selection, free wifi and scheduled live music.

Visa/MC
Veranda Bakery & Coffee Shop: Freshly baked breads, Danishes, croissants, pastries and cakes. 15 different ice cream flavors, espresso coffee, latte macchiato. Café lounge that has a great view of the ocean and surrounding mountains. Free wifi. Custom made birthday cakes. Range: $1.50 - $4.50

Visa/MC
Veranda Pool Bar: Two pool bars - one by the Garden Swimming Pool and another at the Infinity Pool! Scenic mountain surroundings and ocean sunset view. Specialty cocktails, beers and wines.

Visa/MC

** Happy hour 5:00PM - 7:00PM.

Tel: 012-888619

036-6388588

_________________________________________________
Kep Shopping
Kep's only convenience store, Long Villa Mart, is located at the Rabbit Island boat dock, is pretty well stocked, offering beer, wine, spirits, foods, meats, soft drinks, snacks, and beach clothes. Good place to pick up supplies for the trip to Rabbit Island.

Other shopping in Kep includes:
Kep Lodge Souvenir Shop
Offers a wide range of souvenirs. Starting with the world famous Kep-Kampot pepper, silk wallets, silk bags, Buddha statues, "I love Kep" T-shirts, cotton kromas, and lots of tribe things from Ratanakiri. "There is for sure a thing for you".
The Shop at Veranda Natural Resort
Wide range of souvenir items, clothes, handbags, silk scarves, bathing suits, accessories, silver jewelry and ornaments, pharmaceutical products, antique sculpture and furniture, groceries, frozen goods, and wine and liquor.
Located at Veranda Natural Resort.
Tel: 012-888619
036-210115
_________________________________________________
Things to Do & See Around Kampot and Kep
Kampot and Kep are so close to each other that they share many of the same sights and attractions. Kep Beach, Rabbit Island, Bokor Hill Station, and countryside tours are perhaps the most popular day tours out of Kampot and Kep with tour operators offering very competitively priced tours. The Kampot/Kep area also offers several other attractions including pre-Angkorian ruins and caves, jungle trekking, bicycling tours, river cruises, island trips, fishing trips, isolated beaches, pepper plantations, bamboo train rides and some beautiful rural countryside.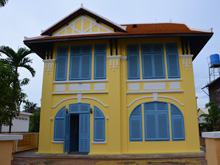 Architecture of Kampot
Though suffering a bit the ravages of time, the architecture of Kampot is pleasantly provincial, a mix of red tile-roofed shophouses and old French colonial government buildings. Kampot has been an active settlement for centuries but the location and layout of the modern town was established during the French colonial period in the late 19th/early 20th centuries. Many of the buildings along and near the river were constructed during this period. The south end of town harbors several European-style buildings including the governor's mansion and the old prison. Most of the other colonial era buildings employ the classic 2-storey 'Chinese shophouse' design, many displaying European design elements. Unlike many other Cambodian cities, the shophouses are often individuated in design and facade, lending to Kampot town's quaint air.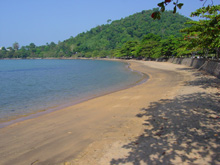 Kep Beach The most popular beach in the area. A single, kilometer-long crescent of sand near the tip of the Kep peninsula, bounded by rocks at either end and traced by an oceanfront road. Coarse sand and warm shallow water. It's a very average swimming beach but still pleasantly peaceful (no noisy jet skis yet) - a good place to lounge, have an oceanside seafood meal and enjoy the cool sea breeze. Dining platforms and seafood vendors line the road behind the beach as well as the oceanfront further down the road. The beach can be quite busy on weekends, but is often deserted during the week. The road through Kep follows the coastline to the beach and then circles back on itself. Sometimes cars and vans must pay admission. Be aware the oceanfront road along the beach area is a one way street and the police do occasionally enforce the law.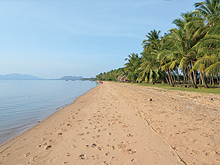 Angkuol Beach Kep's "other beach" - a long, narrow sandy tropical beach about 25km from Kep. The beach is very lightly touristed with only a couple of snack/drink vendors, a few fishing boats and little else. Interesting, photogenic trip through the rice paddies and salt flats to get there.


Phnom Doung Beach A small, completely untouristed beach about 9km south of Kampot City. The dirt road from Kampot to the beach passes through picturesque rice fields and salt flats.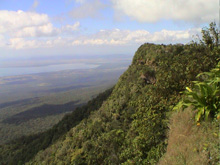 Bokor Hill Station
Tours out of Kampot to the old Bokor Hill Station in the nearby Elephant Mountains have long been popular. A new casino/hotel complex has gone up over the last couple of years, and the road up the mountain improved, but the remnants of the old hill station are still there - a mountaintop collection of crumbling buildings - hotel, casino, church and royal residence. The station was originally constructed by French authorities in the early 1920s as a complement to the Kep resort area. In its day Bokor was an elegant getaway for officials and foreign visitors - a classic colonial 'hill station' located in the mountains to allow foreigner visitors accustomed to more temperate climes to escape the tropical heat. The old building were abandoned in the 1970s, leaving ghostly ruins - vestiges of a different age, often shrouded in fog and clouds.

One thing that the years have not changed is the absolutely spectacular view of the coast and the cool (sometimes cold) mountain air. Bokor is jungled and excursions beyond Bokor, including trekking, can be arranged by local tour operators.

The road up the mountain has been completed and is in good condition. Full day Bokor tours can be arranged through a local tour operator. Tours run about $10/person inclusive for an all-day tour including a sunset boat cruise on the Kampong Bay River. The Park Office and turn-off to the Hill Station are 37km west of Kampot on National Route 3. The drive from the base to the top takes 30-45 minutes.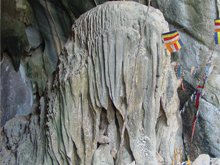 Caves near Kampot
Limestone mountains ('phnom') dot the landscape between Kampot and Kep. Many contain limestone caves, some adorned with exotic rock formations, and almost all containing Buddhist shines. Make sure to bring a torch and wear shoes suitable for climbing on rocks.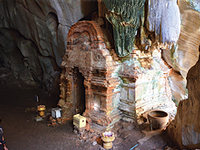 The caves of Phnom Chhnork - Cave #1 Pre-Angkorian ruin set in a limestone cave amongst stalagmites and stalactites that are slowly growing back into the ruin. Small, 4th-5th century AD brick structure associated with the ancient state of Funan. A bit of carving is still visible. Look for the limestone formations near the entrance of the cave in the shapes of elephants. Cave #2 The entrance is about 300 meters from Cave #1 in the same limestone outcropping. Very little in the way of formations, but quite deep, requiring climbing over piles of rock and through small openings. Small shrine.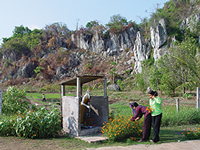 Phnom Kbal Romeas (Phnom Sla Ta'aun) Plain by comparison to other caves. Look for the huge rock balanced in a hole in the ceiling. A few old shrines, hidden deep inside the hill and many stalactites. Excellent views from the top.

Climbodia provides caving and rock climbing in amazing caves at Phnom Kbal Romeas. A climb to the top rewards with breathtaking views inside the cave and from the top of the hill, Bokor and the ocean. Securely placed Via Ferratas take you deep into the belly of the hill, abseiling down a labyrinth of caves. All skill levels, from the absolute beginner to the experienced climber.
Tel: 095-581951
www.climbodia.com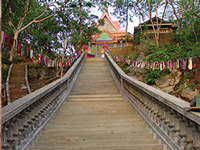 The cave at Phnom Sasear, also known as the 'White Elephant Cave.' Located next to an colorful pagoda. The stairs up the side of the outcropping provide a beautiful view of the countryside, especially during the wet season. The cave contains a shrine at the base of a limestone formation alleged to resemble a white elephant.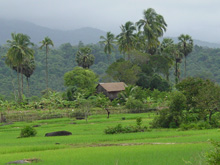 Countryside Tours
Kampot and Kep provinces harbor some beautiful rural countryside just outside the town areas - bucolic scenery, rice paddies and water buffalos with white egrets riding their backs, countryside pagodas and little villages filled with traditional stilted houses. There is some very nice rural scenery along the road between Kampot and Kep. Keep your camera at the ready. Tour operators offer full and half day area tours the can easily be customized to your requirements, often including visits to the caves, a pepper plantation, Kep, Rabbit Island, Kampong Trach and a sunset cruise on the Kampong Bay River.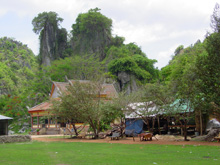 Kampong Trach
Kampong Trach is the district that borders Vietnam. The road trip from Kampot to the main town passes though some picturesque rural areas. There is a new side road to Kampong Trach town that skirts the base of Phnom Voar, (where the victims of the 1994 Khmer Rouge kidnappings were held.) These mountain areas of Kampong Trach were one of the last Khmer Rouge holdouts. Kampong Trach town is small and relatively uninteresting. The area's main attraction is a series of limestone caves and tubes that have been carved into a nearby mountain. The roof of a large cave in the center of a mountain has collapsed, making a small, enclosed jungle. Pagodas and shrines have been built amongst the caves, providing for some excellent photo possibilities. Bring a flashlight and wear good walking shoes.

From Kampot, take the Kep road, bear left at the White Horse Monument and follow to Kampong Trach. After a few kilometers the road changes to badly broken pavement. The side road mentioned above requires a left turn onto a graded dirt road about 7 km past the White Horse Monument. It is not a straightforward route and it may be better if you go with a guide. Set aside the better part of a day for the trip to the caves and back.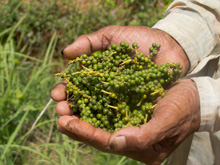 Kampot Pepper and Pepper Plantations
Kampot pepper, grown in Kampot province, has been renowned for more than a century as some of the highest quality pepper in the world - its distinct flavor and pugnacity, intense but light taste with fresh lingering aromas has long been a prized as an essential spice in the finest French kitchens. It is also featured in local Kampot/Kep cuisine such as Pepper Crab (local crab fried in black or green pepper corn) and beef steak in fresh pepper corn sauce. At the beginning of the 20th century the Kampot plantations were in full operation and Cambodia was exporting more than 8000 tones of pepper annually. In 1960, there were 1 million pepper poles in Kampot. But the wars from the 1970s through the 1990s put an end to regular production for almost 30 years. Production was renewed in the late 1990s but faced new challenges. Pepper plantations now dot Kampot province. Most general Kampot area tours pass through the pepper plantations near Phnom Voar. The plantations of Angkor Chey near Phnom Voar offer a particularly good look at the process or growing and preparing the pepper. And it's a good place to buy the Kampot pepper straight from the source.
Located within the resort, this upscale spa offers a full range of massage, facial and body treatments by skilled and experienced therapists. After a relaxing and rejuvenating spa treatment, guests can enjoy the pool and garden for the whole day.
Tel: 078-888556
Located at the Veranda Natural Resort, full spa and a refined atmosphere, offering massage, body scrubs, wrap and facials and other spa services.
Open daily from 10:00am - 10:00pm
Tel: 036-6388588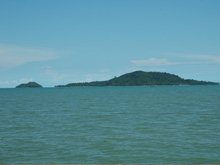 Rabbit Island
Rabbit Island (Koh Tunsay) is a small tropical island located about 30 minutes south of Kep by local boat. The island is undeveloped except for some rustic bungalows and a couple of beach shack restaurants. Secluded white sand beaches dot the edges of the island, backed by a hilly coconut palm interior. Most services are near the west side beach. The surrounding waters are relatively clear and warm, offering some snorkeling opportunities around the rocks. Coral is scarce but colorful fish abound. You can stay on the island or just make a day trip of it. Rooms/bungalows on the island generally run $10 or less. Arrange a boat trip to the island through your guesthouse in Kampot or Kep or just go to the Koh Tunsay Boat Dock in Kep town next to the Long Villa Restaurant. Boats are almost always available. A round-trip trip to/from the island runs $20 for the whole boat, so bring some friends to split the cost. The round-trip price is the same whether you stay a few hours or a few days. Tour operators in Kep offer day packages starting at about $7/person inclusive.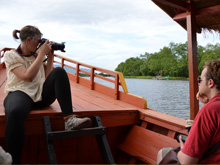 River Trips
Sunset Cruises
River trips on the picturesque Kampong Bay River are becoming more popular. The tour companies offer several different sorts of boat trips including short sunset trips upriver to the Tekchhou Rapids; longer cultural/wildlife/eco trips upriver, often combined with trekking in the National Park; downriver trips to the ocean to explore the beaches and sand spits near the river's mouth; do a bit of ocean swimming; photograph the fishing boats at work or go ocean fishing. Some tour operators can supply fishing gear. Charters available.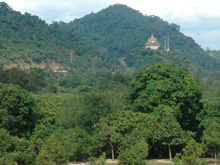 Trekking around
Kep
Offering a fairly easy hiking experience, a trail/service road snakes through national forest land around Kep Mountain - the small mountain near the tip of the peninsula between Road 33a and the Kep town area. The gently sloping trail winds past a couple of old pagodas, though light jungles where you may spy monkeys or other wildlife, and provides many picturesque overlooks along the way. Kampot and the Elephant Mountains can be seen in the distance from the northwest viewpoint, and the trail on the other side of the mountain provides some striking views across the valley to a pagoda on the next mountain and the beaches in the distance. The trail is actually a small, dirt service road that rings the mountain in an 8km loop, part of the road in pretty good condition, some narrow and overgrown. Suitable to hike of for a mountain bike or dirt bike. The trail is most easily and conveniently accessed from the road next to Le Bout du Monde and Veranda Guesthouse. The hiking is fairly easy, but wear stout shoes and take water and mosquito repellent.
_________________________________________________

Kampot/Kep Tour Operators

Whether you plan to do-it-yourself or book a tour, transportation and/or tours is probably most easily arranged through one of the many local tour operators or your guesthouse. In Kep several tour/travel shops are clustered near the Kep Beach intersection. Shop around for the best price and for exact type of tour you would like to take.
Sok Lim Tours
Kampot packages, sunset cruises, Rabbit Island, Bokor, jungle trekking, countryside tours, Takeo.
Kampot, opposite Magic Sponge Guesthouse.
Tel: +(855)(0)12-719872
www.soklimtours.com

Tic Tuk Tours
Kampot/Kep area tours - Bokor, caves, pepper farms, countryside. Half and full day tours. Custom tours.
Moon River Lodge on the river road, south of town center, opposite Aquatic Center, Kampot
Tel: +(855)(0)13-299939
Wild Orchid Adventure Tours
Day tours and overnighters to Bokor. Countryside tours, cycling tours, motorbike tours, kayak tours. Kampot pepper plantation tours.
Orchid Guesthouse, 'Guesthouse Road,' Kampot.
Tel: +(855)(0)92-226996