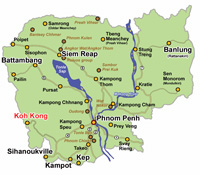 Koh Kong City is the capital of Koh Kong province, a comparatively small provincial town sitting on the east side of the Koh Pao River about 10km from the Cham Yeam international border crossing with Thailand. Many travelers see Koh Kong only briefly as they pass through on the way to/from Thailand, but that is changing and the province is becoming something of an 'eco-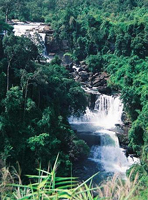 destination.' To the north and east of the city, the jungled Cardamom Mountains cover much of the province, offering trekking, dirt-biking and river excursion possibilities. Heading the other direction, secluded beaches line the nearby coastline and tropical island of Koh Kong. Base your adventures out of Koh Kong City where you can arrange tours, rent boats, motorcycles, etc. There are a number of mid-range guesthouses and hotels in Koh Kong and though there is not much to see in the city there is an international casino and one of the better zoos in Cambodia located near the border crossing.
Koh Kong may be approached directly from Thailand via the Cham Yeam crossing, and from Sihanoukville, Phnom Penh and Kampot by road. Several bus companies offer direct bus service between Koh Kong, Sihanoukville and Phnom Penh. Buses arrive and depart the bus station in Koh Kong. Bus company offices are clustered along Street 3 in the center of town. For more on international border crossings see the Overland page.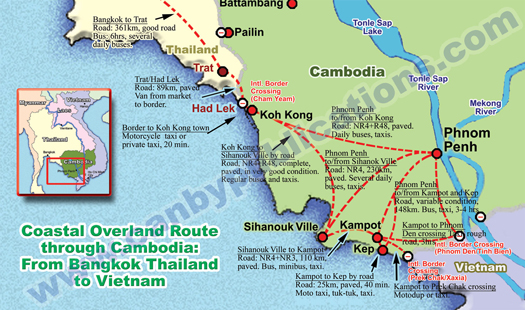 SIHANOUKVILLE to/from KOH KONG
National Route #4 (NR4) connects Sihanoukville to Phnom Penh.. Road #48 runs between NR4 and Koh Kong City. The road from Koh Kong (Road #48) is in fair condition - fully paved but broken and pot-holed in sections. Road #48 passes through the jungled Cardamom Mountains. At high points on the road the jungle canopy can be seen stretching into the distance. 'Elephant Crossing' signs dot the side of the road in parts. Road #48 also spans four picturesque major rivers. Keep your camera ready.

Bus Several bus companies bus companies offer direct daily bus service between Koh Kong and Sihanouk Ville using full size a/c buses for $6-$10/person. About 4-4.5 hours duration. Most buses depart in the morning. Check current schedule.

Taxi Share taxi: 45,000R/person. Up to 6 passengers in one taxi. Private taxi: $65-$70.

PHNOM PENH to/from KOH KONG

Taxi About $75 for a private taxi.

Bus Several bus companies bus companies offer direct daily bus service between Koh Kong and Phnom Penh using full size a/c buses. $12-13/person. About 5 hours duration. Most buses depart around 7:45AM and another at midday.


Getting Around Koh Kong
Motorcycle taxis (motodups) are common and priced about the same as other Cambodian towns. Motodup drivers expect foreigners to pay 500-2000 riel for short trips in town. From the Thai border to town is 50B though from they usually want twice that to go from town to the border. By the day, motodups charge $5-$7. You can rent a 100 or 110cc bike through your guesthouse for about the same price. To rent a dirt bike contact Neptune Guesthouse.

Koh Kong Hotels and Guesthouses
Koh Kong offers a pretty good choice of accommodations including several very reasonably priced guesthouses, a few mid-range places along the riverfront and upscale rooms the Koh Kong International Resort. Offering a very unique eco-lodging experience a few 'eco-accommodations' are located on and along the Tai Tai River in the jungled Cardamom Mountains 20-30 kilometers outside of town, including the 4 Rivers Floating Lodge, Rainbow Lodge and the Neptune Bungalows.

Apex Koh Kong

Range: $10 - $25

Fan and a/c rooms with CTV, DVD, mini-bar and en suite with hot water. Pool. Restaurant serving Khmer, Thai and western food. Laundry, travel/tour services.

On Street 8, 150 meters from the ferry dock.
Tel: +(855)(0)16-307919

+(855)(0)89-702002
info@apexkohkong.com

Asian Hotel
Range: $15 - $30
Nice riverfront hotel offering clean, large air-conditioned rooms with all amenities. Cable TV, mini-bar, IDD, en suite bathroom, most with hot water. Some rooms with balcony overlooking the river, Restaurant, Convenience store and Internet.

Located on the riverfront road 100m from the bridge.
Tel: +(855)(0)35-936667

+(855)(0)12-936667

+(855)(0)15-936667
info@asiankohkong.com
www.asiankohkong.com

4 Rivers Floating Lodge

Range: $170 (breakfast included)

Floating lodge on Koh Andet Island, downstream the Tatai River in the Cardamom Mountains. Unique tented floating villas with all amenities on the Tatai River in the midst of lush, spectacular jungle mountain scenery. Large Tents with DVD, hot water and WiFi. Gourmet restaurant/bar is serving western and Asian food. About 30 minutes from Koh Kong town by car and boat.
Visa/MC
Tel: +(855)(0)97-6434032

+(855)(0)35-6900650
www.ecolodges.asia

Koh Kong Bay Hotel

Range: $35 - $90

Superior hotel on the riverside. Well-appointed a/c rooms with all modern amenities and the best sunset balcony view in town. Flat screen TV with cable, DVD, stocked mini-bar, in-room wifi. Swimming pool and poolside bar. Riverside dining at The Bay Cafe and Restaurant.

Visa/MC/TC
Tel: +(855)(0)77-555590
info@kohkongbay.com
www.kohkongbay.com

Koh Kong City Hotel
Range: $15 - $30
Large, mid-range hotel right on the riverside with a great sunset view. Clean, nicely furnished rooms with all modern amenities including a/c, cable TV, mini-bar and hot water. Wifi. Conference facilities.
Tel: +(855)(0)35-936777

+(855)(0)12-901902

Range: $40 - $100 (breakfast included)

New bungalows on a pristine beach on Koh Kong island, a short boat ride from Koh Kong city. Fan and a/c and en suite bathroom. Restaurant/bar serving traditional seafood dishes and fusion cuisine.
Tel: +(855)(0)35-936371

+(855)(0)97-7558988
info@kohkongisland.net

Koh Kong Resort
Range: $30 - $150 (includes breakfast, swimming pool, gym)

Hotel, casino, entertainment complex near the border, offering superior, well-appointed rooms, suites and bungalows. Swimming pool, fitness centre, sauna, steam. Full casino, restaurants, bars and shopping. 2km beach. Water sports. Serving some of the best Thai food in Koh Kong. Right next door, Koh Kong Safari World, zoo and animal shows as well as a long narrow beach.

Visa/MC
Located 200 meters Thai/Cambodian border.
Tel: +(855)(0)16-700970

+(855)(0)12-779033
www.kohkongresort.com

Neptune River Bungalows
Range: $25 and up (includes breakfast)

Formerly Neptune Guesthouse, moved to Tai Tai River, approximately 20 km from Koh Kong City on Road #48 to Phnom Penh. Rustic wood and thatch bungalows with balconies. Riverside setting. Free tubes and kayaks for guests. Western, Thai and Khmer dishes. Boating, kayaking and jungle trekking and tours. Also visit the Neptune Adventure Pub in Koh Kong town for info and booking.

Located 10 minutes up the Tai Tai River from the road.
Tel: +(855)(0)97-9253000

+(855)(0)88-7770576

neptune.tatai.kohkong@gmail.com

Paddy's Bamboo Pub & Guesthouse

Range: $2 - $6 (dorm $3, hammock $2)

Budget guesthouse in an old traditional-style Khmer house. Fan rooms, some with CTV. Restaurant/bar offering cold beer, spirits and a selection of western and Asian dishes. Quiet share balcony. Travel and tours. Motorcycle rental. 150m east of the roundabout.

150m east of the roundabout.

Tel: +(855)(0)97-6483841

+(855)(0)15-533223
ppkohkong@gmail.com

Rainbow Lodge
Range: $50 - $125 (Breakfast Included)
Ecolodge set on 5 hectares of riverside land in the beautiful and peaceful surroundings of the Cardamom mountains on a river in Tatai, a small community 20kms from Koh Kong Town. A 10 minute boat trip from the road brings you to the Rainbow Lodge. Guests can experience first hand the sights and sounds of the jungle, whilst in the comfort and safety of traditional Khmer style bungalows. The Rainbow Lodge aims to provide an eco-friendly venue for guests, employment and training for the local community, whilst respecting local culture and environment. Kayaks and rowboats available guests free of charge. All meals included in price.

Tel: +(855)(0)12-1602585
Koh Kong Restaurants
The city is small with a couple of dozen restaurants in all, including just a few foreign-run restaurant and bars. Most of the restaurants are quite local and the emphasis is usually on seafood. The Thai food also is particularly good in Koh Kong - the restaurant at the casino and the Baan Peakmai in town both serve some of the best in the area. For sunset, whether for dinner or just for sundowners, The Bay Cafe and Cafe Laurent on the river road near the bridge both offer the nicest sunset views over the river.

Nightlife in Koh Kong tends to shut down comparatively early, with most places closing between 10 and midnight. Cafe Laurent and Bob's Ice Cream are popular. The latest places open in town are the Cambodian clubs including the Pisey Club next to Apex Guesthouse and Pun Pun on the main road, both dark, boxy and loud, offering cocktail bars and catering primarily to young locals.

The Bay Café/Restaurant
Dining at the riverside with a fantastic sunset view. Mediterranean cuisine and seafood and also serving Spanish, French, Cambodian dishes and even pizza. Good wine selection, full bar with an extensive cocktail menu. Free wifi.
7:00AM - 11:00PM.
Tel: 077-555590
www.kohkongbay.com
Bob's Ice Cream
Riverfront restaurant and bar. Popular place with a loyal following. Good selection of reasonably priced, nicely prepared western and Thai dishes. Full bar, cold beer and spirits.

Café Laurent
One of the better restaurants on the coast. Comfortable, stylish a/c lounge and river's edge dining gazebos with a nice breeze and a fantastic sunset view. Western, Chinese, Khmer and seafood dishes. Pizzas, pastas, steaks, chops and lots more mains and a very complete dessert menu including Crème Brulee and Chocolate Mousse. Coffees, teas and a full bar. Big cocktail menu, excellent selection of spirits, concise selection of imported wines. Free wifi. Open everyday
10:30AM - 11:00PM
Tel: 016-373737
088-8290410
Crab Shack
Family run, ocean side crab shack on the sand of Koh Yor Beach. Cold beer and soft drinks. Lots of seafood - BBQ, fried, soups... Secluded beach with few tourists. Nice place to while away the afternoon.
Koh Kong Heritage
Hotel restaurant on a street side patio terrace. Serving authentic Cambodian fare as well as international dishes. Vegetarian dishes. Free wifi. Home delivery.
Tel: 097-8776789

Koh Kong Resort
Casino-hotel complex. Full casino. Several dining venues, with the focus on seafood, Thai, Chinese and international. Serving some of the best Thai food in Koh Kong.
Little bar offering cold beer, good food and drink. Small selection of spirits. Cocktails. BBQ. Open from 7:00AM for breakfast till late. Good place to find local travel and tour info. Booking office for Neptune Adventure Tours and Neptune River Bungalows.
Tel: +(855)(0)97-9253000
+(855)(0)88-7770576
www.neptuneadventure-cambodia.com
Paddy's Bamboo Pub & Guesthouse
Little bar and restaurant offering cold beer, spirits and food at very reasonable prices. Bar open late into the evening. Lots of local touring info and assistance. Motorcycles for rent. At Paddy's Guesthouse.
Tel: 097-6483841
015-533223
Koh Kong Money and Banking

Thai baht is the preferred currency in Koh Kong City. Hotel, restaurant, transportation and even visa prices are set in baht. US dollars and Cambodian riel are accepted (except for visas), but generally speaking the tough exchange rate brings a poorer value for your dollar or riel. Moneychangers are clustered around the main market. Be careful to get the best exchange rate.
Things to Do and See in Koh Kong
Koh Kong is, in many ways, a comparatively new and unexplored destination. The heavily jungled Cardamom Mountain range and rugged rivers, and the unexplored coast and island beaches offer a number of eco-tourism and beach hopping possibilities.

The most popular local destinations are nearby waterfalls and beaches, as well as the casino and Safari World at the Thai border. But there is potentially much more to see and do in Koh Kong province. Eco-adventures include touring the unique nearby mangrove forests and boating up the rivers to spectacular waterfalls, rapids and jungle scenery. Or boating the opposite direction to the ocean, to secluded tropical beaches along the coast and the nearby Koh Kong Island. Other possibilities include jungle trekking and camping and 4WD/dirt bike excursion into the Cardamom Mountains.

Trekking, boating, waterfall trips and the like are most easily arranged through a local tour operator such as those listed below.


Tour and Dive Operators
Established 2006. Located on Tai-Tai River, offering boating, kayaking and trekking and tours to the islands, waterfalls, and mangrove forest. Rainy season kayaking. Book at Neptune Adventure Pub in Koh Kong City or call for pick-up from Tai-Tai Bridge.
Tel: +(855)(0)88-7770576
+(855)(0)97-9253000.
neptune.tatai.kohkong@gmail.com
www.neptuneadventure-cambodia.com
Paddy's Bamboo Pub & Guesthouse
All tour and transportation arrangements. Trekking, boating, day tours, etc. Motorcycle rental.
Visa
Tel: +(855)(0)97-6483841
+(855)(0)15-533223
Ritthy Koh Kong Eco Adventure Tours
Full tour service offer a wide range of eco-minded tours. Cardamom Mountain area waterfalls, Koh Kong Island, kayaking, mangroves and jungle treks. Located on the riverfront.
Located riverfront in Koh Kong.
Mr. Ritthy: +(855)(0)12-707719
+(855)(0)97-5552789
kohkongecoadventuretours@gmail.com

Beaches and Islands
Nearby Koh Yor Beach (Bak Klong Beach) is a long, narrow, secluded, white sand beach with a just few little ocean side seafood shacks. Nice, relaxed, 'lost beach' atmosphere. To get to there from town, cross the bridge, turn left at the Buddha monument and continue south on the dirt road about 4km to the ocean.

The island of Koh Kong in the Gulf of Thailand about 45 minutes boat ride from Koh Kong City has several unspoiled completely untouristed white sand beaches.

Koh Kong Safari World
Full fledged animal theme park complete with animal shows and a small zoological park displaying tigers, bears, ostriches, deer and several other species. Regularly scheduled crocodile, tiger, orangutan and bird shows. There is a show of some sort every hour or so. Though some of the shows, particularly the orangutan boxing, may not be to everyone's taste, by local standards the animals have the appearance of being fairly well fed and cared for. Fun place to take the kids. Open everyday. Located 500m from the border crossing.


Waterfalls
Koh Kong is rich with waterfalls and rapids. The rugged rivers that run down from the Cardamom Mountains harbor spectacular jungled falls, some near to town, others farther upstream. Many of the falls are but a trickle in the dry season and best visited in the wet season. The Ta Tai Waterfalls are the nearest to town and most popular local falls, sitting close to the main road about 20km to the east. The falls are wide and two-leveled with a drop of about 6m, set in a jungle gorge and falls over rapids. Others such as the Koh Por Falls, Tuo Kokir Rapids and impressive jungle gorge Kbal Chhay Falls sit father upriver within daytrip distance.
Last updated August 2013