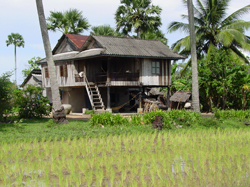 Phnom Penh: Day Trips
& Nearby Destinations
There is a lot of Cambodian history within a daytrip's distance of Phnom Penh. Silk Island, just an hour's boat ride away, offers a unique opportunity to see a traditional, working silk weaving village. An hour or two south of Phnom Penh, the Angkorian ruins of Takeo province, though not as impressive as the ruins near Siem Reap, still rank amongst the most important in Cambodia. And an hour west of the city, the picturesque 17th-19th century remains of the royal city of Oudong allow you to explore the period of Cambodian history between Angkor and the colonial period that is neglected in most tours. And just the process of getting to these sites provides a good glimpse of Cambodian rural life - scenic rice paddies, stilted villages and countryside pagodas.

Most of the places listed are too far for a tuk-tuk. It is easiest to arrange a tour or transportation through a travel agent or your hotel, usually a daily tourist van. DIY options include chartering a taxi, renting a motorcycle or for the hard core do-it-your-selfer, taking a public bus to the nearby city and ask to be let off at the site or turn-off.
| | | | |
| --- | --- | --- | --- |
| Koh Dach | & Ta Prohm | Zoo | The old capital |
| mountain ruins | ruins | Prasat | & Agents |
Nearby Destinations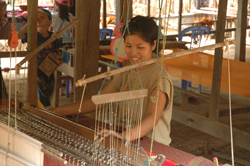 Silk Island (Koh Dach)
Located in the Mekong River located about 1-hour boat ride from Phnom Penh.
Admission: None

For those with an interest in Cambodian silks and silk weaving, set aside a half-day for a boat trip to a rural weaving village on Koh Dach (aka 'Silk Weaving Island,') a nearby island up the Mekong River. The weaving village is a typical rural Cambodian village, dedicated almost entirely to silk weaving - people operating hand looms under most of the houses, others dying and spinning silk on spinning wheels made of bicycle parts. The area does not receive a lot of tourists. Wander the village to observe the activities, and expect silk sellers to try to hawk their wares.

Arrange a visit through your guesthouse, travel agent or see tour/boat operators. Cambo
Cruise (www.CamboCruise.com 092-290077) offers regularly scheduled daily cruise & tours to the island for $24-$34 inclusive. If you want to do it yourself, boats can be chartered for around $20-$25/hour and take about 2-3 hours round trip plus the time you want to spend there. The boat may stop at 'Mekong Island.' Make sure that the boat operator understands that you want to go all the way to the silk village on Koh Dach.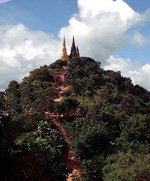 Oudong
Route #5, 1-hour west of Phnom Penh

The abandoned royal city of Oudong sits amongst the hills west of Phnom Penh. Oudong was the capital city of Cambodia from the 17th century until 1866 when the capital was moved to Phnom Penh. Several temples, stupas and other structures cover three hills. The walk up the hill provides an excellent countryside view. The hill is crowned with stupas containing the remains of several Cambodian kings including King Monivong (1927-1941) and King Ang Duong (1845-1859). The earliest structure is from the 13th century. These hills were also the site of some of the Khmer Rouge's most prolonged resistance against the encroaching Vietnamese army in 1979. Several new temples and shrines have recently been installed on the hill. For something completely different, take a side trip to 'Prasat Nokor Vimean Sour', a concrete, unduly ornate, semi-replica of Angkor Wat built circa 1998.

Take a Kampong Chhnang/Oudong bound bus. Get off at the billboard in Oudong town and take a motodup the rest of the way to the site.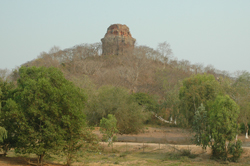 Phnom Da/Angkor Borei
Takeo Province, 2-hours south of Phnom Penh

Angkor Borei is a small town in the area of several ruins and archaeological digs. The area has been continuously inhabited for at least 2500 years and has yielded artifacts dating from the Neolithic period, the Funan period (4th/5th century AD) and Chenla (8th century AD) as well as the later Angkorian period (9th-15th century AD.) There are no significant temple ruins at Angkor Borei but there is a very interesting little museum displaying artifacts from the area and providing information on recent archaeological digs.

The hill, Phnom Da, sits about 20km from Angkor Borei and is crowned by an impressive 11th century Angkorian-era prasat (tower) displaying some carvings in pretty good condition. The temple was constructed under King Rudravarman and dedicated to Shiva. Further down the hill is the unique little temple ruin Ashram Maha Rosei, quite unlike other Khmer monuments in both design and adornment. Constructed in the late 7th-early 8th century, during the pre-Angkorian Chenla period, under King Bahavavarman. The temple shows signs of non-Khmer influence and has unusual north-facing entrance. The design is reminiscent of Prasat Ashram Isay in the Sambor Prey Kuk group in Kampong Thom.

Getting there: During the dry season, Phnom Da can be reached by road or boat. In the wet season, it can only be reached by boat. By road: Take the Takeo bound bus (NR2) to the Phnom Chisor turnoff (52km from Phnom Penh.) Take a motodup or taxi to Phnom Chisor and then on to Phnom Da. By boat, take the bus to Takeo town. Pick up a boat to Angkor Borei and Phnom Da. During the dry season you will stop well short of the hill and will have to hike a ways.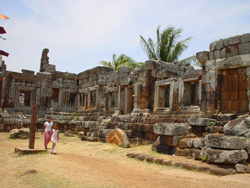 Phnom Chisor
Takeo Province, off Rte 2, 2 hours south of Phnom Penh

At the top of Phnom Chisor sit some very nicely preserved 10th/11th century AD Angkorian era ruins. The temple was constructed under King Suryavar-man I during a period when the Angkorian-era Khmer Empire was nearing its apex. As most Angkorian temples of the period, this temple is Hindu, dedicated to Shiva and Vishnu. Scenes including Brahma, Shiva and Vishnu are still visible, carved on some lintels and pediments. The 503 steps to the temple on top of the hill make for a fairly vigorous climb but the quality of the ruins and the amazing view of the countryside make the effort well worth it.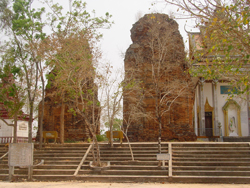 Prasat Neang Khmau
Takeo Province, off Rte 2, 1.5 hours south of Phnom Penh

Standing next to an active pagoda, Prasat Neang Khmau consists of two deteriorating brick prasats (towers) built in the Angkorian-era in the 10th century A.D. under King Jayavarman IV. There was probably at least one more ancient prasat where the modern pagoda now sits. Prasat Neang Khmau was originally dedicated to the Hindu god Shiva. The temple complex is named after Neang Khmau, 'Black Lady', a modern-era statue located in front of the temples. At the 51km road marker. The temples are on a small hill right next to the road.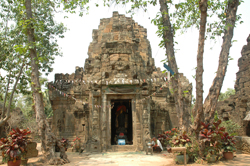 Tonle Bati/Ta Prohm
Off Route #2, 1 hour south of Phnom Penh

Tonle Bati is a small lake and popular picnic spot for the locals - bamboo picnic stands and mats by the water. On the road to Tonle Bati there are two Angkorian era temples, Ta Prohm and Yeay Peau. Both temples were built under Jayavarman VII in the late 12th century during the same period that Bayon and Angkor Thom in Siem Reap were constructed. Ta Prohm is the more extensive and impressive of the two, displaying a number of very well-preserved carvings. Yeay Peau is a single sandstone tower situated next to an active pagoda displaying some carvings. The area has been occupied since the pre-Angkorian Funan period and Ta Prohm was modified and extended as late as the 16th century.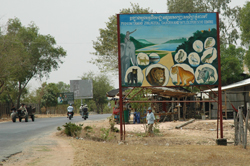 Ta Khmau Zoo / Phnom Tamao / Prasat Tamao
Off Route #2, 39km, 1 hour south of Phnom Penh
The Phnom Tamao area is a popular destination for weekend holidayers from Phnom Penh, offering picnicking, a zoo and some minor Angkorian-era ruins. The Ta Khmau Zoological Gardens is Cambodia's newest and best zoo displaying a variety of animals including lions, tigers, bears, birds and more. An 11th century, Suryavarman I temple ruin in very poor condition (Prasat Tamao) sits at the top of Phnom Tamao. Located off of Route #2 at the 39km mile marker. Turn right. 1000 riel entrance fee.
Tour Operators
Cambodia Motorcycle Adventures
Motorcycle touring out of Phnom Penh and Siem Reap. One day and multi-day tours out of Phnom Penh available. Multi-day Angkor and full country tours.
Tel: 017-768624, 017-779413
Siem Reap and Phnom Penh
CamboCruise.com
Regularly scheduled, daily river cruises and excursions departing in front of Yi Sang Riverside/Tourist Information Center just south of the Royal Place. The Silk Island Lunch Cruise departs at 12:00PM and returns at 4:00PM, including optional lunch buffet. A 2 hour Sunset Cruise Dinner departs at 5:00PM, including optional dinner buffet. Live traditional music, free filtered water, full bar and excellent service on all cruises. Tel 092-290077
cambocruise@icloud.com
www.CamboCruise.com
CamboCruise boat at Phnom Penh Tourist Information Center Riverside
Hidden Cambodia Adventure Tours
Single and multi-day all-inclusive, high end, cultural, ad- venture and humanitarian tours by 4WD, dirtbike and car to Koh Ker, Preah Vihear, Preah Khan temples and historic KR area, Anlong Veng. Tonle Sap Lake tours.
Tel: 012-655201, Tel: 012-655201
C/O Siem Reap Post Office, P.O Box 93058, Siem Reap
MotoGirl Tour
Unique city motorcycle tours conducted by female tour guides. A variety of tours available - sights, adventure, culture, nightlife.
Phnom Penh Tel: 015-292952
www.motogirltour.com
Phnom Penh