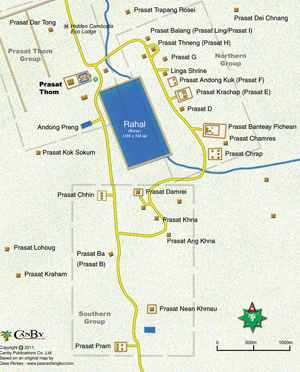 The temple complex at Koh Ker, northeast of Siem Reap, represents the remnants of the capital of the Khmer Empire from 928 AD. - 944 A.D. - a very unique period in the Age of Angkor. From the time the Khmer capital was first moved to the Angkor area in the late 9th century, it would remain there for almost 500 years, with one brief interruption. Just a few decades after the establishment at Angkor, there was a disruption in the royal succession for reasons that remain a matter of academic debate. What is known is that in 928 A.D. King Jayavarman IV, possibly a usurper to the throne, created a new capital 100km away at Koh Ker, either moving the capital city from Angkor or creating a rival capital. Obviously a king of much wealth and power, he raised an impressive royal city at Koh Ker of Brahmanic monuments, temples and prasats, surrounding a huge baray (reservoir) Rahal. Jayavarman IV reigned at Koh Ker for 20 years before he died in 941 A.D. His son Hashavarman II would remain at Koh Ker for another 3 years before returning the capital to the Angkor area.

The monuments of Koh Ker are now on a road loop around the baray past the most important temples. The premier ruin of the complex is Prasat Thom (large photo above), an imposing 7-tiered pyramid and temple complex. (Best photographed in the morning and offering a birdís eye view from the top.) As you round the loop, there are several nicely preserved ruins sit just off the road, impressive prasats and small temple complexes. There are lingas still in place in some monuments such as Prasat Balang and Prasat Thneng. For the enthusiast, there are also dozens of other, more remote ruins in the area. A good guide can be most helpful at Koh Ker.

A trip to Koh Ker takes the better part of a day out of Siem Reap and is usually combined with a visit to Beng Melea. To get there take Route #6 east from Siem Reap to Damdek. Turn north and follow the signs. Part of the way is a toll road. Check road conditions before leaving Siem Reap, especially in the wet season. $10 entrance fee to Koh Ker.