The Phnom Penh
Visitors Guide
Phnom Penh

Capital of the Kingdom of Cambodia
| | |
| --- | --- |
| A mixture of Cambodian hospitality, Asian exotica and Indochinese charm await the visitor to Phnom Penh. Situated at the confluence of three great rivers - known as the 'Chaktomuk' (four faces) of the Mekong, Tonle Sap and Bassac rivers - Phnom Penh is a city of more than 2 million people, the capital of Cambodia and the country's commercial, economic and political hub. It is still a comparatively fresh travel destination. These days bistros and boutique hotels line the riverfront, smart little silk shops and art... | |
...galleries dot the side streets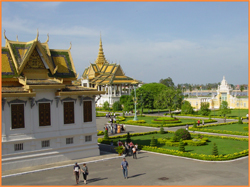 and the city still enjoys a heady dusk-to-dawn nightlife.
As the capital city of Cambodia, Phnom Penh is fairly young, only rising to the role in 1866, but is still a city steeped in tradition and history, offering several cultural and historical sights. Much of the central city including the Royal Palace and National Museum was built during the French period. You may notice the old French buildings in classic colonial yellow amongst the Southeast Asian shophouses and traditional Khmer pagodas and markets.
The National Museum in Phnom Penh is the most significant public repository of Khmer artifacts in the country, displaying many important Angkorian artifacts and rare pieces from later periods. Historical sites from the Khmer Rouge period include the Toul Sleng Genocide Museum and the Choeung Ek Memorial. Other historical sites such as the old capital of Oudong and the Angkorian ruins of Phnom Chisor and Phnom Da lay within an easy day-trip of Phnom Penh.
Phnom Penh offers a wide and varied range of accom-modations. Hotels and guesthouses are spread across city, though there is a greater concentration toward the city center, especially in Boeung Keng Kang 1 area and popular riverside area. Mid-range a/c rooms run $15-$90/night with CTV, fridge and hot water at the low end and well-outfitted, boutique style rooms at the top. Business class starts at about $120. Fan & bed budget digs can be had for $3-$10/night... (more)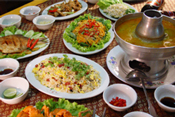 Phnom Penh offers the best dining in Cambodia, with choice, depth and authenticity exceeding the tourist towns. The Cambodian food is made-for-the-locals authentic whether street food or 5-star dining. There is a wide range and variety of foreign restaurants with most western and Asian cuisines as well as contemporary dining well represented. Given Cambodia's long relationship with Gallic gastronomic traditions, it is no surprise some of the best venues in town are... (more)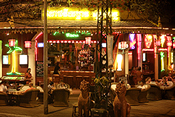 Nightlife, Bars & Clubs
Phnom Penh is a good little party town, offering a heady dusk till dawn nightlife and a variety of places from which to choose - dance clubs and discos, sports bars, neighborhood pubs, hostess bars and more. Bars and clubs are scattered across the town, but as the city is fairly compact itís never more than a 5 or 10 minute ride between places. Making it even easier, there are several little clusters of bars around town allowing you to easily hop from one to the next... (more)
Whether you're looking for traditional Khmer handicrafts or chic contemporary fashion, Siem Reap is an excellent place to shop for all things Cambodian. In addition to classic Cambodian souvenirs, Siem Reap has a unique and growing variety of contemporary art galleries, fashion boutiques and trendy shops. Shopping venues are scattered across the town with a concentration of places along Sivutha Blvd., and near Phsar Chas (the Old Market) and Pub Street... (more)
Massage for health and relaxation is a time-honored tradition in Southeast Asia and Cambodia has its own distinctive massage traditions. Many spas, massage and reflexology shops are concentrated in tourist areas such as along the riverfront and Boeung Keng Kang 1. Boutique spas have become quite popular, aimed primarily at ladies and couples and offering massage, spa and salon services in a tranquil, indulgent atmosphere. Most offer... (more)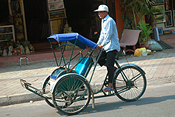 Getting to, from & around Phnom Penh
The majority of international visitors arrive in Cambodia by air at the Phnom Penh or Siem Reap international airports. Visas are available on arrival at both airports as well as most overland border crossings. Phnom Penh receives direct flights from more than a dozen Asian cities. There are also regularly scheduled air-con buses offering direct service between Ho Chi Minh City Vietnam and Phnom Penh that travel (see below.) Currently, the only domestic air service... (more)
Phnom Penhís points of interest are largely historical and cultural, but they are only part of exploring the city. Exotic shopping, unique dining, indulgent spas and a fair bit of nightlife complete the Phnom Penh experience. For the sights, set aside two or three days for the major points. Though it is possible to squeeze the most important sights into a single day, this leaves very little time at each location. Popular sights include the Royal Palace and Silver Pagoda... (more)
Royal Palace * Architecture * Day Trips * Traditional Performance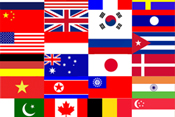 Living in Phnom Penh
House/apartment rental prices range from $150 - $3000/month but average between $200 and $800/month, plus utilities. To find a place of your own, spread the word, tell your Cambodian friends and acquaintances and they will bring you lots of options. Also check out the classified ads in the Cambodia Daily, and, if you have the time, just drive around desirable neighborhoods looking for 'For Rent' signs. Realty companies list rentals and can be quite helpful... (more)
Though the medical facilities are still limited and in many cases not up to international standards, there has been much improvement in recent years, offering a greater range and quality of services. There are a half dozen or so international clinics and foreign doctors in town, most listed below. Calmette Hospital and the international clinics can handle most medical problems but serious illness or injury may still require medical evacuation, probably to Bangkok or... (more)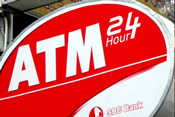 Banks & Money
Though Cambodian riel (KHR) is the official currency, US dollars are in common use. Most businesses, especially hotels, restaurants, airlines, markets and souvenir shops set their prices in US dollars. Change of less than one dollar is given in riel. Money changers cluster around the markets and tend to give a slightly better exchange rate than the banks. When accepting money, inspect the bills. Marred riel is acceptable tender, but the tiniest tear in a large US note... (more)