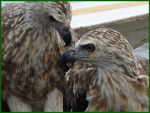 Prek Toal Bird Sanctuary
The sanctuary at the Prek Toal core area of the Biosphere Reserve has been called "the single most important breeding ground in Southeast Asia for globally threatened large waterbirds." The Biosphere covers 31,282 hectares at the northwest tip of the Lake and plays host to species including Greater and Lesser Adjuncts, Black-headed Ibis, Painted Stork, Milky Stork, Spot-billed Pelican, Grey-Headed Fish Eagle and many more species. Of the three Biosphere core areas on the Tonle Sap Lake, Prek Toal is the most accessible from Siem Reap and the most popular with birdwatchers. The best time of year for viewing is the dry season (December-May) when flocks of migratory birds congregate at Prek Toal. As the dry season progresses and the water recedes, the number of birds increases but the travel to some of the more important viewing areas becomes more difficult.

Arrange a trip to Prek Toal through your guesthouse or a tour operator. To do it yourself, take a moto or taxi from Siem Reap to the Chong Khneas boat dock. Arrange a boat to the Prek Toal Environmental Research Station (starting at $60 return,) a $20 entrance fee and $30 for a guided boat tour of the sanctuary. The Research Station has information on the area's flora and fauna. There are also basic overnight accommodations if you want to stay the night to take full advantage of the sunset and early morning viewing hours.
More Bird Watching

Away from the lake, northwest of Siem Reap the Ang Trapeng Thmor Sarus Crane Reserve offers another unique birdwatching opportunity.

Ang Trapeng Thmor Sarus Crane Reserve
(The following about Ang Trapeng Thmor comes courtesy of the Sam Veasna Center.) Originating as a reservoir on the Angkorian highway 66 it was rebuilt as a man-made irrigation and water storage reservoir by slave labor during the Khmer Rouge Regime in 1976. The reservoir now harbors a unique wetland associated with grassland, dipterocarp forests and paddy fields. Aside from being a feeding ground for more than 300 Sarus Crane in the dry (non-breeding) season, more than 200 species of other birds occur here, of which 18 have been classified as globally or near globally threatened. This is also one of the handful of sites in Cambodia where the endangered Eld's Deer can be seen. Colonies of fruit bats inhabit larger trees that are often semi submerged on the edge of the reservoir.

The best time to see the Sarus Crane is from February to May though an abundance of bird species can be viewed all year. There is also a hill top Angkorian temple a few kilometers into the forest while traditional silk weaving is still practiced in the adjacent village. A boat trip can be taken on the reservoir which depending on the time of year is 11km along and 8 wide and offers fantastic views of the surrounding countryside

Officially declared a Sarus Crane Reserve by Royal Decree in 2000 the area designated covers over 12000 Hectares, following the work of Sam Veasna and his friends at the Wildlife Conservation Society (WCS), all foreign visitors are required are required to register at the WCS Office in the adjacent village.

ATT is a day trip from Siem Reap though accommodation can be arranged at the WCS HQ (Tel: +(855)(0)12-703033) or organized through the Sam Veasna Center in Siem Reap (Tel: +(855)(0)12-520828) in the adjacent village, giving birdwatchers the chance of dawn sightings and offering the opportunity of visiting the massive Angkorian temple complex of Banteay Chma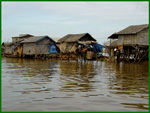 Chong Khneas
Chong Khneas is the floating village at the edge of the lake closest and most accessible to Siem Reap. If you want a relatively quick and easy look at the Tonle Sap, boat tours of Chong Khneas are available, departing from the Chong Khneas boat docks all day long. Take a tuk-tuk or taxi the 11-15km from Siem Reap to the docks where there are always boats waiting for passengers. Boat pricing is variable, traditionally by the boat, but they'll charge up to $20/pax.
The boatman will probably point out the differing Khmer and Vietnamese floating households and the floating markets, clinics, schools and other boatloads of tourists. Chong Khneas, while interesting, is over-touristed and is not as picturesque as floating villages further afield. The trip usually includes a couple of stops - usually one a touristy floating 'fish and bird exhibition' with a souvenir and snack shop. Sometimes they will also try to get you to agree to stop at a school or orphanage, which we do not recommend. Ask the operator to skip this part of the tour.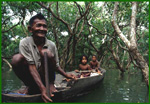 Kampong Phluk
Kampong Phluk is a cluster of three villages of stilted houses built within the floodplain about 16 km southeast of Siem Reap. The villages are primarily Khmer and have about 3000 inhabitants between them. Flooded mangrove forest surrounds the area and is home to a variety of wildlife including crab-eating macaques. During the dry season when the lake is low, the buildings in the villages seem to soar atop their 6-meter stilts exposed by the lack of water. At this time of year many of the villagers move out onto the lake and build temporary houses. In the wet season when water level rises, the villagers move back to their permanent houses on the floodplain, the stilts now hidden under the water. Kampong Phluk's economy is, as one might expect, based in fishing, primary in shrimp harvesting.

Kampong Phluk sees comparatively few foreign visitors and offers a close look at the submerged forest and lakeside village life. The area can be reached by boat from the Chong Khneas or by road. It's easiest to make arrangements through a tour operator, or if you are good at bargaining charter a boat at the Chong Khneas docks. During the wet season, drive to Roluos village just off Route #6 east of Siem Reap and then take a boat through the flooded forest the rest of the way. During the dry season the road is clear, making the boat unnecessary.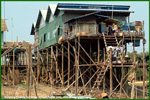 Kampong Khleang
Kampong Khleang is located on the northern lake-edge about 35 km east of Siem Reap. It is more remote and less touristed than Kam-pong Phluk. Visitors during the dry season are universally awestruck by the forest of stilted houses rising up to 10 meters in the air. In the wet season the waters rise to within one or two meters of the buildings. Kampong Khleang is a permanent community within the floodplain of the Lake, with an economy based in fishing and surrounded by flooded forest. But Kampong Khleang is significantly larger with near 10 times the population of Kampong Phluk, making it the largest community on the Lake.

The area can be reached by boat from the Chong Khneas docks or by a combination of road to Domdek on Route #6 and then boat to the village, the best method depending on the time of year. During the dry season, boats cannot get all of the way to the main villages. Consult your guesthouse or tour operator about current conditions. Many tour operators have very little experience in this area so it is best to consult with adventure tour operators and guesthouses that specialize in this area.

To get there yourself, either charter a boat from Chong Khneas or take car or moto to Domdek village on Route #6 east of Siem Reap, turn south and continue to the water's edge where boats wait to ferry passengers into the village. During the dry season the road is clear and you can take a car or moto all of the way to the village.)
Hidden Cambodia Adventure Tours
Single and multi-day all-inclusive, high end, cultural, ad- venture and humanitarian tours by 4WD vehicles, dirt bike and car to Koh Ker, Preah Vihear, Preah Khan temples and historic KR area, Anlong Veng. Tonle Sap Lake tours.
Address: Just off the road to Angkor Wat, Siem Reap, Cambodia.
Tel: +(855)(0)12-655201
+(855)(0)12-934412
hiddencambodia@yahoo.com
www.hiddencambodia.com
Kampoul Adventure Tour
Cultural and adventure tours. Tonle Sap Lake tours.
#0593 Wat Bo Road
Tel: +(855)(0)63-760909
+(855)(0)63-965865
www.adventure.com.kh
Peace Of Angkor
Set up by a British photographer in 2003; Peace Of Angkor run special tours to remote temples and Tonle Sap Lake all year round . Bird watching Tours at Prek Toal and The Sarus Crane Reserve at Ang Trapang Thmor are featured during the dry season.
Address: Siem Reap, Cambodia.
Tel: +(855)(0)63-760475
+(855)(0)12-934412
info@peaceofangkor.com
www.peaceofangkorphoto.com/lake-villages.html (has comprehensive info and photography of Angkor and beyond.)
Offers unique single and multi-day adventure tours. Bicycling, kayaking, boating, trekking and more. Angkor temple tours and outlying temple tours, bicycling countryside trips, temple trekking tours, combination bicycling/kayaking tours, etc.
Tel: +(855)(0)97-4562000
Sam Veasna Center (SVC)
Sam Veasna Center (SVC) organizes half or full day trips focusing on birds but offering a glimpse of Cambodian rural life with a trained local guide. SVC was set up to promote wildlife conservation in Cambodia. It works together with the Wildlife Conservation Society and local village communities to develop remote sites close to the habitat of some spectacular bird life. The local communities benefit from the infrastructure set up for the visitors. Trips to see Sarus Crane at Ang Trapaeng Thmor, Giant and White Shouldered Ibis at Tamtboey, A vulture restaurant at Chhep amongst others, plus some of the most beautiful and unspoiled countryside in Cambodia.
Address: Siem Reap, Cambodia.
Tel: 063-761597
Tara River Boat
Tara Riverboat operates both half day trips and sunset tours of Chong Khneas floating village and stops at the Gecko Environmental Centre fish and a crocodile farm along the way. Meals and drinks are served on the boat. All boat tours include pick up and return to hotels and a guide. Price for half day is $27/person and sunset is $33/person. The sunset cruise includes all drinks including unlimited champagne, wines, beers, etc. and a 2 course meal. Tours to Prek Toal (bird sanctuary,) and Kampong Phluk, Kampong Khleang (traditional lake villages) and Battambang also available. These tours also include food, drinks, pick up and return to hotel in an a/c car. Price for Prek Toal tour is $125/person. The Kampong Phluk is $60/person. Tailored adventure tours on request.
Address: Located at Chong Khneas floating village, Siem Reap, Cambodia.
Tel: +(855)(0)92-957765
info@taraboat.com
www.taraboat.com
Terre Cambodge/Biking Cambodia
Mountain bike (TREK, GIANT) and trekking specialist. Overnights. Tonle Sap Lake boat tours (bird sanctuary, floating and stilted villages,) elephant trekking and more. Tailor made itineraries.
#R-30 Rolous Street - Borei Prem Prei, Siem Reap, Cambodia.
Tel: +(855)(0)77-448255
+(855)(0)92-476682
www.terrecambodge.com