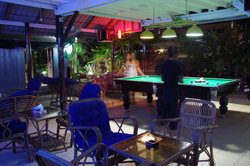 Sihanoukville is a town that knows how to party and there's no shortage of bars and nightspots. Parts of Ochheuteal, Otres, Independence and Victory Beaches are lined with seafood shacks that double as bars. Ochheuteal is by far the busiest and there's always an all-night bar or beach party. (Very late, check out Utopia, Monkey Republic, Big Easy and Dolphin Shack on the beach.) Off the beaches there are several bars on Serendipity Beach Road and a couple of bar plazas near the traffic circle (Golden Lion Plaza and Sihanoukville Square). Behind Victory Beach a number of hostess, sports and music bars line the top of Victory Hill, some open into the wee hours. The downtown area also has its share of tippling establishments, a couple staying open quite late, including Charlie Harper's and G'Day Mate.
The Bars, Clubs & Casinos of Sihanoukville
Sihanoukville Square & Golden Lion Plaza
Two bar plazas near the Golden Lions Traffic Circle - Golden Lion Plaza and Sihanoukville Square - both offer a range of bars and pubs clustered together open-mall style. Both plazas harbor hostess, music and sports bars and Sihanoukville Square offers some dining options as well. The bar plazas are open all day and into the night, offering some of the latest-open drinking venues off the beach.
Aqua Resort
Restaurant/Bar: Western/Khmer
Poolside hotel restaurant and bar, featuring a wide selection of Western and Khmer dishes. Their full bar features draft beer, spirits and cocktails and best of all, friendly staff. Pool table and occasional live music.
Polaway Street (1 Kanda Street), Ochheuteal area
7:00AM - 12:00AM
Tel: 034-934582

Barnone
Bar and Grill
Cozy little bar amongst a little cluster of bars on the road to Serendipity Beach. Pool table, sports TV, music and several friendly waitresses to help pass the time. Full bar with reasonably priced beer and drinks.
80m from Serendipity Beach, Ochheuteal area
5:00PM - Late
**Happy Hour: 5:00PM - 8:00PM
Tel: 016-452452
Restaurant/Bar: German/Thai
Restaurant and bar at the Bavarian Guesthouse. Enjoy delicious German specialties such as schnitzel, spätzle, bratwurst, goulash and various pasta favorites. The menu also includes Thai dishes plus daily specials and tasty desserts including banana splits, apple pie and ice cream. Indoor and outdoor seating.
Downtown, Street 109
8:00AM - Late
Tel: 012-964503
www.the-bavarian.webnode.com
Restaurant/Bar: International/Western
Breezy, family-friendly poolside restaurant and bar at Beach Club Resort. Excellent Western menu offering salads, steaks, burgers, pizza, pasta and Indian dishes. Enjoy a cold beer, wine or specialty cocktails under an umbrella by the pool. Bar features a pool table and free, fast WiFi. Recommended. Hotel rooms available.
Visa/MC/JCB/AMEX
Ochheuteal Beach, 23 Tola Rd.
6:45AM - 10:00PM
Tel: 034-933634
The Big Easy
Restaurant/Pub: Western/Asian
Spacious, comfortable, breezy bar and restaurant on the road to Serendipity Beach. Extensive menu of western and Southeast Asian favorites. Big bar, cocktails, cold beer, wine. Very reasonable prices on all. Bungalows, rooms, dorm beds available. Wifi.
Serendipity Beach Road, Ochheuteal area
7:00AM - Late
Tel: 081-943930
www.thebigeasy.asia

Blue Star Bar
Bar
Spacious hostess and sports bar in the middle of the Sihanoukville Square. Full bar and lots of friendly hostesses to help you spend your time. Two pool tables. Sports TV. Free wifi.
Sihanoukville Square, Ochheuteal area
5:00PM - Late
Tel: 086-365436
Charlie Harper's
Bar/Restaurant: Western/Asian
Located in downtown Sihanoukville, this bar is popular with those living the "Charlie Harper lifestyle." Featuring a five-hour-long happy hour with $0.75 drafts, pool table, bar games and big screen TV with live sports. The large, a/c bar also offers karaoke, and there are usually a few women around to sing duets with. The menu features Asian and Western cuisine, including chili and ribs.
Ekareach Street, Downtown
8:00AM - 12:00PM
**Happy Hour: 3:00PM - 8:00PM
Tel: 017-415866
www.charlieharpersbar.com

Chenda's Bar
Sports Bar
Sports, hostess and karaoke bar at Sihanoukville Square near the Golden Lions. Covered bar area with two pool tables and three prominent large screen TVs showing sports. Karaoke at the bar available. Just ask for the mike. Full bar with draft beer, cocktails and shots. Free wifi. Food available.
Sihanoukville Square, Ochheuteal area
5:00PM - Late
**Happy Hour 5PM - 8PM
Tel: 089-517850, 089-517860

The Corner Bar & Restaurant
Bar/Restaurant: Western/International
Streetfront Victory Hill restaurant and bar specializing in homemade pizza. On match days the bar stays open all night to show major sporting events -- they've got four TVs, including a big screen. The full bar is busy in the evenings with the Victory Hill crowd.
Victory Hill
Noon - Late
Tel: 012-479395
034-934461

Done Right
Bar/Restaurant: Swedish/Spanish/Cambodian
Eco-friendly, Swedish-owned guesthouse on Otres Beach serving excellent food - the pasta dishes are particularly recommended. The bar offers an extensive cocktail menu in an ambient lounge atmosphere. Recommended.
Otres Beach
Open 24 Hours
**Happy Hour all the time
Tel: 097-9361441
088-6678668

The Emerald
Bar/Restaurant: Irish
Friendly, long-running Irish pub with ice cold draft beer and imported beers including Guinness, pool table, huge collection of music on computer and sports TV. Good selection of spirits including the best selection of Irish whiskeys in town, perhaps the country. Indoor and curbside seating. Good kitchen, offering a large menu of Irish, western and Asian dishes - Cornish Pastry, Irish Stew, Pulled Pork Sandwiches, burgers and more. Reasonable prices. Darts. Fast, free wifi.
Downtown, Sopheakmongkol Street
11:00AM - 2:00AM
Tel: 097-7527490
www.emeraldsihanoukville.wordpress.com

Fisherman's Den Sports Bar
Sports Bar
Full bar serving cold beer, pub grub and Western favorites like F&C and home-made corned beef, all at reasonable prices. Sunday roast a specialty. In addition to the 3 satellite dishes showing rugby, cricket, Scottish football and other major sporting events, they also have a pool table and darts
Downtown, on Ekareach St.
7:00AM - Late
Tel: 097-6384046
034-933997
Beach Bar and Restaurant: Spanish
Beachfront bar and restaurant on the sand of Ochheuteal, serving something different than most - a large selection of authentic Spanish fare including Paella. Full bar, draft beer, cocktails. Motorcycle rental - the usual 125-250cc and also big bikes, 750-1100cc.
Ochheuteal Beach
9:00AM - 3:00PM
Tel: 078-500664

G'Day Mate Bar
Restaurant/Bar: International
Popular, 24-hour bar and restaurant on the main road in the middle of town offering cold beer, a full bar and a good food all at very reasonable prices. Huge collection of music. Pool table. Indoor and outdoor seating. Great place to satisfy those middle of the night munchies. Very reliably open 24 hours a day, serving drinks and food.
Downtown, on Ekareach St.
24 hours
Tel: 012-280947
gdaymatebar@hotmail.com

Golden Sea Hotel & Casino
Restaurant/Bar/Casino: International
Hotel and entertainment resort complex. Rooftop restaurant serving Khmer Asian and western food. Casino with slots electronic blackjack and more. Swimming pool. Massage. Health club and spa. Full banquet and conference facilities.
Victory Beach
5:00PM - 2:00AM
Tel: 034-937888
012-957888
The Golden Sunset
Beach Restaurant/Bar: Asian/Western
At the far end of Otres beach you'll find the Golden Sunset, a beachside bar and restaurant serving fresh seafood, Western and Khmer dishes. The laid back, outdoor beach bar features music and a pool table. In addition, they have bungalows and beach camping options, and can also organize kayaking, snorkeling and boating trips.
Otres Beach
6:00AM - 10:00PM
Tel: 012-812087

Holiday Palace Hotel
Casino/Bar/Hotel
The Holiday Palace Casino and Hotel has relocated from Victory Beach to Independence Beach. Full service casino offering blackjack, roulette, baccarat, Asian and Pacific poker, slots and VIP rooms. Favorable reviews from patrons. A/c international restaurant. Full bar. Coffee shop
Independence Beach
24 Hours /15 Hours
Tel: 034-933807
034-933808
sihanoukville@holiday-palace.com

Insomnia Bar & Tours
Bar/Restaurant
Sports, pool, hostesses and snacks on Sihanoukville Square. Breezy patio seating, covered bar are with free pool table, darts and TV with sports and movies. Good place for late night snacks - hot dogs, chilli dogs, hamburgers and more. Open very late. Travel and tour services during the day - bus tickets, visa, island/boat trips, motorcycle/car rental. Tour desk open 8AM-5PM.
Sihanoukville Square, Ochheuteal area
5:00PM-4:00AM
** Happy Hour: 5PM-8PM
Tel: 010-690387
010-868289

Monkey Republic
Restaurant/Bar: Western/International
The backpacker bar and restaurant at Monkey Republic is always packed -- even in the rainy season -- probably because of the excellent selection of popular music and inexpensive cocktails, beer, and shooters. The portions of their Western and Khmer food are large and the prices are low, plus they offer Marmite and Vegemite for a taste of home. Movies, Playstation, pool table and free WiFi. Bungalows and dorm rooms available. Under construction and slated to reopen in late October.
Road to Serendipity Beach, Ochheuteal area
8:30AM - Late
**Happy Hour: 6PM-9PM
Tel: 012-490290
www.monkeyrepublic.info

Mien Mien Otres
Beach Bar and Restaurant: Khmer/International
Long popular beach bar and restaurant on the sand of Otres Beach just a few meters from the ocean's edge. Offering a big menu of Khmer and western dishes, especially seafood dishes and BBQs, all at very reasonable prices. Free pool. Boat trips. Yoga classes. Bungalows right on the beach as well as brand new bungalows on the other side of the road.
Otres Beach.
6:00AM - 10:00PM
** Happy Hour: 5:00PM - 7:00PM
Tel: 016-305031
012-514078

Paradise Garden
Restaurant/Bar: Cambodian/Chinese
This large beer garden offers the chance to experience authentic Cambodian karaoke culture. There's lots of delicious seafood on the Chinese-Cambodian menu, the portions are large and there's a full bar. Paradise Garden features karaoke women performing Khmer standards every night, and guests can sing as well. For those who are feeling bashful, there are also private A/C KTV rooms.
Karaoke Street, near the Golden Lions
10:00AM - Late
Tel: 016-333609
092-578759

Pier Bar
Bar/Cafe: Khmer/Russian/European
Uniquely situated over the ocean on the Serendipity beach pier. The full bar, open 24/7, features inexpensive cocktails, beer and wine. Pier Bar is a good choice to enjoy the sunset and ocean breeze and stay until the wee hours of the morning.
On the Pier at Serendipity Beach, Ochheuteal area
24 Hours
**Happy Hour: 10:00PM
Tel: 090-768529
Reef Resort
Restaurant/Bar: Western/Cambodian
The Reef Resort offers a good selection of western favorites, a few Mexican dishes and some very good, fresh, build-your-own sandwiches. Full bar, draft , local and imported beers, cocktails and an extensive selection of spirits including top-shelf tequilas. Sports, news or your request on their big screen plasma TV.
Visa/MC/JCB/ANZ
Road to Serendipity Beach, Ochheuteal area
7:00AM - 10:00PM
** Happy Hour: 3:00PM - 7:00PM
Tel: 012-315338

Sakal Bungalows Restaurant
Bar/Restaurant: International
Popular restaurant and 24 hour bar run by a professional western barman. Full bar, cocktails, very reasonable prices. Daily drink specials. Restaurant offering a wide selection of western and Asian choices. Open air and poolside seating. Pool table. Darts. Big screen TV. Full international menu. Quiz night every Wed. Internet. Travel service. Guesthouse.
Visa/Gold Dot
Open 24 Hour
Tel: 012-806155
24/7 Restaurant and Bar
Very reasonably priced 24-hour restaurant and bar on the Road to Serendipity serving western and Khmer meals and snacks. Nice balcony with a good view and a nice ocean breeze. Full bar serving draft and local beers and cocktails.
Serendipity Beach Road, Ochheuteal area
Open 24 Hour
**Happy Hour 7:00PM - 7:00PM
Tel: 012-806155
The Small Beach Bar
Restaurant/Bar: Western/Khmer/Scandinavian
This Swedish-owned beachside bar and restaurant on Independence Beach is run by the same folks from the Small Hotel. They offer a great selection of Khmer and Western dishes, plus some Swedish specialties as well. Enjoy a drink from the fully-stocked bar in one of their comfy chairs or sun loungers.
Independence Beach
8:00AM - 8:00PM
Tel: 097-7563489

The Small Hotel
Bar/Restaurant: Western/Scandinavian
The cozy restaurant and bar at the Small Hotel offers a delicious selection of reasonably priced Western foods, including Swedish specialties like köttbullsmacka, gravlax and Swedish meatballs, plus they've got a few Asian dishes as well. Great reviews, outstanding service and a friendly atmosphere make the Small Hotel a good choice for a drink or a meal. Recommended.
Downtown, behind the Caltex Station
7:00AM - 10:00PM
Tel: 034-934330

Stumble Inn
Bar
Located right at the front of the Golden Lion Plaza. Full bar, cocktails and shots, cold draft beer, sports TV, pretty hostesses and a pool table. A good place to make an evening of it. Open bar with a nice breeze floating over from the beach.
Ochheuteal area, Golden Lions Plaza
6:00PM - Late
Tel: 097-2102437
Utopia
Bar/Restaurant: Seafood/Vegetarian
A Sihanoukville institution, Utopia is popular with backpackers, travelers and a partying crowd who come for happy hour and stay until the wee hours getting wild to pop, dance, jungle, drum n' bass, break beat and more. Drink specials and cheap accommodation available.
Road to Serendipity Beach, Ochheuteal area
9:30AM - Late
Tel: 034-934319
Last updated September 2013