Sihanoukville Bars & Nightlife
Sihanoukville is a town that knows how to party and there's no shortage of bars and nightspots. Much of the partying is done at the beach bars but there are plenty of off-beach places as well, including a couple of bar plaza's near the Golden Lions, a varied string of places along Serendipity Beach Road and something of a proper bar street on Victory Hill with a dozen-plus hostess and sports bars. If you poke around you'll find the choice is actually fairly varied: different beach bars to chill or party, clusters of hostess places, a few unique neighborhood pubs and cocktail bars dotting the town, and even a couple of live music venues. And the drinking is still very cheap in Sihanoukville, many places offering 50 cent draft and $1 cans at happy hour and sometimes all day long.
Sihanoukville Bars, Clubs and Casinos:
| | | | | | |
| --- | --- | --- | --- | --- | --- |
| Beach Bar | Hostess Bar | KTV/Club | Casino | Live Music | Pool Bar |
After Work Bar

Amongst the town's best bars. Stylish upstairs lounge, smart design and decor, comfortable lounge and bar seating. Complete bar, lots of cocktails, flavored vodkas. Lovely staff. As well as great music, After Work does regular events and theme nights. Watch for the fliers. Open: Wed - Sun 9:30PM - Late

Downtown, a off Ekareach Street, behind Total

Aqua Family Resort

Welcoming, poolside hotel restaurant and bar. Full bar featuring draft beer, spirits and cocktails and best of all, friendly staff. The kitchen serves a wide selection of Western and Khmer dishes, including very nice western breakfasts. Pool table and occasional live music. Good reviews. Open: 7AM - 12AM Visa/MC/Paypal/Bitcoin.

Polaway Street, Ochheuteal area

Barnone
Cozy little bar amongst a little cluster of bars on the road to Serendipity Beach. Pool table, sports TV, music and several friendly waitresses to help pass the time. Full bar with reasonably priced beer and drinks. Open: 5PM - Late. Happy Hour: 5PM-8PM

Serendipity Beach Road, 80m from the beach

Beach Club
Breezy, family-friendly poolside restaurant and bar. Excellent Western menu, salads, steaks, bur-gers, pizza, pasta. Enjoy a cold beer, wine or specialty cocktails under an umbrella by the pool. Bar features a pool table and free, fast wifi. Open: 6AM - 10PM Visa/MC/JCB/AMEX

Ochheuteal area, Preah Lumhei Phumin St (23 Tola St.)

The Big Easy

Spacious, comfortable, breezy bar and restaurant. Big screen TV with live sports. Western and Southeast Asian favorites. Big bar, cocktails, cold beer, wine. Very reasonable prices on all. Bungalows, rooms, dorm beds available. Wifi. Sports TV. Live music Mon, Wed and Fri. Open: 7AM - Late www.thebigeasy.asia

Serendipity Beach Road

Charlie Harper's

Popular with those living the "Charlie Harper lifestyle." Featuring an ultra-long happy hour, pool table, bar games and big screen TV with live sports. The large, a/c bar also offers karaoke, and there are usually a few ladies around to sing duets with. Open: 8:00AM - 12:00PM Happy Hour: 3PM-8PM

Ekareach Street, Downtown

Done Right

Eco-friendly, Swedish- owned guest house on Otres Beach serving excellent food - the pasta dishes are particularly recom-mended. The bar offers an extensive cocktail menu in an ambient lounge atmosphere. Recommended. Open: 24 Hours Happy Hour: All the time

Dolphin Shack
One of the most popular after dark beach bars on Serendipity/ Ochheuteal Beach. A totally happening scene almost every night without fail. Full bar. Drink specials. Music. Booze cruises. Mud wrestling. Always something. Open: 24h www.dolphinshack.com

Serendipity/Ochheuteal Beach

Gas and Surf
Beachfront bar and restaurant on the sand of Ochheuteal, serving something different than most - a large selection of authentic Spanish fare including Paella. Full bar, draft beer, cocktails. Motorcycle rental - the usual 125-250cc and also big bikes, 750-1100cc. www.gasandsurf.com

Serendipity/Ochheuteal Beach, on the beach

G'Day Mate Bar
24-hour bar and restaurant on the main road offering cold beer, a full bar and Western and Asian food at very reasonable prices. The Aussie-run. Boasting a huge collection of music, a pool table and indoor and outdoor seating. Open all night for midnight drinks or munchies. Open: 24h

Downtown, on Ekareach Street

Golden Island

Casino
Casino conveniently located in the Ochheuteal Beach area. Large variety of machines and slots, machine roulette, live Blackjack, Baccarat, and Texas Hold'em. Posh atmosphere. Full bar, food, good service.

Ochheuteal area, Preah Lumhei Phumin St., opposite the Golden Sand Hotel

Holiday Palace
Full service casino offering blackjack, roulette, baccarat, Asian and Pacific poker, slots and VIP rooms. Favorable reviews. Air-conditioned inter-national restaurant. Full bar. Coffee shop. Hotel. Open: 24 Hours

Independence Beach

Invito Cambodia
Italian place on the road to Serendipity with a good full bar and open late, until 11:30PM. Beer, wine and a large cocktail menu. Italian food including a large selection of pizzas and pasta dishes as well as some Thai and Cambodian choices. Open: 7:30AM - 11:30PM

Serendipity Beach Road

JJ's Playground
Popular with backpackers, this late-night bar doesn't start getting going until after midnight, when it becomes the most popular place on Serendipity Beach. Dance the night away inside, where live DJs and cheap drinks are the order of the day, or enjoy the party from the beach, where you can relax on wooden benches and watch the carnage within

Serendipity Beach

The Led Zephyr
Live music! Great rock n' roll bar on the top of Serendipity Beach Road hill featuring live music almost every night of the week. Pool tables, full bar, good food, rooms and dorm beds. Open: 9:00AM-12:00PM Sun-Thu / 9:00AM-2:00AM Fri-Sat Happy Hour: 6PM-9PM

Serendipity Beach Road

Maybe Later
Unique bar features Western mixologists who make a mean cocktail with names like Muscle Beach, Bad Panda and Dreamsicle. Don't let the names fool you, the drinks and strong and delicious. Don't miss the bathroom, also known as the Rambo Room, a shrine to Sylvester Stallone's character of the same name. Open: 5PM - 2AM

Serendipity Beach Road

Mien Mien Otres
Long popular beach bar and restaurant on the sand of Otres Beach just a few meters from the ocean's edge. Offering a big menu of Khmer and western dishes, especially seafood dishes and BBQs, all at very reasonable prices. Free pool. Boat trips. Yoga classes. Open: 6AM - 10PM Happy Hour: 5PM - 7PM

Monkey Republic
This backpacker bar and restaurant is always packed -- even in the rainy season -- probably because of the excellent selection of popular music and inexpensive cocktails, beer, and shooters. The portions of their Western and Khmer food are large and the prices are low. Open: 8:30AM - Late Happy Hour: 6PM-9PM

Road to Serendipity Beach

Paradise Garden
This large beer garden offers the chance to experience authentic Cambodian karaoke culture. There's lots of delicious seafood on the Chinese-Cambodian menu, the portions are large and there's a full bar. Paradise Garden features karaoke women performing Khmer standards every night, and guests can sing as well. For those who are feeling bashful, there are also private A/C KTV rooms. Open: 10:00AM - Late

Karaoke Street, near the Golden Lions

Pier Bar
Uniquely situated over the ocean on the Serendipity beach pier. The full bar, open 24/7, features inexpensive cocktails, beer and wine. A popular place. Happy Hour: 10PM

On the Pier at Serendipity

Sakal Bungalows

Restaurant
This casual restaurant and 24-hour bar is popular with sports fan who come to watch the games, no matter what time they're on. Daily drink specials and a range of cocktails. Pool table, darts, big-screen TV, Wifi and quiz nights every Wednesday. Restaurant. Open: 24 Hours Visa/GoldDot

Victory Hill

Sakal Restaurant & Bar
Full bar serving draft and local beers and cocktails at very reasonable prices, open 24/7, on the road to Serendipity. Nice balcony with a good view and a nice ocean breeze. Food and snacks. Open: 24 Hour Happy Hour: 7AM-7PM

Serendipity Beach Road

The Small Beach Bar
This Swedish-owned beachside bar and restaurant on Independence Beach is run by the same folks from the Small Hotel. Great selection of Khmer and Western dishes, plus some Swedish specialties as well. Enjoy a drink from the fully-stocked bar in one of their comfy chairs or sun loungers. Open: 8AM - 8PM

Independence Beach

Sessions
Practically a Siha-noukville institution, as one of the longest-running bars on Ochheuteal. The perfect place to enjoy a sundowner, the party continues on until the wee hours on the beach, featuring indie and classic rock from the 60s onward. Lots of drink specials and events, including live music and DJs. Open: 11:00AM - Late Happy Hour: 4PM-9PM

Ochheuteal Beach

Stumble Inn
Located right at the front of the Pub Street plaza. Full bar, cocktails and shots, cold draft beer, sports TV, pretty hostesses and a pool table. Open bar with a nice breeze floating over from the beach. Open: 6PM - Late

Ochheuteal, Pub Street (Golden Lions Plaza)

Tiki Club
Relaxed Victory Hill bar and restaurant, set on a quiet sidestreet. Good full bar, reasonable prices, occasional live music. French food as well as Cambodian and Thai choices. Open: Noon - 10PM Happy Hour: 5PM-6PM

Victory Hill

Utopia
A Sihanoukville institution, Utopia is popular with backpackers, travelers and a partying crowd who come for happy hour and stay until the wee hours getting wild to pop, dance, jungle, drum n' bass, breakbeat... Open: 9:30AM - Late Happy Hour: 9PM-10PM

Serendipity Beach Road

Wish You Were Here
Popular guesthouse at the heart of Otres with a massive bar that's open all day. Meet other travelers over an inexpensive drink or 50-cent draft at the bar, or have a swing in one of their hanging chairs. Music runs the gamut from classic rock to pop, and they often have live musicians on weekends.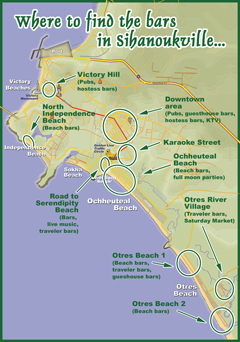 Where to go...
The beaches... umbrellas and chairs, pool tables under thatch roofs and parties late into the night... (map)
Road to Serendipity... pubs, live music, backpacker places and more... (map)
Otres Beach... a laid back, chill out version of Ochheuteal, still off the beaten path... (map)
Victory Hill... hostess bars, sports pubs, budget places and more hostess bars... (map)
Downtown... a variety, a few pubs, a club, a couple of hostess bars... (map)
The Bar Plazas... Sihanoukville Plaza and Pub Street Plaza near the Golden Lions, hostess bars, a few pubs and eats...
Karaoke Street... Dozens of local KTV shacks and a couple up market KTV places near Ochheuteal ...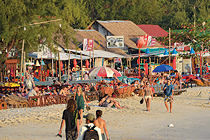 Ochheuteal/Serendipity and Otres are the main party beaches, with some bars busy into the wee hours every night, offering fire juggling, DJs, full moon parties and sometimes live music. (On Ochheuteal late, check out Dolphin Shack and Sessions.) Just off-beach, especially along Serendipity Beach Road, there is a varied choice of bars, including late night places like Utopia, Monkey Republic and Big Easy. On the other side of town, pleasant little beach shack bars line Independence Beach as well and are great places to spend a leisurely day, but most are closed late evening..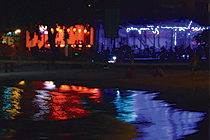 The two bar plazas near the Golden Lions Traffic Circle - Pub Street and Sihanoukville Square - both offer tippling venues clustered together open-mall style. Most are hostess, music and sports bars, several with pool tables. Sihanoukville Square also has a few good dining options. The bars tend to open in the late afternoon, but stay open quite late, offering some of the latest drinking off the beach.
Victory Hill
The road along the top of Victory Hill is the town's only proper bar street, lined almost entirely with pubs, more than a dozen in a 100 meter stretch, most of the hostess variety, some open quite late. Plus there are a few music and sports bars and a couple of eateries in the mix. A bit more chilled out, some good guesthouse bars can be found tucked away on the sides of the hill including Sakal's, L'Ambassade and Tiki.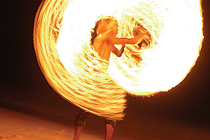 Otres is a bit further from town than the main beaches, offering a more relaxed, chill-out atmosphere. Beach shacks and bungalows line the near and far ends. Plenty of different sorts of places to choose from, some staying open quite late, offering events, music and such. The 'far end' of Otres Beach (Otres 2) has a more secluded atmosphere than the near end but still offers several beach bars and restaurants on the sand.