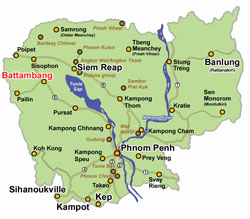 Battambang is a classically quaint provincial capital - old-world architecture and even older pagodas set picturesquely along a river, and even though the city is one of the country's largest, it is still lightly touristed. In town, charming colonial-era buildings line narrow lanes, including the 'walking district' near the market where contemporary art galleries, local and foreign cafes, shops and bars inhabit the old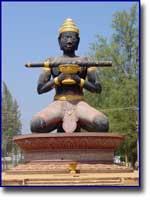 shophouses. Battambang is a place to explore the architecture and budding art scene, check out the local cuisine, and to use as a base for excursions into the nearby countryside.

Outside of town the scenery quickly becomes one of villages and rice paddies, offering an excellent opportunity to see a bit of rural Cambodia. The nearby countryside harbors several picturesque old pagodas, Angkorian era ruins, caves, mountains, waterfalls and the famous 'bamboo train.'
Battambang
Phnom Penh to Battambang

Road (291km, National Route #5): The road is paved and in good condition.

Bus Several bus companies (including Phnom Penh Sorya, Ponleu Angkor, Rith Mony and Capitol Tours) run multiple daily buses between Phnom Penh to Battambang. First bus departs at 6:30AM and the last at 3:00PM. Fare: 17,000R-20,000R. The trip takes 5 hours. In Battambang, buses depart from the various transportation company offices. See the map.

Taxi A private taxi is $45. Shared taxi: 25,000R per person. 4 hours. Prices for shared local transport are very nominal, but are also crowded and uncomfortable. Buy more than one place for the extra leg room.
Air There are currently no regularly scheduled flights to Battambang.

Siem Reap to Battambang

Boat Daily ferry departs in each direction at 7:00am. $18-$25/person. It's a picturesque, 6-8 hour journey across the Tonle Sap and along the Sangker River in the wet season, but can be considerably longer or cancelled in the dry season due to low water levels. Ask about current conditions. The boats in no way meet international safety standards.

Road (National Routes #6 and #5, via Sisophon): The road from Battambang to Siem Reap around the west side of the lake is in excellent condition.

Bus At least four bus companies (including Capitol Tours, Phnom Penh Sorya and Rith Mony) run two or three daily a/c buses, most leaving in the morning. Buy tickets at the bus company office. $4-$5, 2½-3 hours.

Taxi A private taxi costs $40-$45 and takes about 3 hours.
Air There are currently no regularly scheduled flights to Battambang.
-----------------------------------------------------------------
Battambang Hotels/Guesthouses (Back to top)

Alpha Hotel

Range: $10 - $15

Clean, basic, very affordable A/C rooms with free wifi, mini-fridge, en suite bathroom with hot/cold shower. Restaurant, laundry, tourist services, just ask. Located opposite Wat Tahm Rai Saw. Easy walking distance to the Museum and the Walking District.
Corner of Street #3 and Street #127, Battambang City, Cambodia.

Tel: +(855)(0)89-717445

Range: $55 - $75 (breakfast included)

Fully outfitted and equipped hotel/resort complex sporting well-appointed, traditionally inspired rooms. All rooms with a/c, CTV, DVD, stocked mini-bar, wifi, en suite bathroom with hot/ water. Swimming pool and full restaurant and bar serving Cambodian and international fare. Quiet area only 2 minutes from town center.

Visa/MC/ANZ

Street 203,east side of the river, Battambang City, Cambodia.

Tel: +(855)(0)53-953900

Fax: +(855)(0)53-953951
bookings@bambuhotel.com
www.bambuhotel.com

Range: $50 - $795 (Breakfast including)

Upmarket hotel featuring Khmer-inspired design and décor, and offering rooms and suites suitable for the leisure, business or family traveler. Well-appointed rooms and suites with luxurious wooden furniture, all modern amenities and many rooms with private balconies. Hotel facilities include fitness center with all new exercise equipment, full spa and massage services, international restaurant and banquet facilities and a large saltwater swimming pool with poolside bar. Free wifi in the rooms and throughout the hotel.

Visa/MC

Street 159D and street 207, Phum Romchek 4, Sangkat Ratanak, Battambang City, Cambodia.

Tel: +(855)(0)53-952555

+(855)(0)76-8686666

+(855)(0)12-911265

Fax: +(855)(0)53-952556

sales@classyhotelbattambang.com

Range: $9 - $20

Villa style guesthouse a couple of hundred meters off the main road in a quiet area. Large rooms with the standard amenities: A/C, CTV, en suite with hot water. Very affordable. Long term rates available. Loft restaurant, full bar.

Tel: +(855)(0)53-6655447

+(855)(0)12-955447
thecoconuthouse@gmail.com

Emerald BB Battambang Hotel

Range: $15 - $25

New in-town multi-storey hotel offering spacious, well-outfitted rooms, many with private balconies and impressive cityscape views. A/C, CTV, free wifi, fridge, en suite bathroom with hot cold water. Value priced.

Visa/MC
Street 207, east of the river

Tel: +(855)(0)77-474789

+(855)(0)69-474787
info@emeraldbbhotel.com
www.emeraldbbhotel.com

Range: $4 - $20

Newly refurbished, family-friendly guesthouse right in the middle of Battambang town at street 1,5 and 2 south of Phar Nath Market about 150m. Run by the former Ganesha Kampot Eco resort owner. Individual rooms, deluxe mix dorms, bar, restaurant & pool table. Free Wifi. Welcome atmosphere ...Ecran Movie rooms, souvenirs, tour office...

On street 1.5 and 2 about 150m south of Phsar Nath ( Center market), Battambang City, Cambodia.

Tel: +(855)(0)92-135570

+(855)(0)92-144479

Range: $3 - $10

Friendly, sociable backpacker hostel with dorm beds and private rooms. Lush garden with hammocks, shady bungalows and a ping pong table. Roof terrace for films or live sports, playing wii, or relaxing as the sun sets over the river. The bar/restaurant has an extensive and good value food and drink menu. Tours, tickets, travel advice.

Tel: +(855)(0)89-264895
thedragons@herebedragonsbattambang.com
www.herebedragonsbattambang.com

Holiday Hotel

Range: $17 - $50

Multi-storey town center hotel offering nicely furnished air-conditioned rooms with cable TV, fridge, wifi, IDD, bathroom with hot/cold water.

#695, St. 106, Village Preak Mohatep, Khum Svay Por, Battambang City, Cambodia.

Tel: +(855)(0)81-999006

+(855)(0)92-999006

+(855)(0)53-953733

Fax: +(855)(0)53-953734

reservation@holidayhotel-bb.com

Khemara Battambang I Hotel
Range: $15 - $450

Well-appointed A/C rooms and suites with all amenities: CTV (flat screen), fridge, IDD, free wifi, hot water. Swimming pool, restaurant, gym, spa, massage, karaoke club.

Visa/MC
Tel: +(855)(0)53-737878

+(855)(0)17-612168

Fax: +(855)(0)53-732626
admin@khemerahotel.com

Range: $5 - $9

Overlooking a nice little park near the entrance to town. Reasonably priced a/c and fan rooms with attached bathroom, cable TV, hot water and fridge. Free pick up and internet.

Tel: +(855)(0)53-953773

+(855)(0)12-817170

Phone/Fax: +(855)(0)53-953773
park_hotelbtb@yahoo.com

Range: $6 - $28

Clean, budget-friendly fan and a/c rooms in Battambang. Fan rooms from only $6. All rooms with cable TV, fridge, in-room wifi and en suite bathroom with hot and cold water. Some rooms with other amenities including hair dryer, coffee maker, etc. Hotel restaurant serving Khmer and western food and other tourist services including laundry service.

On Street 403, Phum Ang, Sangkat Ochar, Battambang City, Cambodia.

Tel: +(855)(0)12-872326

+(855)(0)77-417333

Sangker Villa Hotel

Range: $38 - $60

Seven rooms including one suite in a beautiful colonial house with a swimming pool and a beautiful garden. The hotel is near the river in a countryside setting on the east side of the river, a five minute walk from the city center. Swiss management. English, French, German, Italian and Spanish spoken. Homemade bread. Espresso. WiFi. Western Food. Swiss Specialties.

Visa/MC

200 Street, Phum Rumchek4, Battambang City, Cambodia.
Tel: +(855)(0)97-7640017
www.sangkervilla.com

Range: $8 - $35

In town near Phsar Nath (the main market.) Nicely furnished a/c rooms with CTV, fridge, free wifi and en suite bathroom with hot water. Rooftop cafe with a 360 view of the town. Good value for money.

Street 2, north of the market, Battambang City, Cambodia.

Visa/MC

Tel: +(855)(0)12-530327

+(855)(0)92-530293
chhounseng@gmail.com www.senghouthotel.com

Range: $6 - $10

A/c and fan rooms with all amenities including IDD and Internet port. En suite bathroom. Conference room. Elevator. Free pick-up and internet. Boat, bus tickets available.

Street 211, east of the river, Battambang City, Cambodia.

Tel: +(855)(0)12-849999

+(855)(0)15-789999

Phone/Fax: +(855)(0)53-730999
spparkhotel@yahoo.com

Range: $40 - $120

One of Battambang's better hotels. 130 nicely appointed rooms and suites. 10-minute stroll to the Walking District. Large, well-appointed rooms. Free wifi. Swimming pool and gym. All in all a very good value. Good restaurant.

Street 2, near National Route Nº5, Battambang City, Cambodia.
Tel: +(855)(0)53-953495

+(855)(0)89-378188

Fax: +(855)(0)-53-953494
-----------------------------------------------------------------
Battambang's dining and drinking scene is modest but growing, with some unique offerings and a good variety, including several little cafes and bars in the Walking District, a few bakeries and coffeeshops around town, a good choice of local places and some very good guesthouse restaurants. These days the town even has its own rather hopefully named 'Pub Street,' sporting mostly local restaurants offering reasonably priced Cambodian and Southeast Asian fare.

The picturesque Walking District is of special note. The area harbors more than a dozen small restaurants and bars as well as a few shops and galleries in classic old colonial era buildings. Especially along 'Pub Street' (Street 121) and on and near Street 2.5 where there are several restaurants, artsy little cafes, shops and bars, a couple staying open late.

To try some local street food check out the Street 2 path through the market (Phsar Nath) and the riverfront park near the Provincial Museum where a couple of dozen soup, sandwiches and dessert places set up in the afternoons and evenings.

The Apple of Love (Pomme d'amour)

At the Apple of Love Patrice cooks Khmer cuisine with a French twist. Slightly upscale but cozy, welcoming atmosphere.
Walking District, Street 2.5, Battambang City, Cambodia.


The restaurant/bar at the Bambu Hotel offers some of the better dining in town - primarily western favorites and some local choices. BBQ Lamb Chops, imported steak, baked grouper and more. Free wifi.

Visa/MC/ANZ
Street 203, east side of river, Battambang City, Cambodia.
Tel: +(855)(0)53-953900
www.bambuhotel.com

Tucked amongst the shops of busy Street 2 in the Walking District, this little pizza place serves up a selection of tasty and unique pizzas including the Luc-Lak Pizza. A choice of several different wines, including a couple by the glass, full bar, and changing dessert offerings. Check the board.
Walking District, between Street 2, Battambang City, Cambodia.

Cafe Eden

Friendly cafe serving up mostly Western fare, with American-sized portions and American-style service. Breakfasts including huevos rancheros or the homemade cinnamon apple pancakes. Happy hour: 3pm until 7pm.
Street 1, riverfront, north of the market, Battambang City, Cambodia.

Tel: 053-731525

Ganesha Family Restaurant & Bar

Tasty western and Khmer foods served indoors or curbside at this plesant little guesthouse restaurant. Relaxing atmosphere. Sunday BBQ. Reasonable prices. Happy Day draft $0.75. Free pool table and wifi. Cocktails, friendly service. Two ECRAN movie rooms.
Walking District, Street 1.5, Battambang City, Cambodia.

Tel: 092-135570, 092-144479
www.ganeshaguesthouse.com

Large A/C restaurant and bakery located on the New Bridge Road. Offering a nice selection of western, American and Mexican breakfasts and lunches - Granola, eggs and potatoes, biscuits and sausage gravy, burgers, meatloaf, pizzas, burritos, tacos and more. A few Khmer dishes as well. Fresh baked cakes, cookies, brownies, pies, breads. Wifi. Delivery.
Street 300, east side of river, Battambang City, Cambodia.
Tel: 053-6499966

017-315450

Here Be Dragons
Cheap beer and cocktails, and a wide range of Khmer and Western food, including homemade sausages and burgers, a traditional steamed fish amok and Full English Breakfast. Eat and drink swinging in a hammock in the garden, or sitting with friends round a pub table under a canopy of flowers. Open late. Weekly pub quiz and barbecues.
Street 159D, near Wat Sangker, Battambang City, Cambodia.

Tel: 089-264895
www.herebedragonsbattambang.com

Jaan Bai

Popular, NGO based, contemporary restaurant serving excellent Cambodian cuisine, a very nice tapas, and a selection of cocktails. Comfortable, air-conditioned dining and unique curbside platform seating.
Walking District, Street 2, corner of the Street 1.5 turnoff, Battambang City, Cambodia.

Khmer Delight

Friendly, long-running cafe and restaurant in the Walking District, with comfortable curbside and indoor seating, serving a good selection of Khmer and international dishes including a very good lasagna and Khmer Pizza. Good service. Full bar. Free wifi.

Happy Hour: 5:00PM - 7:00PM
Walking Disrtict, between Streets 2 and 2.5, Battambang City, Cambodia.

Kinyei

Cozy corner shop cafe and bar on the quiet Street 1.5. Breakfasts, sandwiches, good coffees, teas, juices. Check the board. Free wifi. Relaxed atmosphere. Nice little work space. Contact for Soksabike bicycle tours.
Walking District, Street 1.5, Battambang City, Cambodia.

La Villa

Some of the finest western dining in town. Excellent western and Asian food and a wide range of cocktails served in an a/c restaurant or the garden patio of a beautifully restored 1930s colonial villa. Wine selection. Western managed. Closed Tuesdays.

Street 159D, (river road, east side), Battambang City, Cambodia.
Tel: 053-730151

017-411880

Lotus Gallery and Bar

Contemporary art space upstairs, bar and cafe downstairs, with comfortable curbside and bar seating, full bar, choice of international and Khmer dishes including some nice tapas. Hosting films, performance and artistic events.
Walking District, Street 2.5, Battambang City, Cambodia.

Madison Corner

Full bar: draft beer, cocktail, home-made rum and a large variety of ice creams and local snacks. Excellent crepes. Popular bar, especially in the evening, often one of the last places in town to close.
Walking District, Corner Street 2.5/Pub St (Street 121), Battambang City, Cambodia.

Noodle Restaurant
Inexpensive local restaurant near the White Rose. Very good fresh made noodles. Lots of Chinese dishes. Great place for a Cambodian noodle soup (kuiteo) or fried meat with rice breakfast. Try the duck soup. Recommended.

Walking District, Pub Street (Street 121), Battambang City, Cambodia.

The River

Unique, riverside bar and restaurant, open-air and under the trees and stars. Comfortable table seating and a proper bar and bar seating. Big selection of Cambodian snack and meals as well as a few western choices. Full bar with cocktails, draft beer and wine.
Located riverside near the Old Stone Bridge, Battambang City, Cambodia.

White Rose

Well-known and long-established, this corner-shop Cambodian restaurant offers an extensive menu, pretty good Cambodian food, ice cream, reasonable prices. Street 2 near several other restaurants. Another good place to for Cambodian breakfast.
Walking District, Corner Street 2/Pub Street (Street 121), Battambang City, Cambodia.
-----------------------------------------------------------------
Battambang: What to See (Back to top)
Battambang City is full of wonderful colonial-era architecture and historic old pagodas, and the surrounding countryside harbors not only Angkorian-era ruins and historic pagodas but also offers some of the most picturesque rice paddy and village scenery in the country.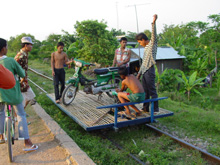 Bamboo Train
The bamboo train is a unique and creative form of ad-hoc transportation. It consists of a small motorcycle engine-powered bamboo cart that rides the railroad tracks, picking up and dropping off passengers, cargo and animals along the way. When it meets bamboo train, it can be disassembled and taken off the rails in a minute or two, allowing the other to pass. The bamboo train near the city seems to be catering as much to tourists as locals these days, but is still the real deal. They now charge foreigner upwards of $5/pax.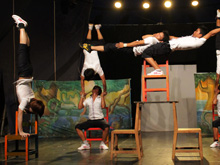 Circus
The Phare Ponleu Selpak NGO gives Cambodian children from disadvantaged families the opportunity to "access culture via different artistic activities" including music, drawing, drama, dance and circus. Offering traditional Cambodian circus performances and other show. Look for fliers around town.
Tel: 012-890360
053-952424
Located on Route #5 about 1km west of town, Battambang City, Cambodia.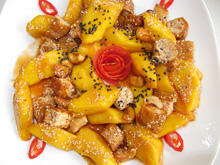 Cooking Classes
Nary Kitchen is offering twice daily Cambodian cooking classes, morning and afternoon, taught by Ms. Nary. The class is about 2-1/2 hours and includes a market trip, preparing a single traditional Cambodian meal (recipe sheet included) and then enjoying the fruits of your labor for lunch or dinner.
Located just west of Phsar Nath. See map for exact location, Battambang City, Cambodia.
Tel: 012-763950
The Smokin' Pot restaurant near the White Rose restaurant at the corner of Street 1 in the center of town also offers cooking classes.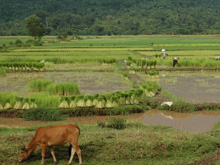 Countryside Tour
The rural countryside outside of Battambang is National Geographic picturesque. Within just a few kilometers of town the countryside turns into small villages filled with stilted houses and rice paddies that stretch to the horizon. You'll see plenty of countryside on the way to any of the local sites. Check out some of the local products in the making - rice paper, noodles and the fishpaste market. It's all very traditional if not a bit unhygienic and smelly, but a interesting experience and adventure nonetheless. The roads are often rough and during the dry season. always exceptionally dusty. Bring a good hat and a krama to cover your nose and mouth.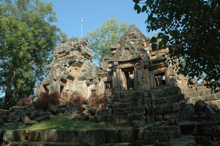 Ek Phnom
Ek Phnom, about 45 minutes from Battambang, is an substantial early-11th century Angkorian-era temple ruin built as a Hindu temple under the ruler Suryavarman I. The temple is in rough condition, consisting of prasats on a platform with some Hindu themed carvings in pretty good condition. Wat Ek Phnom, a modern Buddhist pagoda, sits picturesquely next to the ruin and a small lake. The river road drive to Ek Phnom from Battambang passes through some absolutely beautiful countryside, along a palm lined Stung Sangker river and through several small villages.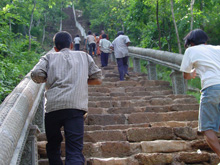 Phnom Banan
Phnom Banan Phnom Banan is a mountaintop, mid-11th century Angkorian-era ruin consisting of five prasats (towers) arranged in the quincunx (five-pointed) form reminiscent of Angkor Wat. The temple was built by the Khmer ruler Udayadityavarman II, son of Suryavarman I, the king who built the temple at Ek Phnom. Several lintel carvings are in good condition. The mountaintop is a peaceful location with a sweeping view of the surrounding area. There is a small cave nearby known as L'Ang But Meas. A very old (150 years+) active pagoda at the base of the mountain.
As both are south of Battambang City, the trip to Phnom Banan is often combined with a stop at Phnom Sampeou, Battambang City, Cambodia.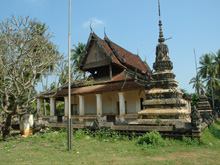 Pagodas
Battambang town and the surrounding countryside are rich with beautiful old pagodas, some of them hundreds of years old, highly respected and displaying some very unique art and architecture. There are nine pagodas in Battambang town alone. In town, Wat Kandal displays some of the most interesting architecture and vihear paintings. Wat Tahm Rei Saw, built in 1903, is one of those rare Cambodian wats to display paintings of the Hindu epic Reamker. See absolutely indispensable Around Battambang for more information about visiting the local pagodas.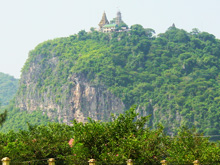 Phnom Sampeou Mountain
Phnom Sampeou is a mountain steeped in legend, topped by Wat Sampeou and a group of caves used as 'killing caves' by the Khmer Rouge, containing the skeletal remains of their victims. The wat is unexceptional but the view is spectacular. The whole area in intertwined with the well-known Khmer folk legend of Neang Rumsay Sok, 'the girl who let down her hair.' Many of the local geographic features are named after aspects of the legend, including Phnom Sampeou (Boat Mountain.) Ask your guide or driver to tell you the legend. For sake of ease, take the winding path up the mountain rather than the stairs, which make for a formidable climb. In the evening around 6:00PM two of the caves disgorge millions of bats which pour into the dusk sky for more than 30 minutes, making quite an impressive site. Not to be missed if you happen to be at Phnom Sampeou in the evening.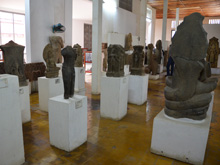 Provincial Museum
The Battambang Provincial Museum on the riverfront in the center of town houses a large collection of Angkorian and pre-Angkorian artifacts - statues, carvings, bits of ancient temples, pottery, etc. These little provincial museums can be a real treat for the Angkor enthusiast, containing some rare and unique pieces, and this is one of the best of the provincial museums. Hours: 8:00AM-11:00AM / 2:00PM-5:00PM, make reservations for weekend visit and they will open the door for you. Friendly people always happy to see visitors. Guides available. Admission: US$1.00.
Tel: 092-914688
016-896727
Snack Tour
Battambang Resort offers a unique snack tour between town and Wat Kor Village. A short cycling tour (also possible by tuk tuk) brings you to different kind of food stalls where you can try all kinds of Cambodian snacks.
Every afternoon at 4:00PM.
Tel: 012-510100
www.battambangresort.com
-----------------------------------------------------------------
Battambang (Back to top)
Battambang shopping has taken an artsier air in recent years. Traditionally, Battambang has been a place to buy marble and wood carvings, new cut gems from Pailin, and Cambodia's famous Pursat oranges. And it still is, but over the past few years a contemporary art scene has begun to blossom in Battambang, and several art galleries along with it.

Art spaces and unique shopping venues inhabit some of the old colonial-era shophouses of the picturesque Walking District, especially along Street 2.5 and the surrounding area. Highlights include the Lotus Gallery & Bar and Make Maek, both hosting exhibitions and events, and The Lost Stick, offering an amazing collection of curios and art from Cambodia and beyond.

For more traditional Battambang souvenirs, riverfront shops along Street 1 offer marble and wood carvings and statues and other souvenirs.

Amongst Battambang City's three traditional markets, Phsar Nath in the center of town is the primary market. Its distinctive clock tower on the river side is a local landmark. The market is geared to the locals, vending fruits, vegetables, meat, clothes, sundries, etc. Phsar Leu, just south of town, is the place to buy local fruits: oranges and pomelos from Pursat. The oranges are said to be the best in the country.

Chea Neang Drink Shop is a small convenience store on the west side of Phsar Nath, popular with foreigners and offering ice cream bars, cheeses, yogurt, wines, and other imported items.
-----------------------------------------------------------------
Banks in Battambang (Back to top)

Banks and ATMs
All banks encash travelers checks and change money and most have ATMs. There are several ATMs at the riverfront street corner in front of Phsar Nath. Moneychangers are concentrated around the market with a few along Road #1.
ACLEDA Bank Plc.
Western Union service, locations throughout Cambodia. ATMs, cash transfer, Travelers Cheques, en-cashed and sold...
Visa/Gold Dot
Kamakar Village, Sangkat Svay Por, Battambang Municipality, Battambang Province, Cambodia.
Tel: +(855)(0)53-953171
+(855)(0)15-900229
Cambodia Asia Bank
Currency exchange, t/c exchange, Western Union services.
Visa/MC
#72, Street 3, Battambang Province, Cambodia.
Tel: +(855)(0)53-953149
Fax: +(855)(0)53-953150
Cathay United Bank Cambodia
Currency exchange, ATM, t/c exchange, Western Union services. Visa/MC/Maestro/Cirrus/Diners Club International/Riels.
#118, Street 2, Battambang Province, Cambodia.
Tel: +(855)(0)53-953339
Union Commercial Bank (UCB)
Currency exchange, ATM, t/c exchange, 'No commission' Visa card cash advance.
No. 100E0, Group 9, Prek Moha Tep village, Sangkat Svay Por, Battambang Town, Battambang Province, Cambodia.
-----------------------------------------------------------------
Dentists (Back to top)
BouengChhouk Dental Clinic
Dentistry: Implant, Oral Surgery, Orthodontics, Pediatric, Preventive, Endodontic & Restorative, General Consultation and Diagnosis, Aesthetics and Whitening, Prosthondontics, Dr. Ly Sokseyha.
Open: 7:30AM - 11:30AM / 1:30PM - 7:30PM
#212-213, (Next to Sorya Bus Station and Opposite Hang Lay Guesthouse) North of Boeung Chhoeuk Market, Battambang Province, Cambodia.
Tel: +(855)(0)12-872326
lysokseyha.dentalclinic@gmail.com
Last updated October 2014