PHNOM PENH to/from KAMPOT
Most travel by bus between Phnom Penh and Kampot. There are several regularly scheduled daily a/c buses between the cities, including highly recommended deluxe buses from Giant Ibis.. The trip rarely takes more than 3-3.5 hours. It's easiest to buy tickets from one of the many local tour agents.

Taxis Taxis are the other option, running about $35-$45. If you don't have your hotel or tour operator arrange it for you, in Phnom Penh taxis can be found at Phsar Dumkor, and in Kampot taxis at the bus/taxi station

Driving/Riding The most direct route to Kampot from Phnom Penh follows NR3. The full length of NR3 is in very good condition, requiring less than 3 hours.

Alternative route: National Route #2 (NR2) passes several pre-Angkorian ruins in Takeo province including Phnom Chisor and Prasat Neang Khmau. Take NR2 south to well marked intersection at Road #22 in Takeo. Take #22 west to NR3 and turn south to Kampot.

Giant Ibis (Deluxe mini-buses)
PP to KPT : 8:00, 14:45
KPT to PP : 8:30, 14:45
Phnom Penh station: #6, Street 106, next to the Night Market.
Tel: 023-999333
Train There is now regularly scheduled train service between Phnom Penh, Kampot and Sihanoukville. Buy tickets at the train stations.
Kampot to Sihanoukville; $3/pax, 3hours. Departure:
Friday at 11:00PM; Saturday at 2:30PM;
Sunday at 2:30PM
Sihanoukville to Kampot; $3/pax, 3hours. Departure:
Saturday at 7:00AM; Sunday at 7:00AM and 4:00PM
Phnom Penh to Kampot; $5/pax, 5hours. Departure:
Friday at 3:00PM; Saturday at 7:00AM;
Sunday at 7:00AM
Kampot to Phnom Penh; $3/pax, 3hours. Departure:
Saturday at 9:00AM; Sunday at 9:00AM and 6:00PM

SIHANOUKVILLE to/from KAMPOT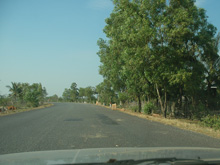 Though there are no buses plying the route between Kampot and Sihanoukville, there are regularly scheduled daily vans run by a few different companies, Champa Mekong and Kampot Tours being the more popular. Most tour operators and guesthouses offer van tickets for about $5. The vans are of medium quality, a bit tight, usually a/c and take about 2 hours.

Taxis Taxis are the other option. In Sihanoukville, taxis can be found at the main bus station. In Kampot, taxis wait at the bus stop. Private taxis run about $25-$30.

Driving/Riding From Sihanoukville, travel north on National Route #4 (NR4) to Veal Renh (43km). Turn east on National Route #3 (NR3) to Kampot. NR4 is in excellent condition. NR3 is in very good condition. The trip takes 1½ -2 hours and is 110km total.


KAMPOT to/from KEP
Kampot is comparatively near, only 30-45 away. Motodups from Kampot start at about $5 one way and $8-$10 round trip. Tuk-tuks run about $8-$12 one-way and $12-$18 for a round trip depending how long you spend in Kep and number of passengers.

The road from Kampot to Kep is a 25km trip though scenic countryside - villages and rice paddies. From Kampot, follow the Road 33 east 14km to the White Horse Monument. Bear right onto Road 33A and follow it 8km to the Kep Beach area. Many ethnic Cham people live along this stretch of road. Unlike the Buddhist Khmer, the Cham are generally Muslims. You may notice Cham women wearing the hijab and Arabic script on some signs.

Boat: The Crab Shuttle offers a daily 2.5 hour boat shuttle between Kampot and Kep via Rabbit Island, running both directions: departing Kampot at 9:30AM and departing Kep at 3:30PM, stopping at Rabbit Island in both directions. Kampot-Kep tickets are $9.50 one way and $13.50 return. Tickets are available at guesthouses and tour operators in Kampot and Kep.
Tel: 088-8296644


VIETNAM to/from KAMPOT
Vietnam visas are not available at the border. Visas are available at tour operators in Kampot and Kep and at the Vietnamese consulate in Sihanoukville.

To/from Ho Chi Minh City: There are three possible overland routes to Kampot: 1) Moc Bai/Bavet crossing via Phnom Penh; 2) Prek Chak crossing, which is the most popular and convenient; 3) Phnom Den crossing. Get bus tickets from a local tour operator.

To/from Phu Quoc Island and deep south Vietnam ThThe crossing at Prek Chak/Xaxia (sometimes called the 'Ha Tien crossing') is the nearest, most easily accessed border crossing with Vietnam from either Kampot or Kep. The crossing is quite near the Vietnamese town of Ha Tien, which is the primary jump off point to Phu Quoc Island, a popular beach destination.

Regularly scheduled multi-daily vans travel from Kampot and Kep, through the border crossing and all the way to Ha Tien, in time for the ferry to Phu Quoc. Price: $8-$11. Arrange a ticket through your guesthouse or a tour operator in Kampot or Kep.

DIY to the border from Kampot: A motodup runs about $8; tuk-tuks $15-$20 and a taxi for $20-$25. Some motorcycle taxis are also able to cross the border and take you as far as Ha Tien for an additional $2-$3.
For more on international border crossings see the Overland page.
------------------------------------------------------------------
Getting Around Kampot
The town is small and moto-remorques ('tuk-tuks') are common. They tend to wait in tourist areas such as the riverfront. For short hops, drivers ask $1-$2 to most places in town and about $15 for the day. Bargain for the best price.

Motorcycle rental
125cc ($4-$6/day) and 250cc ($15-$20/day). There are a couple of motorcycle shops just off the Durian Roundabot (see map) and almost all hotels, tour operators can help you arrange motorcycle rental and other transportation. See page 84 for tour operators.