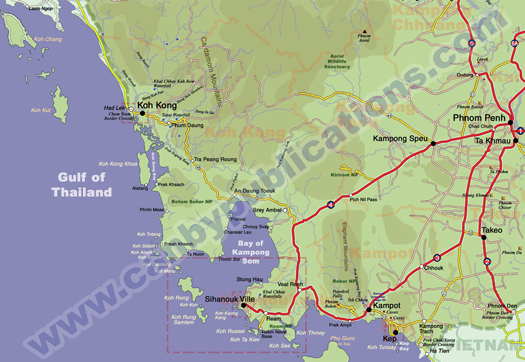 To/from Phnom Penh

Buses & Bus Schedules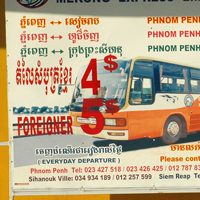 A/c buses depart Phnom Penh several times per day. 13,000R - 17,000R for the 4 hour trip to Sihanoukville via Route #4. There is no centralized bus station in Phnom Penh. Buses from different companies depart from different stations. At Sihanoukville, all buses arrive/depart from the bus station near the Independence Square.
Giant Ibis (Deluxe mini-buses)
PP to SHV : 8:00, 9:30, 12:30
SHV to PP : 7:30, 9:00, 13:30
Phnom Penh Office and Station (Departure/arrival): #6, Street 106, next to the Night Market
Tel: +(855)(0)23-999333
www.giantibis.com
Asia Win Alliance
Deluxe vans between Phnom Penh and Sihanoukville/Siem Reap.
To SR to PP: 7:30, 13:30
To PP from SR: 7:30, 13:30
Phnom Penh office: #215 Street 598, Boeung Kok II, Sen Sok District
Sihanoukville office: Serendipity Beach Road
Tel: +(855)(0)23-6662888, +(855)(0)98-555009
www.awa-cambodia.com
Capitol Tours & Transportation
Phnom Penh Office and Station (Departure/arrival):
PP to SHV : 7:15, 8:45, 11:15, 12:15, 13:30, 14:30
SHV to PP : 7:00, 7:30, 8:00, 9:00, 11:30, 12:30, 13:30, 14:30, 17:30
Phnom Penh office: #14AEo, Street 182
Sihanoukville office: Ekareach Street, downtown Tel: +(855)(0)23-217627
www.capitolkh.com/opentour.htm
Phnom Penh Sorya Transport Co., Ltd
Phnom Penh Office and Station (Departure/arrival):
PP to SHV : 7:00, 7:30, 8:00, 9:00, 10:00, 11:00, 13:00, 14:30, 15:30, 16:30, 17:45
SHV to PP : 7:00, 7:30, 8:00, 9:00, 10:00, 11:00, 12:00, 13:00, 14:00, 15:30, 17:30
Phnom Penh office: Opposite the southwest corner of Phsar Thmey, at the corner of Charles de Gaulle and Street 67 Tel: +(855)(0)23-210359
Sihanoukville Office: Ekareach Street, Downtown Tel:+(855)(0)92-181808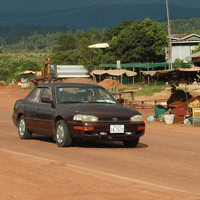 Taxi
Share taxi: Shared taxis offer a cramped and harrowing 2½-3½-hour ride with seven or more people stuffed in a compact car. 35,000R/person.

Private taxi: Private taxis run about $55 - $60. In Phnom Penh, Sihanouk Ville bound taxis wait at the southwest corner of the Central Market (Phsar Thmey). In Sihanoukville, Phnom Penh bound taxies can be found at the downtown bus and taxi station on Street 118.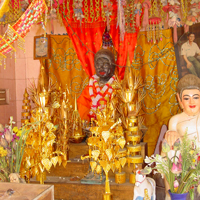 Motorcycle
Driving/Motorcycling to Sihanoukville
It is a 230 km, 4-5 hour trip on Route #4. Most motorcyclists rent 250cc bikes for the trip. Leaving Phnom Penh, follow Airport Road south past the airport and out of town. At the well marked Route #3/#4 fork just past the airport (Chum Chao), bear right. National Route #4 to Sihanoukville is a toll road with toll booths located near the beginning, middle and end. The toll is nominal, less than $1 at each booth for most vehicles. Route #4 is a paved and smooth, fast, easy and a relatively dangerous. Speeding taxis and reckless lorries are the norm. Passing courtesy is rare. Slow down through villages, watch for errant cows and dogs and oblivious children on the road. If you ride, by all means wear a helmet and bear in mind that medical assistance and rescue is non-existent in the countryside. Stop for a refreshment break at one of the many road side restaurants just south of the Pich Nil pass near the half way point. At the top of the pass, there are dozens of spirits houses and shrines dedicated to Buddha and local deity Ya-Mao. It's a good photo opportunity and they say it's good luck to burn a few joss sticks, leave a small donation and a hand of bananas.
From Sihanoukville, travel north on Route #4 to Veal Renh (43km). Turn east on Route #3 to Kampot. Route #4 are both paved and in good condition. Route #3 is in good condition. 110km total, 1.5 hours

Bus Several bus companies offer regularly scheduled full size buses between Sihanoukville and Kampot. Check with local tour operator.

Taxis In Sihanoukville, taxis can be found opposite the market (Phsar Leu) and at the downtown bus and taxi station. In Kampot, taxis wait at the bus/taxi stand at the end of the Old Market boulevard. Price: Sihanoukville to/from Kampot is $4-$5/person for shared taxi and $25-$30 for a private taxi.
-------------------------------------------------------------------------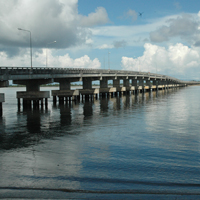 To/from Koh Kong
National Route #4 (NR4) connects Sihanoukville to Phnom Penh. Road #48 runs between NR4 and Koh Kong City. Road #48 is in good condition, recently repaired and fully paved. The road passes through the Cardamom Mountains and spans four picturesque rivers. At high points the jungle canopy can be seen stretching into the distance. Keep your camera ready

Bus Several bus companies bus companies offer direct daily bus service between Koh Kong and Sihanoukville using full size a/c buses for $6-$10/person. About 4 -5 hours duration. In Koh Kong the bus offices are located on Street 3 in the center of town.

Taxis $60 for a private taxi. 4 hours.
-------------------------------------------------------------------------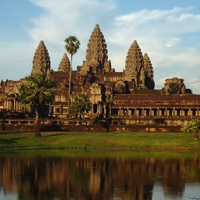 To/from Siem Reap
Cambodia Angkor Air offers Siem Reap to Sihanoukville flights thrice weekly. Currently the return flight to Siem Reap has a stop-over in Phnom Penh. Check with a travel agent for current flight schedule.

Overland transportation between Siem Reap and Sihanoukville, whether by bus or taxi, must go via Phnom Penh. You can either stopover in Phnom Penh or take a non-stop bus. If you stopover in Phnom Penh, there are several option for onward travel - plane, bus, taxi or ferry to Siem Reap.

Several bus companies offer direct buses between Sihanoukville/Siem Reap. The overnight bus is becoming quite popular. 10-12 hours.

-------------------------------------------------------------------------
Overland international travel routes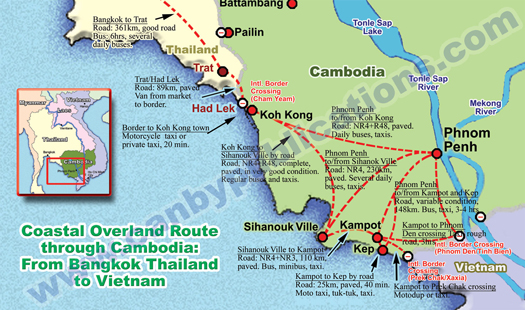 -------------------------------------------------------------------------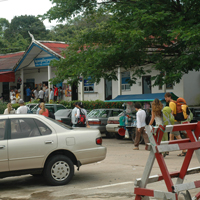 The Had Lek/Koh Kong Border crossing (officially the Cham Yeam Crossing) is the only Thai border crossing allowing easy access to the southern coast of Cambodia and Sihanoukville. Both Cambodian and Thai visas are available on arrival at the border. This border crossing has been open to international travelers since 1998 and is fairly busy, with plenty of onward transportation available on both sides. To get to Sihanoukville from Thailand travelers enter Cambodia at Had Lek/Koh Kong and then travel from Koh Kong to Sihanoukville by bus. See the overland international border crossing page for detailed information on travel from Thailand to Sihanoukville via the Had Lek/Koh Kong crossing. Also see above for travel from Koh Kong to Sihanoukville.
-------------------------------------------------------------------------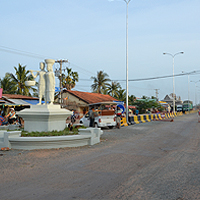 To/from Vietnam


Using the Had Lek/Koh Kong crossing with Thailand in the west and the Prek Chak crossing with Vietnam in the east, overland travelers can now beach hop across Indochina from Vietnam, through Cambodia and into Thailand without ever having to leave the coastal roads. To travel from Sihanoukville to Vietnam, first travel to Kampot. See details above. The road is good and the trip takes about 2 hours from by taxi. Then travel from Kampot to the Prek Chak (Ha Tien) crossing, by motodup, tuk-tuk or taxi. Most of the road is in good condition, requiring about an hour to make the trip. Some bus/tour companies out of Sihanoukville, Kampot and Kep offer package bus trips to points within Vietnam (Phu Quoc, Ho Chi Minh City, more.) See the overland international border crossing page and the Kampot page for more details on the Ha Tien border crossing and travel between Kampot and Sihanoukville.

-------------------------------------------------------------------------

Travel Agents and Tour Operators in Sihanoukville

Ana Travel Agency Air ticketing specialists. Bus, boat, taxi and tours arranged to Kampot, Kep, Bokor, Ream, waterfalls and islands. Full visa services. Flight change and reconfirmation. Island bungalow booking. Western management. Visa/MC

Located on the Serendipity Beach Road, next to the Beach Road Hotel
Tel: +(855)(0)34-933729 +(855)(0)12-915301 +(855)(0)16-499915
www.anainternet.com

Cambodia Amazing Tours Variety of boat tours and trips: island hopping, party, fishing, multi-day trips, Ream National Park. Boat rental, private tours, charter.
Ochheuteal Beach

Tel: 016-349333


Cool Banana Travel & Tours

Travel and tour agent. Air, bus and ferry tickets. Motorcycles, bicycles, cars, jeep, vans for rent. Tour arrangements - Bokor, Island trips, National Parks, fishing, etc. Visa services. Good seafood restaurant.

In front of Big Easy Bungalows, Restaurant and Pub on the road to Serendipity Beach

Tel: +(855)(0)16-688384 +(855)(0)12-941900

Koh Rong Dive Center/Koh Rong Island Travel

Twice daily ferry to/from Koh Rong Island ($9.50 return.) Diving tours and excursions. Accommodations on Koh Rong. Car and bike rental. Bus tickets. Flights. Visas.

Located near the Golden Lions

Tel: +(855)(0)34-934744


Mottah Cambodia Travel Travel and tour agent. Air, bus and ferry tickets. Hotel reservations. Transportation of all sorts, bicycles, cars, vans. Tour arrangements - Bokor, island trips, National Parks, fishing, etc. Cargo services. Visa services. Currency/T/C exchange.

Visa/MC/JCB
Downtown on Ekareach Street

Tel: +(855)(0)12-996604
info_mottah@yahoo.com
www.mottah.com

On the Rock Tours Complete tour and travel services. Boat tours/trips to Koh Rong Samleom. Other island boat tours, Ream National Park tours, Bokor National Park. Air, bus, boat tickets. Visas. Motorcycle, car, van, boat rental.

Located on Serendipity Beach Road
Tel: +(855)(0)12-658266 +(855)(0)34-6363393 +(855)(0)88-8971318

Prey Nup Mangrove Ecosystem Discovery

Prey Nup Mangrove Ecosystem Discovery has recently begun running tours to a large mangrove forest preserve at oceans edge in Prey Nup district north of Sihanouk Ville town, offering a unique look at a delicate and endangered ecosystem. Excellent bird watching opportunities. Species sighting include Painted and Milky Storks, Kingfishers, Kites and Egrets. Guided eco-tours of the forest by kayak and from an observation station. Day trips and overnight trips can be arranged. Advanced booking essential.

Tel: +(855)(0)12-812087

Sarin Tour Service Boat trips, islands, tour services, conveniently located right at the corner of the entrance road to Ochheuteal Beach. Daily boat trips: islands, party, fishing. Air tickets. Bus tickets to Thailand, Vietnam. Visas.

Tel: +(855)(0)34-6662888

World Travel & Tours Full service travel agent. Inbound/outbound tours. Flights, hotels, visas. Boat tickets and island accommodations. Motorcycle rental.

Located on Serendipity Beach Road
Tel: +(855)(0)34-6336336 +(855)(0)98-528222

-------------------------------------------------------------------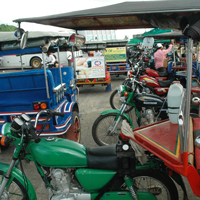 Moto-remorque (Tuk-tuks)
Cambodian 'tuk-tuks' - referred to in Khmer as 'moto-remorque' - are multi-passenger covered trailers pulled by a motorcycle, quite unlike the noisy two-stroke tuk-tuks of Thailand. Travel by moto-remorque is more comfortable than a motodup and the semi-enclosed trailer offers some protection from sun and rain, but they are also more expensive. On average tuk-tuks charge about 2-3 times as much as a motodup. Standard tuk-tuks can be a bit weak on hills so heavy duty tuk-tuks and 'Tico tuk-tuks' (converted subcompact cars) are gaining popularity in Sihanoukville.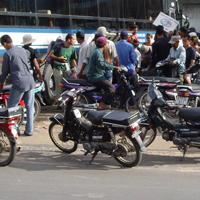 Motorcycle Taxi (motodup, moto)
Motodups are the cheapest way to travel and are still common in Sihanoukville. Though "one dollar" is always the first price, motodup drivers expect foreigners to pay 2000-4000R for short hops in town, and 3000-6000R from town to the beaches. (Price are higher from the bus station. See page 7 arrival prices.) Prices go up for multiple passengers and at night. Settle on a price and destination before taking the ride. To protect against bag snatching, keep your bag between you and the driver or in front of the driver.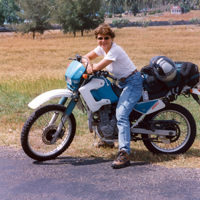 Motorcycle Rental
Tourists are currently able to rent and ride motorcycles in Sihanoukville. The police seem to take a particular interest in tourists driving motos, so obey the traffic law, especially the helmet law. Seems everybody is renting motorcycles - guesthouses, tour agents, restaurants, even bars. 100-120cc bikes run $5-$6/day. (Gas & Surf on Ochheuteal offers a wide selection of bike including 125-1100cc.) Most rental places require a passport as security. Always lock your motorcycle or leave it in guarded parking. Motorcycle theft is not uncommon.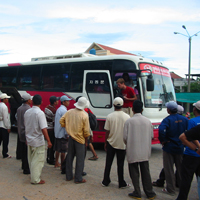 Orientation and Arrival in Sihanoukville

The Sihanoukville town area is spread thinly across a 5 kilometer wide peninsula, surrounded on three sides by beaches, with the downtown area near the center of the peninsula a couple of kilometers from the beaches.

Sihanoukville's central bus station is located near the Independence Square, 1-5 kilometers from the downtown and beach areas. The airport sits 18km north of town. There are always tuk-tuks, motodups and taxis available for arriving passengers at the airport and bus station. Prices from the bus station to town are posted at the bus station and listed below.

Touts will try to direct you to commission paying hotels. Do not believe stories that your hotel is "dangerous, damaged, dirty, closed." Insist on being taken directly to your requested hotel.

Hotels, guesthouses and restaurants can be found across the entire peninsula, but many are concentrated into four general areas (see page 8 for more.) The following are prices for transportation from the bus station to these areas:


1) The Downtown area, 5 minutes from the beaches: Motodup: $1.50; Tuk-tuk: $4.

2) Ochheuteal/Serendipity Beaches Sihanoukville's most popular beach area: Motodup: $2; Tuk-tuk: $6.

3) Victory Hill above Victory Beach, 1km from the bus station: Motodup: $1; Tuk-tuk: $3.

4) Otres Beach south of Ochheuteal, the most distant beach: Motodup: $3; Tuk-tuk: $8..