Phnom Penh Massage, Spas, Salons & Tattoos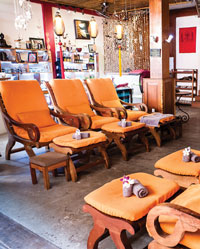 Massage for health and relaxation is a time-honored tradition in Southeast Asia and Cambodia has its own distinctive massage traditions. Phnom Penh massage and spas range from storefront $6 foot massage places to elegant international standard spas, some of the best at the upscale boutique hotels and top-end hotels.
Massage places and spas tend to be concentrated in tourist districts such as along the riverfront, on Street 172 near the riverfront, and especially in Boeung Keng Kang 1 where boutique spas have become quite popular, offering massage, spa and salon services in a tranquil, pampered, indulgent atmosphere, and by comparison to the better spas back home, at surprisingly reasonable prices here in Cambodia.
Massage and Spas...
Amatak Spa
Boutique spa - services including a variety of mas- sages, especially Swedish, Thai and traditional Khmer. Aromatherapy, body wraps and scrubs, organic skin care facial therapies, waxing, manicure and pedicure. Beauty school. Steam and more.
Tel: 070-212345

#101 Sisowath Quay, riverfront
Angkor Spa
Soothing atmosphere, tasteful decor traditional ambiance. Foot, oil, body massage. Facial treatment, natural body scrub, and package massage.
Tel: 093-900623
www.angkorspa.biz

#16 Street 310, BKK1
Baray Spa
Affordable massage on the popular traveler's Street 172. Offering a full range of spa and massage services, from foot massage to a variety of styles and types of body massage, scrubs, rice wine massage, bamboo massage, hot stone, herbal compress and more, all at very affordable prices. Foot massage from only $6.
Tel: 085-822222, 031-3188888

#8 Street 172, behind Wat Ounalom, one block off the riverfront
Bodia Spa

Conceived as a sheltering cocoon-curves, warm lighting, inspiring melodies and soothing scented oils, Bodia Spa is an absolutely sensory experience entirely dedicated to pamper both body and soul in the most natural way possible. A healing beauty destination, using 100% natural products.

Tel: 023-226199

Corner of Streets 178 /Sothearos., above U-Care, one block off the riverfront
Champei Spa & Salon
International boutique spa and hair salon. Traditional Khmer, herbal, aroma, Swedish and oil massage, reflexology and therapeutic massages. Facials, scrubs, spa, Jacuzzi, packages. Fully air-conditioned women and men's hair salon offering hair treatments, manicure, pedicure and more.

Tel: 023-222846, 023-217774

1) #38, Street 57

2) #07, Street 334
Feel Good Spa

"Feel Good is a social enterprise, putting people at heart of everything we do. Our internationally trained team of massage therapists, welcomes you with all our heart to indulge, relax, feel good and thrive with our beautiful range of natural, chemical free products."
Tel: 078-888773

#79 Street 136
Nailbar
The Nailbar is a training business run by students from Mith Samlanh's Hair & Beauty training programme. Get your nails in shape or relax while having a massage in this hygienic environment with individually sterilized equipment.
www.friends-international.org

Located in Friends 'n' Stuff, Street 13 50 meters from the entrance to the National Museum
Nata Spa
Elegant, upscale spa in the heart of Boeung Keng Kang 1. Tranquil and welcoming, a perfect place to escape for professional massage or a pampered afternoon spa package. Offering a full range of massage and spa services and styles. Spa happy hour 9AM - Noon, a variety of massages at 25% off.

Tel: 023-223938

Street 57 at the corner of 302, Boeung Keng Kang 1, (BKK1)
The Plumeria Spa

Boutique spa and massage at The Frangipani Royal Palace Hotel & Spa and The Frangipani Living Arts Hotel & Spa. Full spa services and treatments. Range of massage styles. Rooftop swimming pools, fitness center, spa and lounge.

Tel: 023-220422, 023-211033

1) #27 Street 178 (near National Museum); 2) #15 Street 123 (Toul Tom Pong)
Sâmata Health & Wellness Studio

Unique wellness studio. Founded by Jean-Claude Dhuez, a French certified massage and physiotherapist working in Cambodia more than 20 years. Offering aromatherapy, body scrub, steam bath, foot massage, back and shoulder massage as well as physiotherapy, Yoga and Pilates. Employing top-quality aromatherapy products from Âmata.

Tel: 023-726267

#54 Street 306, BKK1
Sawasdee Massage
Air-conditioned spa offering a wide selection of massage styles including Thai, French, Japanese, Khmer, Hong Kong, oil, powder, body, foot massage, health massages, aromatherapy. Spas services including wraps, scrubs facials and more. Jacuzzi. Manicure and pedicure. Open: 9:00AM - 11:00PM.

Tel: 023-996670

#6B Street 57
Seitai Pain Therapy Japanese

Seitai pain therapy. Treatment for back pain, lower back pain, joint pain, frozen shoulder, nerve pain, arm numbness. Japanese acu- puncture, Chinese meridian massage. Noon-10PM (Call at least 18:00 pm).

Tel: 017-994355
http://jpseitai.web.fc2.com

#2 Street 63, south of Mao Tse Toung
The Spa at NagaWorld
Highly rated for its cleanliness and friendly service, you can totally relax and release your stress in a real spa environment. For an affordable spa package advance reservation is suggested.

Tel: 023-228822
www.nagaworld.com

NagaWorld, Samdech Hun Sen Park
Spa Bliss

One of Phnom Penh's longest established and most respected international spas. Bliss escapes are spa treatments carefully selected to energize your body and sooth away stress. Baths, steams, massages, facials, pedicure and manicure.

Tel: 023-215754
http://blissspacambodia.com
------------------------------------------------------------
------------------------------------------------------------------------
------------------------------------------------------------
Salons & Barbers

Bearhanded Salon
Western hairdresser with extensive experience. International hair salon. Reservations recommended.
#1 Street 21 (The Willow Boutique Hotel)
Tel: 093-700431

International Hair Cut
Men's barbershop, totally local, one of nearly a dozen local barbers clustered on Street 130 on the west side of Phsar They (Central Market.)
Street 130, half block west of Central Market

New World Hair Salon
Popular with expats and tourists, long-running men and women's hair salon/barber. English spoken. Located just off the riverfront.
#66EEo Sothearos, riverfront, near Wat Ounalom
Tel: 012-595963

Open Arms Beauty Salon
Social enterpriser, full service hair and beauty salon, manicure, pedicure, and a tearoom.
#89A Street 155, TTP
Tel: 017-239057

Space Hair Salon and Bar
Space is a unique combination of cool Cambodian hair salon and gay bar.
#66, Street 136, 2 blocks off the riverfront
------------------------------------------------------------
------------------------------------------------------------------------
-------------------------------------------------------------


Tattoos

RSD Tattoo
Well-known, long established.
#14 Street 51, between Streets 172/178, Phnom Penh
Tel: 016-787816
http://www.rsd-tattoo.com/index/index.php?index