Phnom Penh Dining & Restaurants
Phnom Penh offers the best dining in Cambodia, with choice, depth and authenticity exceeding the tourist towns. The Cambodian food is made-for-the-locals authentic whether street food or 5-star dining, and most western and Asian cuisines as well as contemporary dining are well represented. These days the city's dining scene is evolving quickly. Interesting new venues are popping up all the time, especially contemporary cuisine and upscale Cambodian. There seems to have been a recent surge in new Mexican and Japanese restaurants as well. Several major fast food brands have also opened and international-style a/c&wifi coffeeshops now number in the dozens, and counting.
American...
Freebird Bar & Grill
Bar-Dining: American
7:00AM - 11:00PM Happy Hour 3PM-9PM
"For homesick Americans...heaven on earth" An extraordinarily comfortable a/c place with an authentic neighborhood bar ambiance. Good conversation in a genuinely friendly place. Fully stocked bar and a wide selection of American, Tex-Mex and many other western foods. Dependable home delivery.

Tel: 023-224712

#69 Street 240
Garage Bar
Bar-Dining: American
5:00PM - 1:00AM

"Knowing music, juicy burgers, good company" Very comfortable, very welcoming, fully air-conditioned bar just off the riverfront. Great music. Full bar, draft beer, spirits and cocktails, all at very reasonable prices. Delicious flame grilled burgers and dogs. Wifi. Smoke-free establishment. Recommended.

Tel: 012-754763

#9 Street 110, just off the riverfront
Lone Pine Cafe
Dining-Bar: American
11:30AM - 2:00PM / 6:00PM - 10:00PM
"Down home American cooking" Focusing on American food, the classics and southern dishes including Memphis-style ribs, Chicken Gumbo, BBQ pulled pork, big selection of burgers and sandwiches including choice of po boys. Full bar, cocktails and cold beer including some good imported choices.

Tel: 078-949398, 095-949398

##14 Street 282, BKK1, (look for the neon sign)
Australian...
Black Salt CLOSED - OUT OF BUSINESS
Dining: Australian
10:00AM - 10:00PM

"Fine dining...excellent imported steaks" Australian owned, serving up a concise choice of western favorites including excellent imported Australian beef steaks. Two floors of air-conditioned dining and a rooftop lounge. Full bar, wine selection by the bottle and glass. Desserts.

Tel: 093-460899

#196z Street 19, (behind the Royal Palace)
Belgian...
La Patate
Dining: Belgian
10:00AM - 10:00PM
"Legendary Belgian fries" Popular, long running Belgian restaurant with a loyal following. A cozy place a block off the riverfront with retro decor, lovely food, Belgian beer and comparatively reasonable prices.

Tel: 023-430606

#14 Street 5 (a block off the riverfront)
Sorya Beer Garden 51
Beergarden: Thai/International/Belgian
3:00PM - 3:00AM
"Good food on the garden, late night GSM" Good, reasonably priced food and drink through the evening and into the night. Thai and western dishes including a few very nice Belgian specialties. Great barbeques and weekly all-you-can-eat specials. And, of course, full bar including some Belgian beers.

Street 51, Golden Sorya Mall, center court
Buffets...
Hagar Catering & Restaurant
7:00AM - 2:00PM
"Super popular daily lunch buffet for $6.95" Social enterprise that hires vulnerable men and women, and teaches hospitality skills. Hygienically-prepared international food. A/C. Other specials include a BBQ buffet on the weekend and Italian on Wednesdays. Reservation for dinner. Wifi, meeting facilities, indoor/outdoor catering. Visa/MC/JCB/ANZ

Tel: 010-333095, 012-306075

#44 Street 310, just off Street 63, BKK1
The Pangea
Dining: Fusion/International/Buffet
6:00AM - 10:30PM
"Where East Meet West" Boasting a myriad of cuisines brought under one roof by world-class chefs. 24/7 service by a dynamic and friendly staff. A very popular dinner buffet. Visa/MC

NagaWorld, Hun Sen Park at the end of Sihanouk Blvd
Tonle Bassac Restaurant I
Dining: Buffet/Asian/International
11:00AM - 2:30PM / 6:00PM - 9:30PM
"The original Tonle Bassac buffet" Very popular, long-running mid-range buffet restaurant, specializing in Cambodian, Thai, Vietnamese, Chinese cuisines as well as a sushi bar. Good place for a family dinner, a business lunch, or a gathering of friends. Meeting/event space. Visa/MC

Tel: 023-210019

Corner of Mao Tse Toung / Street 163
Tonle Bassac Restaurant II
Dining: Buffet/Asian/International
6:00AM - 10:00PM
"New buffet from the famous Tonle Bassac" From the very popular, long-running Tonle Bassac Restaurant I. Very spacious, stylishly modern dining spaces. Cambodian, Thai, Vietnamese, Chinese cuisines prepared by international class chefs. Visa/MC

Tel: 023-218333, 023-219333

#534 Monivong Blvd
Cambodian/Khmer...
Confirel Degustation
8:00AM - 8:00PM
"A taste of Cambodia" Great place to try authentic Cambodian food, located on Street 178 just a couple of blocks off the riverfront. Concise selection of reasonably priced Cambodian fare including Chicken Amok, Luk-Lak and Banana Flower Salad as well as an interesting sampler plate for 2 or 3 people. Also a shop selling a variety of Cambodian products.

Tel: 012-981724

#57 Street 178, near the National Museum
frizz
10:00AM - 10:00PM
"Family-style dining, traditional Khmer food" If you're looking to try Cambodian food, this family-style restaurant serves up traditional Khmer dishes and offers and photo menu for those unfamiliar with the cuisine. Their specialties include amok and chhnang phnom pleung (Cambodian volcano pot.) Also offering Cambodian cooking classes. Visa/MC

Tel: 023-220953, 012-845525, 012-524801

#67 Street 240
Kravanh
Dining: Cambodian
10:00AM - 10:00PM
Lovely, comfortable, fully air-conditioned restaurant serving authentic, finely prepared Cambodian cuisine including traditional favorites, Royal Khmer recipes and provincial specialties. Try the Battambang Sausage with an Angkor Beer!

Tel: 012-539977

#112 Sothearos Blvd, near Sihanouk Blvd.
Malis
6:00AM - 10:00PM
"The premier upscale Khmer dining experience" Phnom Penh's premier upscale Cambodian dining experience, Malis serves contemporary and traditional Khmer cuisine from the kitchen of the renowned Cambodian chef Luu Meng. The Cambodian breakfast, which is served until 11AM, is very popular, drawing a full house. Full bar, cocktails.

Tel: 023-221022

#136 Norodom
Romdeng
Dining: Cambodian
11:00AM - 9:00PM
"Curries to tarantulas, recipes from the provinces" Sister restaurant to Friend's and part of the Mith Samlanh program. The perfect place to try Cambodian food--from curries to tarantulas--Romdeng's menu features recipes from the provinces. Visa/MC/ANZ

Tel: 092-219565

#74 Street 174, between Streets 51 & 63
Chinese...
The Place Sky Bar
Dining-Lounge: Chinese/International
11:00AM - 1:00AM **Happy Hour 5PM-8PM
"Stunning views of Phnom Penh from Sky Bar" 9th floor of The Place overlooking the Independence Monument, Sky Bar offers 360º city view with floor to ceiling windows offering impressive views and air-conditioned comfort. Extensive menu of Chinese, Asian and Western cuisine and a full bar. Visa/MC

Tel: 069-810777, 023-992778

#90 Sihanouk Blvd, 9th floor of The Place
Tai Tai Seafood Restaurant
Dining: Chinese/Khmer/Seafood
"Classic Chinese seafood place" Very popular with the locals, but seeing very few foreigners or tourists. Live seafood in tanks cooked to order Chinese or Khmer style. Great Singapore-style fried noodles. Air-conditioned indoor seating and sidewalk seating. There are several other similar Chinese live seafood restaurants along Monivong Blvd within a few blocks either way.

Monivong Blvd, near Street 184
Contemporary...
The Common Tiger

CLOSED - WATCH FOR OPENING AT NEW LOCATION
Dining: International/Fusion/Cambodian
12:00PM - 3:00PM / 7:00PM - 9:30PM
"A total dining experience" A concise menu of absolutely fresh, brilliantly prepared dishes employing mostly local ingredients. Cozy, comfortable dining areas with indoor a/c and patio seating. Good wine selection. Excellent coffee. Visa/MC

Tel: 023-212917

#20 Street 294, BKK1
Deco
Lunch and Dinner (Closed Sunday)
"Stylish digs, creative cuisine" Stylish BKK1 restaurant with a pleasant ambiance, excellent service and attention to detail make Deco a lovely choice for a meal. The creative menu is small but delicious, and changes regularly. There's also a full bar and lounge area that features luscious cocktails and wines by the glass. Continuing to receive good reviews from customers.

Tel: 017-577327

Corner of St 57 & St 352 (BKK1)
The Duck Restaurant CLOSED - OUT OF BUSINESS
Dining-Bar: Contemporary
9:00AM - 10:00PM (closed Monday daytime)
"...with a contemporary twist"
Fully air-conditioned, sharp, cosmopolitan design. Wide selection of western favorites with a contemporary twist. Excellent food in a lovely setting. Full bar and a wide wine selection. Visa/MC

Tel: 089-823704

#49 Sothearos Blvd
The Lost Room
Restaurant: Contemporary
Monday to Saturday: 5:00PM - Late
"Eclectic...brilliant...legendary...hidden" Tucked away and a bit hard to find, The Lost Room has rightly inspired many a reviewer to pen 'a hidden gem,' this boutique restaurant and her welcoming proprietors achieving almost legendary local culinary status. Eclectic menu, brilliant preparation, without pretension.

Tel: 078-700001

#43 Street 21, Sangkat Tonle Bassac
Public House CLOSED FOR RENOVATIONS
Gastropub: International
Lunch, High Tea and Dinner
"Simple and delicious cuisine 240½" Located on a little spur road next to the Palace off Street 240, comfortably refined decor and ambiance, serving fresh, simple and delicious cuisine. Dishes include f&c, burgers getting rave reviews and my favorite, sausage & mash. Full bar, wines, beers, great cocktails.

#30E0 Street 240½

Coffee, cafes, delis, ice cream...
Bloom Café
Cafe: Coffee/Cake
10:00AM - 5:00PM (Mon-Sat)
"A cake art gallery and cupcake emporium" This cupcake emporium specializes in a mouth-watering range of signature cupcakes and stunning custom-made birthday cakes. NGO training cafe seeks to empower Cambodian women while at the same time building a reputation for excellent cakes and cupcakes. Receiving very good reviews.

Tel: 077-757500

#40 Street 222, (Between Street 63 and 55)
The Blue Pumpkin
6:00AM - 11:00PM
"Several locations in Phnom Penh and Siem Reap" Always nicely air-conditioned, great place to escape the heat for a cold drink and snack. Free wifi. A full menu including tasty salads and sandwiches as well as Asian fare. Don't miss their famous ice creams. Visa/MC www.tbpumpkin.com

1) Sisowath Quay (G-11); 2) Airport; 3) Corner Streets 57/288 BKK1 (K-10); 4) Kid's City (J-9); 5) #7 Street 380 (L-10); 6) #69 Street 566 (D-2); 7) #E02 Street 106 (F-11); 8) Thai Hout Market; 9) AEON MALL
Comme à la Maison, Restaurant
6:00AM - 10:30PM
"Long established, loyal following" Popular restaurant and delishop offers a wide range of French dishes and weekly specials. Garnering consistently good reviews. Comfortable garden patio seating, fully air-conditioned indoor dining as well as free delivery, catering and party planning. Available for corporate/private events, private rooms.

Tel: 023-360801, 012-951869

1) #13 Street 57, BKK1; 2) Rose Garden Tower; 3) #6 Street 592 Thai Hout Supermarket; 4) #73 Tonle Sap Street
Costa Coffee
Coffee shop
6:30AM - 9:00PM
"An international coffee experience" Costa Coffee is one of the foremost coffee chains in the UK, and their slow-roasted coffee is known worldwide. A place where you can enjoy 'a cup of joe' in comfortable seating and with free wifi.

1) Streets 294/51 (K-10); 2) Sisowath Quay/Street 184 (H-12); 3) Opposite Baktuk HS (H-7); 4) Airport; 5) AEON MALL (L-12)
Craft Peace Café

9:00AM - 6:00PM (Closed Monday)
A/c café and gift crafts shop. Offering regional coffees, fresh tropical fruit juices, smoothies, pocket sandwiches with local ingredients, salads, brownies, croissants and more. Comfortable space, uniquely designed furniture, free wifi and pleasant music. Convenient space available for meetings (10-20 pax.) Also a great venue for photo exhibits.

Tel: 012-436806

#14 Street 392, BKK1, near Phsar Boeung Kang Keng
Dairy Queen
Ice Cream
9:00AM - 10:00PM
"The internationally famous Dairy Queen" The internationally famous Dairy Queen is available at several locations across Phnom Penh, serving the classic Dairy Queen ice cream and ice cream treats.

1) #387 Sisowath Quay; 2) AEON MALL
Daughters of Cambodia
7:00AM - 6:00PM (Closed Sunday)
"Providing training to survivors of human trafficking" Sugar 'n Spice tea shop is a social enterprise providing training and employment in the hospitality sector to survivors of human trafficking. A haven away from the hustle and bustle of central Phnom Penh, the café offers comfortable sofas, fresh local teas and coffee, wifi, great desserts and light lunches.

Tel: 077-657678

#65 Street 178, near the National Museum
Feel Good Cafe
7:30AM - 10:00PM
"A star amongst the city's many coffee shops" Brilliant coffees brewed from regional coffee beans, literally hand-selected and roasted on site using a proper coffee roaster on display. Choice between an indoor a/c dining and street view seating. Also serving breakfasts, sandwiches, wraps and meals including some good vegetarian selections. Recommended.

Tel: 095-380163

#79 Street 136, 2 blocks off the riverfront
Gloria Jean's Coffees
7:00AM - 9:30PM
"The internationally known Gloria Jeans" Popular international-style coffee house serves a wide variety of coffees, teas, mouth-watering chillers and fresh fruit smoothies in addition to pastries, cookies and sweets. Enjoy the free wifi inside where it's a/c or relax on the patio terrace.

Tel: 092-404365, 092-555973, 092-555937

1) Corner Streets 51/310, BKK1; 2) Phnom Penh Port, Sisowath Quay, riverfront; 3) Kid's City
Open Arms
Cafe/Tea Room/Salon: Western
8:30AM - 6:00PM
"A member of Chab Dai" Chab Dai is Christians working together to end sexual abuse and trafficking. Proper tearoom with gorgeous old English settings of fine china roses and lace, and serving a variety of finger foods and lite-bites. Attached salon and massage.

Tel: 012-608700

#89A Street 155
Q Coffee House
Coffee shop/Cocktail Bar
7:00AM - 9:00PM
"House roasted Arabica from Thailand" Friendly little non-chain coffeehouse. Full a/c and a warm welcome. All the coffee favorites, as well as hot and iced chocolates with real cocoa, a range of teas, including the Cambodian green ice tea with milk. Fruit shakes and a range of snacks. Small bar serving cocktails. Comfortable seating and free wifi. Recommended.

Tel: 077-605322

#223 Street 13, 2 blocks off the riverfront
The Shop
Café/Delicatessen/Bakery
7:00AM - 7:00PM
"A very popular spot, particularly at lunchtime" With a menu filled with excellent homemade soups, salads, sandwiches and fruit juices. View the daily specials on the board, and don't forget to check out their fresh baked goods. Everything is reasonably priced and consistently delicious.

Tel: 023-986964, 012-952839

1) #39 Street 240; 2) #38 Street 337, Toul Kok
Snow Yogurt
Frozen Yogurt
8:00AM - 10:00PM
"Put together your own frozen yogurt treat" Offering a welcome respite from the heat. Serving tasty soft-serve yogurt made from low fat milk. $1.50 for 100 grams and can be enhanced with a variety of fresh fruits or candy toppings.

Tel: 069-700700, 016-282828

1) Sovanna Shopping Center; 2) Pencil Riverside; 3) Sorya Shopping Center; 4) Koh Pich Night Market; 5) Ratana Plaza
True Coffee
Coffee Shop
7:00AM - 9:00PM
"Serving real Nishio Matcha from Japan" With over 70 coffeeshops in Thailand, in now making its mark on the Cambodian coffee scene, offering an international coffeeshop atmosphere, a wide selection of coffees and drinks as well as pastries and snacks. New on the menu, Nishio Matcha from Japan.

Tel: 077-205456, 023-881007

#213 Monivong Blvd.
Fast food...
Several international fast food chains have in Phnom Penh in the last few years, adding to the existing local places. KFC, Burger King, Dominos Pizza, Pho 24 and Dairy Queen all have a presence in Phnom Penh now. Popular local places include Lucky Burger and BB World. The BKK1 area harbors several fast food joints, and they can also be found at all the malls.
BBQ Chicken
Dining: Chicken
9:00AM - 10:00PM

"Korea's favorite chicken restaurant" Serving up Korean-style grilled and barbecued chicken. Try their specials: Korean BBQ, featuring whole chicken legs cooked over charcoal with Korean-style barbeque sauce, and the spicy sweet fried chicken.

Tel: 023-880880

1) Sorya Shopping; 2) Koh Pich; 3) Street 51/306, BKK1
Kentucky Fried Chicken (KFC)
Dining: Fried Chicken
10:00AM - 9:00PM
"Just as popular in Cambodia as back home" Kentucky-style fried chicken individually, by the bucket, in sandwiches, dinners, and more. Fully air-conditioned. Free wifi. Delivery available.

Tel: 023-996000

Locations across town. See map.
Lucky Burger
This Western-style fast food joint offers inexpensive meal specials of burgers, fries and soda. Despite their name, their menu offers more than just burgers--diners can also enjoy pizza, rice dishes and fried chicken at any of Lucky Burger's five Phnom Penh locations, plus a selection of tasty ice cream treats.

1) #160 Sihanouk Blvd; 2) City Mall Shopping Center; 3) Parkway Ground Floor; 4) Koh Pich; 5) Monivong Blvd; 6) Ratana Plaza; 7) Sovanna Shopping Center
French...
Given Cambodia's long relationship with France and France's gastronomic traditions, it is no surprise some of Phnom Penh's finest dining venues offer French cuisine - from simple bistros to full on elegance.
Armand's Bistro
Dining-Lounge: French
"Paris in Phnom Penh" One of the city's most talked about tables. Authentic Old World ambiance. Fine French dining offering a selection of traditional favorites. The house specialty is steak, prepared table with flare and flourish. Proper sit-down bar. Good wine selection. Recommended.

Tel: 015-548966

#33 Street 108, between Norodom and Phsar Chas
Chez Gaston
6:00PM - 11:00PM
"The proverbial hidden gem" Fantastic little French bistro tucked away on a narrow street in the Phsar Kandal area. Receiving consistently rave reviews from patrons. Traditional French favorites, finely prepared and reasonably priced.

Tel: 077-910945

#76EO, Street 15, between Street 148 and 154
Comme à la Maison, Restaurant
6:00AM - 10:30PM
"Long established, loyal following" Popular restaurant and delishop offers a wide range of French dishes and weekly specials. Garnering consistently good reviews. Comfortable garden patio seating, fully air-conditioned indoor dining as well as free delivery, catering and party planning. Available for corporate/private events, private rooms.

Tel: 023-360801, 012-951869

1) #13 Street 57, BKK1; 2) Rose Garden Tower; 3) #6 Street 592 Thai Hout Supermarket; 4) #73 Tonle Sap Street
La Crêperie
11:00AM - 11:00PM (Closed Tuesday)
"Outstanding crêpes served by sailors" At the nautically-themed La Crêperie the staff wear striped French sailor shirts and lighthouses adorn the tables. Decor aside, the crêpes are outstanding. Both sweet and savory crêpe in the style of Brittany. Visa/MC/UC

Tel: 023-6407600

#12C Street 308
La Marmite
11:00AM - 2:00PM / 4:00PM-10:00PM
"Classic French dishes, comfortable ambiance" Pleasant little French bistro, in business since 2001 with the same French chef and owner, offering affordably priced classic French and Khmer dishes. Come for lunch or dinner or just enjoy a drink at the bar. Very popular, with a loyal following.

Tel: 012-391746

#80 Street 108, Corner 51
Le Gourmet
Noon - 3:00PM / 6:00PM - 10:30PM
"French culinary excellence at NagaWorld" Fine dining in an upscale atmosphere, perfect for a romantic dinner or gathering of friends. Enjoy an evening of French culinary excellence from the kitchen of French Chef Robert Choun. Walk-in humidor and a selection of fine cigars, including Cubans. In the NagaWorld entertainment complex. Visa/MC www.nagaworld.com

NagaWorld, Hun Sen Park at the end of Sihanouk Blvd
Topaz
Lunch and Dinner
"Amongst the most upscale choices" One of Phnom Penh's longest running French restaurants, Topaz boasts first-class presentation, superb service and a menu filled with contemporary French dishes. The excellent food is complemented by the refined atmosphere and Asian-inspired decor. Visa/MC/AMEX/ANZ

Tel: 023-221622

#182 Norodom Blvd
Van's Restaurant
Lunch and Dinner
"A top table" Van's serves up the very finest of traditional French cuisine in a wonderfully restored French colonial-era building. Van's is set in the ornate early colonial-era building on the Post Office square, and the place retains every ounce of its former grand gentility. And check out the new rooftop bar. Visa/MC/JCB/AMEX/ANZ

Tel: 023-722067

#5 Street 102, corner Street 13, Post Office Square

German/Swiss...
One More...
Dining-Bar: German/French
5:00PM - Late **Happy Hour 5PM-7PM
"Home-cooked Alsatian dishes" This cozy little restaurant/bar boasts old world ambiance and home-cooked German, Alsatian and international dishes including a massive pork knuckle and the ever popular schnitzel. Comfortable a/c bar with a friendly neighborhood pub atmosphere.

Tel: 017-327378

#16Eo Street 294
Tell
Dining: Western/Swiss
11:00AM - 2:00PM / 5:00PM - 11:00PM
"One of the city's longest-running family restaurants" Tell offers a wide variety of international dishes and authentic Swiss specialties. A perfect place for family, friends or business. Tell's massive grilled pork leg is legendary and the beef steaks are very popular. The butcher's casserole is recommended. Visa/MC

Tel: 023-430650

#13 Street 90, behind Hotel Le Royal
Indian...
Royal India
10:00AM - 10:00PM
"Great prices, best Chicken Korma in town" Good, reasonably priced Indian and Pakistani food, including masalas, korma, curries, naan, samosas, lassies and more, plus a variety of vegetarian and non-vegetarian dishes. The Royal India has been around for almost two decades and has a very loyal following.

Tel: 023-6922205

#21 Street 111
International...
Café Yejj
Cafe/Restaurant: International
7:30AM - 9:00PM
"Continental bistro style café" Providing employment and training for underprivileged people. Serving a range of pastas, salads, tapas, wraps, panini, mains and desserts. Wines by the glass, full bar. Street level seating, a/c dining room upstairs and a pleasant open air terrace bar on the roof. Visa/GD

Tel: 092-600750

#170 Street 450, 30 meters from the Russian Market
The Empire
Dining-Movie House: Khmer/Western
3:30PM - 11PM (M-F) 1:30PM - 11PM (Sat - Sun) Happy Hour 4PM - 6PM
"Movie house and restaurant" Excellent Khmer, British and American dishes. Khmer choices are designed for a Western palate. Full bar with great cocktails. Movie House upstairs - a comfortable, a/c, sound proof theater showing movies in the afternoon and evening. Have your dinner and drink at the movie.

Tel: 089-392921 (En), 077-468243 (Kh)

#34 Street 130, just off the riverfront
Foreign Correspondents Club (FCC)
Dining-Bar: International
6:30AM - Midnight
"The legendary FCC, a Phnom Penh original" A Phnom Penh original, the FCC is a riverfront bar and restaurant in a colonial-era building featuring a sweeping view of the riverfront. Contemporary, fusion and Western dishes, plus wood-fired oven pizzas. Pool table and a rooftop bar. Visa/MC/AMEX

Tel: 023-724014

#363 Sisowath Quay, corner of Street 178, riverfront
Fox Winebistro
Restaurant/Lounge: Western/Asian

10:30AM - Midnight
With its trendy concrete and glass interior that looks out onto Wat Botum park, Fox Wine Bistro is an upscale but reasonably-priced restaurant that features Mediterranean tapas, Asian fusion, and creative salads. The mini-burger trio with bacon, cheese, and avocado salsa is a favorite.

Tel: 090-625656, 098-788861

#104 Sothearos Blvd
Friends the Restaurant
Dining: International
11:00AM - 9:00PM
"Teaching former street youth cooking skills" A cheerful tapas restaurant run as part of the highly respected organization 'Friends', teaching former street youth cooking/service skills. Asian and Western tapas, salads, specials. Delicious shakes, margaritas and daiquiris. Visa/MC/JCB

Tel: 012-802072

#215 Street 13 (Near the National Museum)
Grand River Restaurant & Bar
Riverfront Dining-Bar: International
7:00AM - 12:00AM Happy Hour 4:30PM-7:30PM
"Kerbside at the riverside" Great riverside location, kerbside seating on a raised patio with a great view of the riverfront scene. Offering a wide selection of nicely prepared western and Asian dishes. Full bar, cocktails, wines, draft beer. Live music at the weekends. Visa/MC

Tel: 023-220244

Corner of Sisowath Quay & St.178
Java Café and Gallery
Dining: International
7:00AM - 10:00PM
"Coffee, food and art" Featuring regularly changing exhibitions of contemporary art. The café offers a selection of coffees, teas and muffins, salads, made-to-order sandwiches, vegetarian options and all-day breakfasts. Indoor a/c plus airy balcony seating overlooking the park. Free wifi. Visa

Tel: 012-833512

#56 Sihanouk, near Independence Monument park
Kandal House Cafe & Pub
Riverfront Dining: International
8:00AM - Late Happy Hour 2PM-8PM
"Friendly drinking and eating on the riverfront" This popular, unassuming riverfront restaurant is known for their tasty food and cheap, cold beer. Large selection of Western dishes including pizza and pasta. Their Khmer and Thai dishes are even better. Sit indoors or enjoy the riverfront view outside.

Tel: 016-800111, 098-800111

#239BEo Sisowath Quay, riverfront
K-West Brasserie-Bar
Dining-Bar: International
6:30AM - Midnight Happy Hour 6PM-8PM
"Perfect for family, business or liesure" Upscale riverside restaurant that serves a wide range of contemporary Asian and European cuisine plus a selection of ice cream, coffee and teas. The stylish lobby, bedecked with modern art and hardwood floors is suitable for all occasions. Visa/MC/AMEX/ANZ

Tel: 023-214747

#1 Street 154/Sisowath Quay, riverfront
Le Café Mith Samlanh
7:30AM - 7:30PM
"Training restaurant for former street youth" Mith Samlanh's training restaurant, teaching culinary and hospitality skills. Croissants and coffees are on offer from 7.30am onwards and at lunchtime there's a Khmer buffet for only 10,000 riel including dessert. Special events in the evenings are held on a regular basis. Open for breakfast, lunch and special events.

Tel: 092-471791

Street 184, French Cultural Center
Le Point Café
Cafe
7:00AM - 7:00PM
"Pleasant, cozy little city center cafe" Indoor a/c and patio seating. International and Khmer dishes. Good salads and soups, (excellent gazpacho!) Good value lunch sets. Cocktails and beer. Good coffees.

Tel: 077-974921

#10 Street 208, near Norodom Blvd.
Longlin Bar & Restaurant
Dining-Bar: International
7:00AM - 1:00AM Happy Hour 4PM-11PM
"A backpacker favorite just off of Street 172" Offering excellent value for money on food and drink, including a selection of beer, spirits and cocktails. The menu features tasty, inexpensive Khmer and Western dishes and guests can enjoy free use of the Longlin pool table and Wifi.

Tel: 023-992412, 077-727722

#159 Street 19
Lotus Blanc Restaurant
Dining: Khmer/Western
7:00AM - 9:30PM
"Student training restaurant by PSE" Lotus Blanc is a student training restaurant that offers delicious Khmer and Western dishes prepared and served by students from the Hotel Training School at Pour un Sourire d'Enfant.

Tel: 017-602251

#152 Street 51 (Pasteur Street)
Oyster Restaurant & Bar
Dining: Khmer/International/Mongolian BBQ
6:30AM - 10:00PM **Happy Hour 4PM-8PM
"Casual setting for business or family dining" Casual setting for business or family dining with a fantastic view of the Tonle Sap. The menu is heavy on seafood, made-to-order Mongolian BBQ stir fry, steam boat buffet dinners and large a la carte menu. Visa/MC/JCB/AMEX

Tel: 023-214555

#313 Sisowath Quay
The Pub
Dining-Bar: British
10:00AM - 10:00PM
"Popular Sunday roast" Good British pub and restaurant next to Skirts Bar. Serving up hearty pub grub, mains and cold beer. Very nice Sunday Roasts such as Roast pork with sage and apple stuffing and crackling, and Australian roast beef with horseradish and Yorkshire pudding. Facebook

#42 Street 174, between Norodom and Street 51
Pickled Parrot
24 hours
"9-ball, sat sports and western food" Pickled Parrot is a popular a/c restaurant, bar and guesthouse near the riverfront with a loyal following. They boast a large menu of Western, Indonesian, Thai, Chinese and international cuisine, full bar with a high quality 9-ball pool table and live satellite sports on four flat screen televisions. ANZ

Tel: 023-986722

#4-7Eo Street 104, just off the riverfront
Sunway Hotel
Restaurants/Lounge
24 hours Happy Hour 4PM-9PM
"Upmarket dining and drinking" Offering an extensive array of dining options, including several themed buffet dinners that offer all-you-can-eat specials, such as fresh seafood, sushi and European cuisine. You can also find freshly baked breads and cakes every day in the deli. Visa/MC/JCB/AMEX

Tel: 023-430333, 023-430339

#1 Street 92, next to Wat Phnom
Italian, Pizza...
Aperitivo Italiana
Restaurant/Bar: Italian

11:00AM - 2:30PM / 5:00PM - 10:30PM
Upscale Italian dining in a comfortable air-conditioned dining room. Wide selection of traditional Italian favorites, fresh made pastas, and a choice of pizzas. Cocktails, wine, full bar.

Visa/ANZ/ACLEDA

Tel: 086-211898

#96 Sothearos Blvd, across from Wat Botum Park
Aria D'Italia Pizzeria
Dining: Pizzeria/Italian
Lunch and Dinner (Sat-Sun 5:30PM-10PM)
"One of the best traditional style pizzas in town" Homey little pizzeria and Italian restaurant. Enjoy homemade ravioli, gnocchi and other pastas outside on their courtyard or inside. Recommended.

Tel: 012-840705, 011-840705

1) #41Eo Street 310, BKK1

2) #81A Street 315, TK
Bistro Romano
Dining: Italian
11:00PM - 11:00PM
"Embodies the Italian passion for food & wine" Italian cuisine with a contemporary influence, Bistro Romano is known for their lavish Sunday Prosecco brunches. Suitable for a gathering of friends, a family dinner or a romantic evening. Visa/MC www.nagaworld.com

NagaWorld, Hun Sen Park at the end of Sihanouk Blvd
La Volpaia
Dining: Pizzeria/Italian
Lunch and Dinner
"Comfortable fine dining with a cozy ambiance" Since 2006. They offer a range of pizzas, calzones, pastas, imported steaks and desserts including homemade panna cotta. Pasta made fresh daily. They have an extensive wine list, with several available by the glass. Visa/MC/AMEX

Tel: 089-885889, 023-992739

Opposite the Post Office, corner of Street 102
Luna
11:00AM - 11:00PM
"Classic Italian, Spanish & Mediterranean choices" Luna's lovely garden terrace features breezy outdoor seating, but it's their menu that shines, reflecting the influence of their Australian chef. The menu has Spanish and other Mediterranean influences, as well as classic Italian pizzas and pastas. Try the charcuterie plate with various Spanish meats. Visa/MC

Tel: 023-220895, 092-798781

#6C Street 29
Nike's Pizza House
Dining: Pizza/Italian
8:00AM - 10:00PM
"A Phnom Penh classic. Open since 1996." New location on Street 29. Good reviews and a long and loyal following. Good pizza and more. Over 40 different pasta dishes as well as salads, soups, appetizers and some Asian dishes. Welcoming place with pleasingly eclectic decor. Very affordable. Full bar.

Tel: 077-788595, 088-8752555

#1 Street 29, near the corner of Street 308
The Pizza Company
Dining: Pizza
"Fastest delivery in town" One of the most popular pizza place in town, the menu features international-style pizzas, from more traditional thin crust cheese pizzas to seafood pizzas with cheese and sausage-stuffed crusts. They offer some of the most efficient and fastest pizza delivery in Phnom Penh. Visa/MC/JCB/ANZ

Tel: 023-880880

Several locations across town
Terrazza
Dining: Italian/Deli
9:30AM - 11:00PM
"Classic Italian restaurant and deli" Large selection of classic Italian dishes, pizzas, pastas, the works. Pleasant, a/c, family style dining, great for a family dinner, a business lunch or a romantic evening. The deli shop offers a unique range of imported from Italian products.

Tel: 017-696318

#1 Street 282

Japanese...
Ashima
Dining: Japanese/Suki/Vegetarian

10:00AM - 10:00PM
Ashima's unique menu features more than 20 varieties of mushrooms from across Asia. Their healthy, reasonably-priced dishes range from hotpots and soups to seafood and grilled meat, and most feature mushrooms or come with one of their many creative mushroom sides. Visa/MC www.ashima.com.vn

#336C Monivong Blvd, Corner Street 282 Tel: 023-801222
Higashiyama Restaurant
11:00AM - 10:00PM
"Sushi, sahimi, sukiyaki, shabu-shabu..." Specializing in the cuisine of Kyoto, serving a range of Japanese dishes buffet-style and a la carte, including fresh sushi and sashimi. The specialty is sukiyaki and shabu-shabu Japanese-style hot pots, made with wagyu beef. Visa/MC/JCB

Tel: 089-715050

#66 Sothearos Blvd
Japanese Kitchen & Pub Suzume
Dining: Japanese/Sashimi/Sushi
11:00AM - 2:00PM / 5:00PM - 11:00PM
"Not fancy but very reasonably priced" This casual Japanese restaurant has one of the largest selections of sushi and sashimi in town, and is popular with Phnom Penh's Japanese expats. In addition to sushi, the menu features an extensive array of Japanese dishes. Consistently good reviews. Visa/MC

Tel: 092-748393

#105 Street 200, corner Street 63
Ninja Restaurant
Restaurant: Japanese

11:30AM - Midnight
Homey little Japanese restaurant serving wide variety of reasonably priced Japanese dishes, specializing in ramen noodles and fresh sushi. A half dozen ramen and noodle dishes from which to choose, as well as several rice dishes, hot pots, classic lunches and value priced Bento Boxes.

Tel: 097-7721556

#14B Street 278, BKK1
Oishi Restaurant
Dining: Japanese, Teppanyaki and Sushi
11:00AM - 5:00PM
"The full teppanyaki dining experience" Upmarket Japanese teppanyaki restaurant, with a sushi bar too. Teppanyaki is the art of cooking on the iron skillet, and Oishi has proper teppanyaki tables where skilled chefs to prepare your dinner with flourish and flare. Visa/MC/ANZ

Tel: 023-6891855, 095-913888

#28BEo Mao Tse Toung Blvd
The Sushi Bar
Dining: Japanese/Sushi
11:00AM - 10:00PM
"Great sushi, big welcome" From Japanese bento and hot pot to dozens of types of sushi and sashimi, the Sushi Bar menu offers hundreds of options to diners at reasonable prices as well as an extensive selection of Japanese drinks. Visa/MC

Tel: 023-726438, 023-726439, 023-432307

1) #2D Street 302, BKK1; 2) #74 Tonle Sap Street, Chvoy Chhangvar
Sushi Honda
Dining: Japanese/Sushi/Sashimi
11:00AM - 2:00PM / 5:00PM - 11:00PM
"Professionally prepared sushi and sashimi" Very comfortable, upscale atmosphere, excellent Japanese food and a proper sushi bar. Absolutely fresh, professionally prepared sushi and sashimi. Good selection of Japanese spirits and wines. Very reasonably priced lunch sets. Visa/MC

Tel: 023-223099, 088-9444456

#24 Street 57, BKK1
Uraetei BBQ Japan
11:00AM - 10:00PM
"Japanese dining experience with a Korean twist" Specializing in high-quality meats that you bbq yourself on a charcoal brazier, lovely ambiance and lunch and dinner specials. Extensive menu features premium beef, pork and seafood, and very good Korean pancakes. Visa/MC

Tel: 023-218037

#5 Street 360, BKK1
Tonkotsu Ramen Yamatei
Dining: Japanese Noodle
11:00AM - 11:00PM
"The name and the specialty, tonkotsu ramen" The specialty of the house is tonkotsu ramen at this cozy, reasonably priced, BKK1 restaurant. Red, white and black ramen plus a chose of toppings. A few other Japanese mains, most between $6 and $8 Visa/MC/JCB/GD

Tel: 023-5211666

#D186E Street 302, BKK1
Korean...
Korean Grill @ NagaWorld
Dining: Korean
11:00PM - 11:00PM
"Truly Korean" Fine Korean dishes from authentic Korean recipes made by an expert Korean chef offers a "truly Korean" experience. Grills at each table and a panoramic view of the casino. Visa/MC

Samdech Hun Sen Park
Mediterranean...
Latin Quarter

CLOSED - OUT OF BUSINESS - NOW THE NEW RUSTIC CORNER
Restaurant/Bar: Mediterranean/South American
11:00AM - Late
"Beautiful colonial villa, great paella" The best of South American, Spanish and Mediterranean cuisine: tapas, mains and of course, several types of paella. Full bar, imported and local beers, spirits and a large selection of wines, including some Spanish and Argentinean choices. Visa/MC www.thelatinquarter.net

Tel: 093-319081

Corner Street 178 and 19, behind the Museum
Tamarind
Restaurant/Bar/Tapas: French/Mediterranean
10:00AM - Late
"A Phnom Penh original" Popular place serving up excellent French and Mediterranean fare including North African specials and lovely tapas. The rooftop offers fabulous views and al fresco dining. Inside they have a billiards table and a/c. Full bar with a good wine selection. Wifi. Visa/MC/ANZ

Tel: 012-830139

#31 Street 240
Mexican, Tex-Mex...
Salsa Cabana Buena
Dining: Mexican
11:00AM - 2:00PM / 5:00PM - 11:00PM (closed Tue)
"The 'Latin Oriental Bar'" Efficient little Mexican restaurant and streetside bar in BKK1. Complete, standard menu of nicely done Mexican dishes at very reasonable prices. Cool kerbside bar serving $2 cocktails and Corona beer.

Tel: 097-6978810

#46EBO Street 288, BKK1, between Streets 63 and 57
Sunrise Tacos
Dining: Mexican
11:00AM - 10:00PM **Happy Hour 5AM - 7PM
"Mexican favorites, a/c, family friendly" Sunrise Tacos has come to Cambodia, with this first branch in the popular BKK1 area. Good full menu of Mexican favorites, promising fresh ingredients and quality meats. Comfortably air-conditioned, great for a business lunch or a family dinner. Visa/MC

Tel: 077-854545

#171 Street 63, BKK1
Taqueria Corona
Dining: Mexican/Tex-Mex
11:30AM - 2:00PM / 6:00PM - 10:00PM
"Best fish tacos...reliable delivery" This Western-managed Mexican restaurant is one of the most popular Mexican options in town. Try their soft taco plate with homemade tortillas and your choice of meats or a Mission-style burrito. Wash it down with a margarita, Mexican beer or a drink from their bar. A/c.

Tel: 089-281626, 012-629986

#14E Street 51
Persian...
Kaviar
Dining: Middle Eastern/Iranian/Persian
Lunch and Dinner
"Historic setting, fine Persian cuisine" Unique, upscale Persian restaurant in a sensitively refurbished historic villa in the heart of the city. Offering finely prepared Persian and Middle Eastern cuisine with the emphasis on meat. Refined but comfortably welcoming atmosphere. Visa/MC/AMEX

Tel: 017-390066

#22 Street 55 corner Street 242
Singaporean...
Hope Garden Cafe CLOSED - OUT OF BUSINESS
11:00AM - 8:00PM
"Try the Laksa!" A social enterprise from the Operation Hope Foundation - a pleasant little a/c restaurant serving very good, value priced Singaporean dishes including Singapore Chicken Curry, Mee Tai Mak Soup and a very nice Laksa for only $3.50.

Tel: 089-990484, 097-7772756

#117A Street 360
Taiwanese...
Border City
Dining: Taiwanese and Western
10:00AM - 10:00PM
"Fine Taiwanese dishes by a Taiwanese chef" Upscale Taiwanese dining set in a lovely villa style restaurant. Fine Taiwanese dishes prepared by a Taiwanese, available a la carte or the house specialty set menu. A/c and terrace dining. Full bar on the terrace.

Tel: 023-983008, 023-983009

#4 Street 228, between 51 and Norodom Blvd.
Thai...
Chiang Mai Riverside
Dining: Thai/Khmer/International
10:00AM - 10:00PM
"Loyal following, consistently great reviews" This long established riverside Thai eatery offers diners the choice of authentic Northern Thai dishes, Cambodian cuisine and even a few Western options, including pizza. The extensive menu is reasonably priced, offers vegetarians many options to choose from.

Tel: 011-811456

#227Eo Sisowath Quay, on the riverfront
Tom Yum Kung
Restaurant: Thai/Khmer/Noodles
7:00AM - 10:00PM Happy Hour 4:30PM-6:30PM
"Phnom Penh's most talked about Thai restaurant" Very popular BKK1 restaurant serving up inexpensive and authentic Thai and Khmer dishes in a welcoming, local restaurant atmosphere. The bar stocks Thai and local beers as well as wine and spirits. Visa/MC

Tel: 023-720234, 085-500009

#10 Street 278 , BKK1
Vegetarian...
Café Soleil
Restaurant: Vegetarian
7:00AM - 10:00PM
This vegetarian restaurant features tasty Khmer and Thai dishes, all prepared without MSG. Serving breakfast, lunch and dinner, plus a range of fruit smoothies and other beverages, Café Soleil offers a wide choice of vegetarian choices that are also excellent value. Free wifi.

Tel: 012-923371

1) #22DEo Street 278, BKK1 2) #66Eo Street 440, TTP
Vietnamese...
Magnolia Champa
Restaurant: Vietnamese
6:00AM - Late
"Beautifully renovated classic Phnom Penh villa" Lunch and dinner serving excellent Vietnamese pancakes, Bahn Trang Trang Bang (Herb Pork Rice Wraps Trang Bang style) Hot Pots, SEA salads and soups, and a variety of steamed and fried seafood, pork, chicken and beef dishes.

Tel: 097-5529977

#55 Street 51, corner of Street 242
Ngon Restaurant
6:30AM - 10:00PM
"Sister restaurant of famed Ngon Restaurant Saigon" Stylish surroundings, good food at surprisingly good prices. Very popular family restaurant, especially for dinner. Offering a wide selection of Vietnamese and Khmer dishes. Al fresco dining and private a/c rooms available. Visa/MC/ANZ

Tel: 023-987151-52

#60 Sihanouk Blvd (near Independence Monument)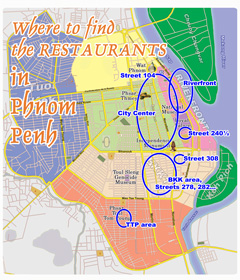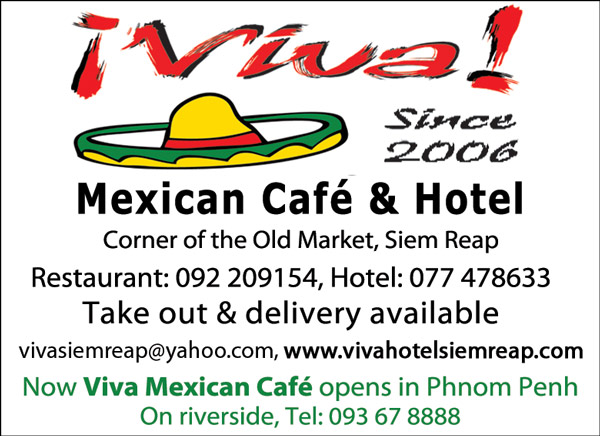 Where to go...
Riverfront area... Restaurants, bars and shops line the riverfront road (Sisowath Quay)... (map)
BKK1... plenty of places dotting the entire area, especially along Street 278 and 282, including the very popular Equinox... (map)
City Center... Restaurants and cafes of all sorts are scattered across the city center...
Street 172... budget traveler area, picking up the slack from the old lake scene, inexpenive restaurants, guesthouses, bars... (map)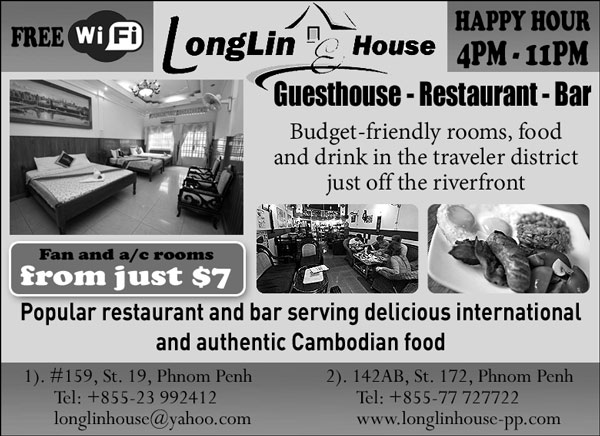 | | |
| --- | --- |
| | |
| | |
| | |
| | |
| | |
| | |
| | |
| | |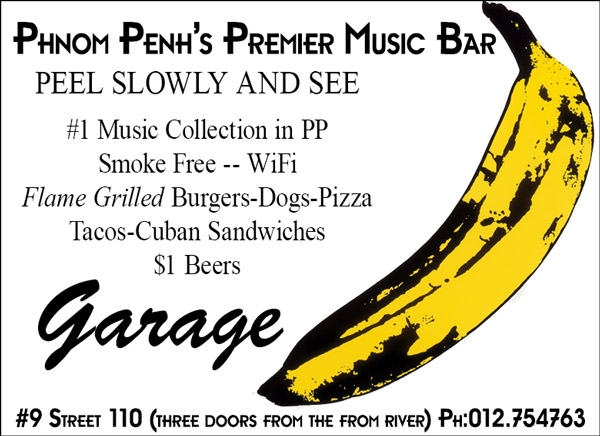 The Riverfront
Dining-Bars-Clubs-Shopping
Sisowath Quay from Street 184 to Street 100
Restaurants and bars of all sorts including classics like the FCC line the riverfront road (Sisowath Quay) and the roads radiating off the riverfront. Most are open all day and into the evening. The riverfront is particularly popular in the early evening but it's a great place to stroll any time of day. Have a snack or a meal, relax at a street side cafe and watch the passing riverfront scene. A couple of the city's best bar streets also stretch off the riverfront. Both Street 104 and Street 110 at the northern end of the riverfront area and Street 136 in the middle are packed with bars, restaurants and guesthouses..
City Center
Bars-Clubs
The central city area stretching back from the riverfront, bordered roughly by Wat Phnom in the north and Independence Monument to the south.
Restaurants, cafes, and coffee shops dot the entire area, with clusters of restaurants in some places such as the riverfront and Street 172. Though it's not really practical to stroll the area for restaurants, there are dozens of places in the area, making it a good part of town to base and take tuk-tuks to the restaurant of your choice, which is never far away. .
Streets 172
Bars-Dining
Street 172 between Street 19 and Street 13
The couple of blocks of Street 172 behind Wat Ounalom (2 blocks off the riverfront) has become a budget traveler area, picking up the slack from the old lake scene. There are several low priced hotels and guesthouses and a variety of budget-minded bars and restaurants line the street. Also check out Street 258 near the Palace for more budget places.
BKK1
Dining-Bars
Boeung Keng Kang 1, between Norodom and Monivong, south of Sihanouk
The northern end of BKK1 around Streets 278 and 282 has the greatest concentration of restaurants, bars and shops but new places are popping up across the entire area, especially new coffee shops. Check out the neighborhood on the east side of Norodom, especially along Streets 29, 21, and 308. It is now home to a quickly growing collections of unique little bars, cafes, restaurants and boutique hotels..