Cambodia
Travel Guides
Sihanoukville: Hotels, restaurants, bars, maps, beaches, getting there...
View/Download the print version of The Sihanoukville Visitors Guide
Sihanoukville
Hotels
Dining and Bars
Beaches, Boats Islands & Scuba
More to Do
Maps
Shopping
Travel
Essentials
Sihanoukville

Cambodia's Premiere Beach Town
| | |
| --- | --- |
| Sihanoukville is Cambodia's premier beach town, sporting miles of white sand beaches, picturesque islands and warm tropical waters. Sihanoukville also serves as a travel hub for the coastal towns of southern Cambodia - Kampot, Kep, Koh Kong and beyond. This website is the online version (with expanded content) of the print publication - The Sihanoukville Visitors Guide - Cambodia's first, most comprehensive and widely circulated guide to the beaches, restaurants, bars, hotels, entertainment, transportation and most of what you'll need... | |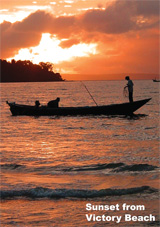 ...for your visit to Sihanoukville, Kampot, Kep, and Koh Kong.
Sihanoukville was founded as a port town half a century ago, but these days is as much a beach town and tourist destination, catering to weekenders from Phnom Penh and a steadily increasing number of foreign visitors. The town sits on a beach lined peninsula jutting into the Gulf of Thailand and the pace of life in this provincial town is very relaxed and unhurried. The beaches offer umbrellas, thatched roofed eateries and bars and an ever growing number of restaurants, pubs, bungalows and a range of hotels, all making for a laid-back, beachy atmosphere and a great little tropical getaway. Sihanoukville is a place to unwind by the beach, enjoy the fresh from-the-ocean seafood, party at the bars and happenings, take in an island or scuba trip and generally slow down, lay back and chill-out.
Sihanoukville offers a variety of accommodations wide enough to satisfy most requirements - plenty of guesthouses ($3-$20,) a number of mid-range places ($35-$85) and a few upscale resorts ($120+.) Most are concentrated into four areas: downtown, Ochheuteal, Otres and Victory. Downtown is a 5-minute ride from the beaches. Ochheuteal is the most popular beach and has a wide range of places. Otres Beach is secluded and has basic accommodations... (more)
Hotels by Name * Hotels by Location * Hotels by Price * Islands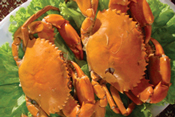 In Sihanoukville, you'll find some of Cambodia's best local and international food. Home to many Khmer fishermen, Sihanoukville is known for its fresh-caught seafood, often served straight from the ocean. There's a plethora of places to enjoy the local crabs, giant prawns, ocean fish and squid, from posh eateries to the numerous seafood shacks that line the beaches. At the latter, you'll find excellent value for money on their daily evening BBQs... (more)
Sihanoukville is a town that knows how to party and thereís no shortage of bars and nightspots. Ochheuteal Beach is lined with seafood shacks that double as bars, and thereís often an all-night beach party of some sort, always on the weekends and at full moon. Off the beach, There are several bars on the road from the Golden Lions to to Serendipity Beach including the popular Monkey Republic and Utopia. On the other side of town, a number of hostess, sports and music bars.... (more)
Sihanoukville town sits in the center of a small peninsula that juts into the warm waters of the Gulf of Thailand. Several beaches of fine pearl-white sand line the shore around the peninsula, all easily accessible from the town, each separated from the other as much by character as the rocky headlands between. The main beaches are lined with thatch roofed seafood shacks and bars offering cold drinks, umbrellas and chairs, BBQ, evening parties and water sports... (more)
While Sihanoukville is still Cambodia's most popular beach spot with locals and tourists alike, the islands off Sihanoukville's shore are quickly becoming a destination in their own right. Located in the turquoise-blue waters of the Gulf of Thailand, the Cambodian islands have an undeveloped, laid-back charm not easily found elsewhere. While many of the islands are covered in jungle and almost completely uninhabited, others have lovely stretches of perfect beaches... (more)
The waters off of Sihanoukville and the nearby islands offer some good scuba diving opportunities. Coral encrusted rocky reefs surround many of the local islands, supporting abundant hard and soft corals, sponges, anemones and an assortment of fish life including sting rays, moray eels, dolphins and even whales. Experienced divers report that the variety and concentration of marine life along the reefs is impressive. Good dive sites can be found within... (more)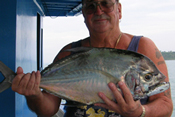 Boats, Excursions, Touring
There are dozens of temple ruins in the Siem Reap area, many of the most significant within the Angkor Archaeological Park just north of the city, others further afield. The temples vary in importance, interest and condition and are spread over a large area, often kilometers apart. In order to get the most of your temple visit, it is best to prepare at least a preliminary itinerary. Your itinerary should depend largely on the length of your visit and your level of interest, though some ruins... (more)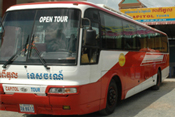 Getting to, from, around Sihanoukville
Phnom Penh is the primary gateway to the cities and towns of southern Cambodia with regular buses and taxis to all major cities. Air service is now available to Sihanoukville from Siem Reap, Cambodia Angkor Air offering thrice weekly flights. Local media recently reported that regular Phnom Penh/Sihanouk Ville flights may be added in the near future. The Cham Yeam crossing with Thailand and the Prek Chak crossing with Vietnam are the primary gateways... (more)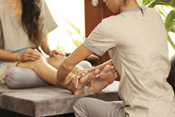 Massage, Movies, Tattoos, Orgs...
Massage for health and relaxation is a time-honored tradition Cambodia, offering its own distinctive traditions in massage therapy... Professional tattoo artist from the UK... Recent movies in an a/c theater on a 5x3.5m screen... NGOs, M'lop Tapang, Starfish, ChildSafe... (more)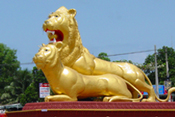 The Golden Lion Monument is a prominent landmark located in the middle of the traffic circle between Sokha and Ochheuteal beaches... Sihanouk Ville Mountain, spectacular view of the city, the islands and the beaches from Otres to the port... St. Michaelís Church, named after the patron saint of sailors, was constructed in 1962... Wat Utynieng, picturesque grounds with statues depicting Buddhist lore and a large reclining Buddha... (more)
Cambodia Sites and Blogs...