Telephone/Fax/Internet
Most hotels and the post office have international phone/fax. Overseas calls run $1.60-$3.00/minute. Domestic calls are 500-700 riel/minute from street side phone booths. Look for small glass booths marked '011, 012, 015, 016, 018'. Internet access at Internet cafes and shops is usually fast and relatively inexpensive, running as low as $0.50 - $1.50/hour. There are shops and cafés all over town. Prepaid PIC cards are available at Caltex stations.
How to call Cambodia
You may notice that Cambodian telephone numbers begin with a '0' (e.g. 023-000000, 016-000000, etc.) When dialing domestically, it is usually necessary to dial the entire number including the '0' at the beginning. When dialing from outside Cambodia to a Cambodian telephone number, you must use the country code but exclude the '0' at the beginning (e.g., 855-23-000000, 855-16-000000, etc). When dialing from Cambodia to a number outside of Cambodia, you must precede the number with '007' or '001' (for example 007-662-251-0000)
General Post Office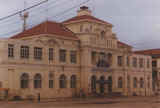 Letter and package delivery. International phone/fax. Daily 6:30AM-9PM. On Street 13, a block east of Wat Phnom. Collectable stamps and a collection book are available in the lobbies of the post offices in Phnom Penh and Siem Reap.
Package/Parcel Delivery
DHL - Worldwide Express
#28, Monivong, Phnom Penh
Tel: +(855)(0)23-427726
Fax: +(855)(0)23-427680

FedEx
#701D, Monivong, Phnom Penh
Tel: +(855)(0)23-216712
Fax: +(855)(0)23-216721

TNT
#28, Monivong, Phnom Penh
Tel: +(855)(0)23-430922
Fax: +(855)(0)23-430923

UPS
#27, Street 134, Phnom Penh
Tel: +(855)(0)23-427511
Fax: +(855)(0)23-366323
Telephone Companies / Internet Providers

Ministry of Post and Telecommunications
Landline telephones
Prefix: 023
Corner St. 102 and Street 13, Phnom Penh, Cambodia
Tel: +(855)(0)23-426510
www.mptc.gov.kh

OnLine - AZ Communications Co., Ltd
DSL, ADSL, WiMAX, Fiber Opic, Pre-paid cards, Hosting, Pre-paid cards.
#60, Monivong Blvd., Phnom Penh, Cambodia
Tel: +(855)(0)23-727272
Tel: +(855)(0)81-727272
Mobile Phones: Prefix: 013, 080, 083, 084
#1006B/1006C, Kampuchea Krom Blvd., Phnom Penh, Cambodia
Tel: +(855)(0)13-300300
Mobile Phones: Prefix: 010, 015, 016, 069, 070, 081, 086, 087, 093, 098
#464A, Monivong Blvd., Phnom Penh, Cambodia
Tel: +(855)(0)10-200888
www.smart.com.kh