| | |
| --- | --- |
| Nestled between rice paddies and stretched along the Siem Reap River, the provincial capital of Siem Reap City serves as the gateway to the millennium-old ruins of Angkor - the Angkorian-era Khmer Empire. Designated a World Heritage Site by UNESCO, the Angkor Archaeological Park encompasses dozens of temple ruins including Bayon, Ta Prohm and the legendary Angkor Wat whose artistic and archaeological significance and ...visual impact put it in a class with the Pyramids, Machu Pichu and the Taj Mahal. And though the... | |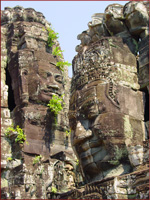 ...major temples in the Angkor Archaeological Park are very well touristed these days, it is still possible to capture a bit of the old explorer spirit and discover the ancient temples of Angkor.
Siem Reap Town is where you will stay during your visit to Angkor. The area has been receiving foreign visitors to the temples for over 100 years. The town is actually a cluster of old villages, which http://www.bambooforest.villas/ originally developed around individual pagodas, and later overlaid with an French colonial-era center. Note the colonial and Chinese style architecture in the town center and around the Old Market. Nowadays, Siem Reap offers a wide range of hotels, restaurants, pubs and shops including several upscale hotels and dozens of budget guesthouses.
Often missed are the many opportunities to experience traditional Cambodia: 'Apsara' dance performances, craft shops and silk farms, road tours through rice-paddy countryside, boat trips on the great Tonle Sap Lake to fishing villages and bird sanctuary, and much more.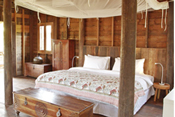 Hotels & Guesthouses
Siem Reap has an ever-growing number of hotel and guesthouse rooms, and a variety that is wide enough to satisfy all tastes and requirements. There are no hotels within the Angkor Park. Most visitors stay in or near Siem Reap town. Though staying right in the middle of town is a bit more convenient to the popular Old Market, Pub Street and Sivutha road areas, the town is relatively small making any location almost equally convenient as any other... (more)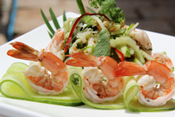 Siem Reap is a food-lover's haven, offering an amazing array of dining venues and cuisines from Asia and the West. Visitors have the chance to sample many types of Cambodian food, from inexpensive local fare to upscale fine dining. French cuisine also enjoys a special place in Siem Reap, and is served at some of the town's finer restaurants. Restaurants are scattered across the town, though many, including several specializing in Cambodian food, are concentrated in the Pub Street... (more)
Siem Reap's nightlife stretches to near dawn these days with the bar scene coming to life around dusk and the last few pubs and clubs closing as late as 4AM. Nightlife venues are located across town but the center of the action is the Pub Street area where many of the most popular bars and clubs are clustered. Some of the best early evening happy hour deals can be found on Pub Street. The Pub Street area also has some of the latest running bars in town, including... (more)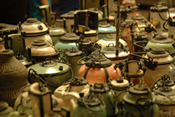 Shopping, Markets & Boutiques
Whether you're looking for traditional Khmer handicrafts or chic contemporary fashion, Siem Reap is an excellent place to shop for all things Cambodian. In addition to classic Cambodian souvenirs, Siem Reap has a unique and growing variety of contemporary art galleries, fashion boutiques and trendy shops. Shopping venues are scattered across the town with a concentration of places along Sivutha Blvd., and near Phsar Chas (the Old Market) and Pub Street... (more)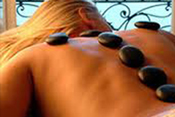 Spas & Massage
After a long day of climbing around temple ruins, a relaxing foot massage or a reinvigorating afternoon at the spa can be just what the doctor ordered. Massage for health and relaxation is a time-honored tradition Cambodia, offering its own distinctive traditions in massage therapy. Siem Reap has dozens of massage shops and spas catering to visitors, located across the town, especially in the Old Market area. For a more upscale experience the spas in the finer hotel provide a pampered experience... (more)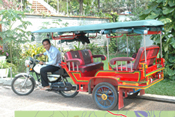 Getting to, from & around Siem Reap
The majority of visitors to Siem Reap arrive by air at the Siem Reap International Airport from Phnom Penh and Bangkok, though there are also direct flights from several other major cities in East and Southeast Asia. See the following chart for all cities with direct transportation to Siem Reap. Visas are available on arrival at the Siem Reap and Phnom Penh international airports and most overland border crossings. From Phnom Penh, there are also regularly scheduled daily buses and taxis... (more)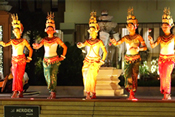 Traditional Performances
It has been a tradition since the earliest days of tourism in the 19th century to treat visitors to Siem Reap with an Apsara dance performance - a taste of living Khmer culture. No visit to Cambodia is complete without attending at least one performance. Traditional Khmer dance is better described as 'dance-drama' in that the dances are not merely dance but also meant to convey a story or message. There are four main modern genres of traditional Khmer dance... (more)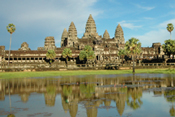 Angkor: Getting Started
There are dozens of temple ruins in the Siem Reap area, many of the most significant within the Angkor Archaeological Park just north of the city, others further afield. The temples vary in importance, interest and condition and are spread over a large area, often kilometers apart. In order to get the most of your temple visit, it is best to prepare at least a preliminary itinerary. Your itinerary should depend largely on the length of your visit and your level of interest, though some ruins... (more)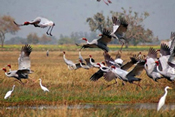 Other Things to Do
As enthralling as the temples of Angkor may be, there are lots of other things to see and do. Seeing a bit of Cambodia away from the temples can help avert 'temple-burnout' and round out your Cambodian experience. It also helps Cambodia by taking some tourist pressure off of the temples and spreading tourism dollars a bit more widely. In addition to the following suggestions, check out the sections on visiting the Tonle Sap Lake and bird watching at Prek Toal or remote temple ruins attending... (more)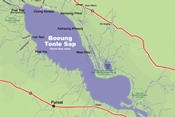 Tonle Sap Lake & Tours
Cambodia's Great Lake, the Boeung Tonle Sap (Tonle Sap Lake,) is the most prominent feature on the map of Cambodia - a huge dumbbell-shaped body of water stretching across the northwest section of the country. In the wet season, the Tonle Sap Lake is one of the largest freshwater lakes in Asia, swelling to an expansive 12,000 km2. During the dry half of the year the Lake shrinks to as small as 2500 km2, draining into the Tonle Sap River, which meanders southeast... (more)