Cambodia: Money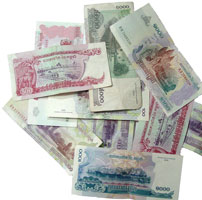 Cambodian riel (R) is the official tender in Cambodia but the US dollar is the de facto currency and the most useful for the average visitor to Cambodia. Most hotels and restaurants, shops, taxis, buses and airlines set their prices in US dollars. Even the visa prices and departure taxes are set in US dollars. Small transactions (less than a dollar) are usually done in Cambodian riel. Change of less than $1 is given in riel. Always carry some small riel for motorcycle taxis (motodups), snacks and other small purchases.

There is no coinage in Cambodia, only currency notes. Cambodian riel notes come in 50, 100, 500, 1000, 2000, 5000, 10,000, 20,000, 50,000 and 100,000 denominations, but the distinctive red 500 riel note and the 1000 riel note are the most useful and common.
Banks There are banks in all provincial capitals in the country, including Phnom Penh, Siem Reap, Sihanoukville, Kampot and Battambang. Banks offer the usual banking services - cash advances on credits cards (most accept Visa card,) international currency exchange, telegraphic transfers, cash travelers checks. Most banks are open from 8:00 to 15:00 or 16:00PM, Monday through Friday. Some are open Saturday mornings until 11:30. ATMs are available 24 hours.
For bank listings and contact details see the individual city listings:
Money Changers Money changers offer a slightly better rate that the banks. They are plentiful and tend to cluster around the traditional markets and there is usually a section within the market dedicated to moneychangers and gold sellers.
When accepting US dollars in change, inspect the bills carefully. Marred riel is acceptable tender, but the tiniest tear in a large US note, especially a $20, $50 or $100 note, renders it all but useless in Cambodia. Banks, moneychangers and other businesses will not accept it.
Credit Cards In the major tourist towns, credit cards are accepted at most upscale hotels, shops and restaurants, some mid-range place and a growing number of other businesses. Credit cards are general not accepted at any businesses outside of Phnom Penh, Siem Reap, Sihanoukville and the casinos in Poipet. Visa, MasterCard (MC) and JCB cards are the most widely accepted credit cards in Cambodia. AMEX is coming into wider use, as well as the new ANZ Bluespot card. Diners Club (DC) is accepted at very few place. Most businesses charge a 2%-4% fee to accept credit cards.
ATMs There are now ATMs with international access across Cambodia. All ATMs accept Visa and MasterCard. Many also accept Cirrus, Plus and Maestro. All ATMs dispenses US dollars. For locations see the ATM icon on the city maps.
Travelers Checks Travelers checks are still accepted at some banks and hotels, but fewer places all the time.
Cash Transfers 'Instant' cash transfers can be done through MoneyGram or Western Union. Ordinary telegraphic transfers are available at all major banks.