Map - Street 240 area, Phnom Penh, Cambodia
(click to enlarge)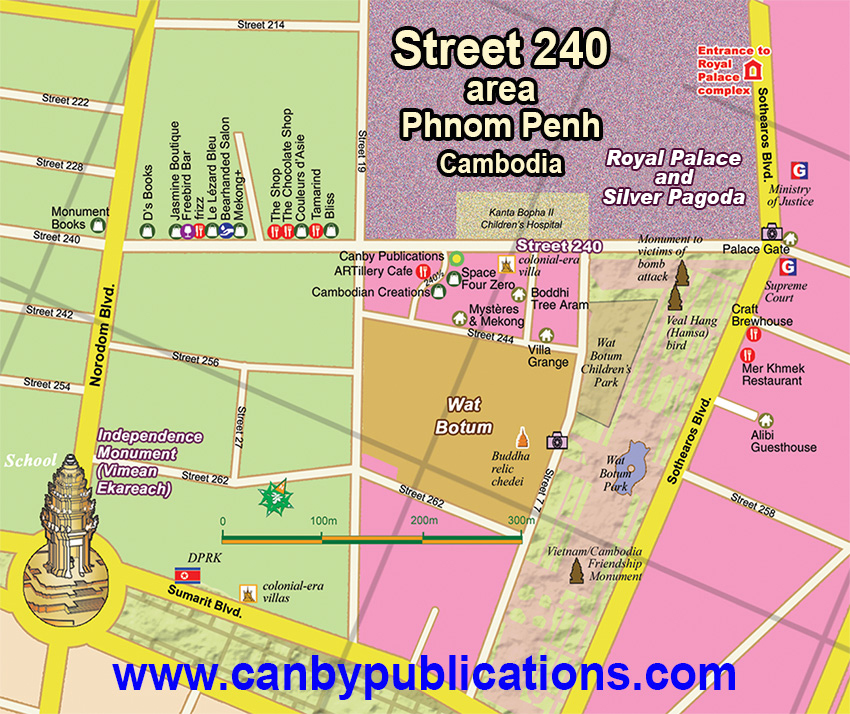 The tree shaded Street 240 next to the Palace is home to a small collection of boutiques and shops offering Cambodian silk fashions, art and handicrafts as well as a couple restaurants/bars, wine shops, a bookstore and a travel agent.
As the Royal Palace/Silver Pagoda complex is bordered by Street 240 it is particularly convenient to check out the street after visiting the Palace. The Supreme Court building sits distinctively at the corner of Street 240. It is particularly photogenic in the late afternoon with the red roof and gold trim glowing in the low sun. Just stroll around the corner and up Street 240 to explore. (Before you get too far up 240 consider taking a short detour through the park to Wat Botum to see the towering and highly photogenic white 'Buddha Relic Stupa.' )
Most of the 240 businesses are concentrated along the couple of blocks between Street 19 and Norodom just behind the Palace area. A few places have opened next to the Palace as well, where you will also find the entrance to the 'Street 240½' alleyway leading to Street 244, It's a pleasantly untrafficked area, harboring a unique little cluster of shops and bars.